This post contains affiliate links. If you buy something from them, I earn a small percentage that helps keep The Spring Mount 6 Pack running.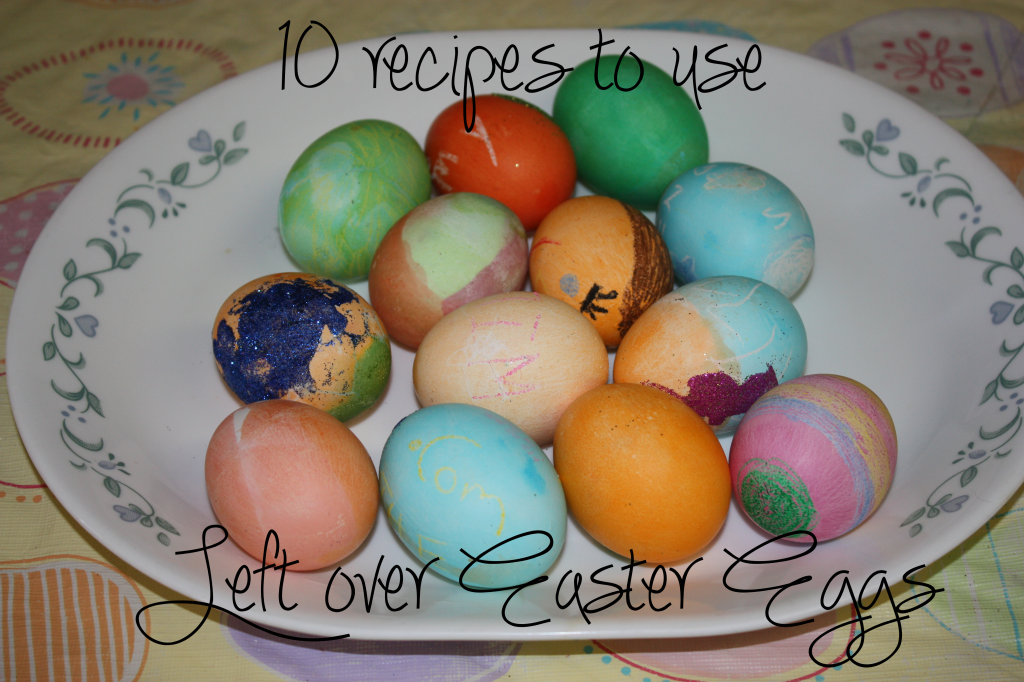 So in my house it is the same thing every Easter. There are 4  kids who like to dye Easter Eggs. So I hard boil 2 18 packs of eggs, sometimes I do 3. The kids have a blast dying all of the eggs. Then Easter morning, I look into the fridge and see ALL THESE EGGS! Only Joey and I like hard-boiled eggs, so that is a lot of eggs for just the 2 of us to eat.
I love deviled eggs. Joey and I can polish off a plate of deviled eggs in no time flat. But that usually only lasts one day. Then there is always the classic egg salad sandwich. But again, how many can a person actually eat. So now it is time to get creative.
Deviled Eggs:Paula Dean has a traditional Southern Recipe for Deviled eggs if you have never made them, She uses relish in hers, which I have never had. But if Paula Dean makes it, I bet it is yummy. If you are looking for a traditional deviled egg recipe, here is one that is close to mine, but I never measure the ingredients when I make it, so I have never written it down.
Classic Egg Salad– Just in case you have never made one for yourself.
Chicken Liver Pate– I am not sure how I feel about this one, or if it is something I would make or not, but I know everyone likes different things.
Warm Spiced Chickpea Arugula Salad– this looks really yummy. A nice refreshing salad.
Smoked Salmon and Egg Salad Tartines– While this does contain egg salad, Ina Garten makes this brand new.
Scotch Eggs

–

Scotch Eggs are hard boiled eggs, wrapped in sausage, then breaded and deep fried. Not the most healthy dish, but they sure do taste good.

Savory Egg and Greens Pot Pie– Pot pies are always delish! They are a great way to combine ingredients and use left overs in a new way.
Egg Potato Salad– This is a great way to use those left over eggs, plus any potatoes that you didn't cook.
Pickled Eggs– Very similar to pickled beets, my family(my mom, brothers and cousins) fave about these.
Beef and Sausage Roll

– This roll is beef and sausage that is filled prosciutto, provolone, spinach and hard boiled eggs. It is great served warm or as a cold sandwich.