In an ideal world, everyone would find an hour to focus on being fit. In reality, it seems like 24 hours just isn't enough to fit everything in. Here are 10 sneaky ways to fit a workout into your day.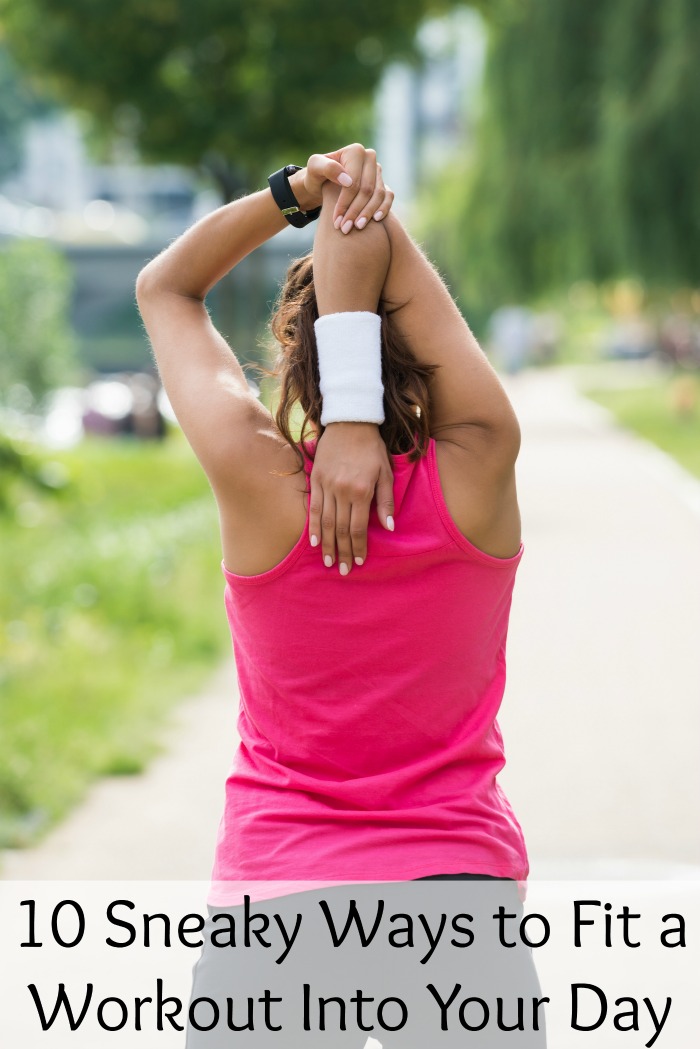 Commutes Can Be Workouts
If you can't find time for a morning run then put everything you need into a bag and jog back home from – or to – work. Running is one of the best exercises there is, and is a great way to get around. Get a bike if you want, or just get off the bus/subway a little early and walk some of the way.
Wake Up Earlier
Waking up earlier means getting to do your morning exercises and get them out of the way. You shouldn't miss out on sleep, but you can set your alarm a little earlier and wear your workout clothes to bed to save a little time.
Sneak in a Quick Workout at Lunch
The team at fitnessgoals.com are big fans of the lunch break workout. You get a good hour for lunch and you can make the most of it by going for a walk or heading to the gym. This helps you get your workouts in, but doing some jogging or getting lunch and eating it at your desk has been shown to increase productivity.
Work Out While Out Working
Even if you work all the live-long day you can still get some exercise. Try using a stability ball instead of a chair to strengthen your core, or use exercise tubing and dumbbells while at your desk. Sneak in 12-15 reps of dumbbell curls, ab crunches, or overhead presses while at your desk. Try to get two or three sets of each one. Doing this also opens up more free time for more fun exercises such as tennis and biking.
Take the Kids
If you've got some young ones then consider getting a jogging stroller to save money on a stroller and get the exercise you need. Or just strap the kid into a carrier and do squats with the extra weight to make it a little more intense and fun.
Make the Most of Your Time on the Treadmill
You can save a lot of time in the gym by combining cardio with a sculpt session in just ten minutes. Grab a 3-5 pound dumbbell with each hand and hit the treadmill for a brisk walk. As you walk, do one-minute sets of shoulder presses, triceps extensions, bicep curls, front and side laterals, and standing triceps kickbacks. This is an incredible upper body challenge that gets the heart going and increases the effectiveness of your cardio workout. Do this a few times each week, increasing the amount of time you spend on each set as your fitness and strength improves.
Make it a Date
One great way to get in more exercise is to make it a date. One of the secrets of success for Olympic figure skater Kristi Yamaguchi is that she and her husband workout together and stay fit. If you're single then try calling up your friends and hitting the gym together rather than hitting the bar.
Lines Are For More Than Waiting
That time you're stuck in line can really add up, so use it to get in a little sneaky workout. Spend your time waiting in line doing squats, toe raises, and lunges. You might get a few odd looks, but who cares? You're sculpting a great body.
Avoid Being a Couch Potato
Watching TV is no excuse to not do some crunches, push-ups, jumping jacks, or squats. Make some room between your couch and the TV so you can break a sweat while catching up on your shoes. Give yourself an extra nudge by moving your fitness tools such as your dumbbells near the TV.
Make The Most Out of Your Stairs
Rather than just walking up the stairs, increase your speed and climb the stairs faster. Try to climb up the stairs two at a time if you can, which pushes your glutes even further.