I received this Paleo Recipes Cookbook to facilitate my review. All thoughts are my own.
Right now, the Paleo diet has a lot of interest. The basic premise of the Paleo diet is eating like out ancestors in the hunting and gathering days. Eating this foods as natural as possible. It is based on the anthropological evidence that our genes have not changed in 10,000 years, but the way we eat has changed. And with the change in the way we eat, our health has taken a major hit. So we need to eat in a way of whole foods, that are not processed, and are nutrient dense. But since many people have forgotten how to eat non processed, whole foods like this Paleo diet suggests, it is great to find recipes that make cooking and eating in this healthier way, easier so that you are not tempted to grab a frozen or processed meal.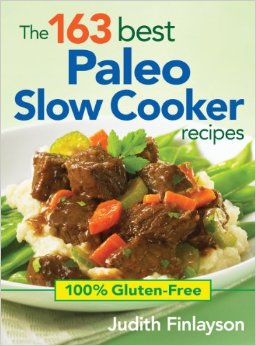 I have wanted to do a Paleo diet for some time but I could not find the variety of food that I would like to eat on a daily basis. I checked out the recipes in The 163 Best Paleo Slow Cooker Recipes. This book has so many choices that I can see myself eating like this easily. Another thing I loved when I was checking out the recipes was that there are recipes that are very veggie heavy. I love the idea of the Paleo diet but I do not love the idea of just eating a bunch of meat. There is a whole section of just veggies. There are recipes like mixed vegetable coconut curry, ratatouille or Louisana ratatouille, braised red cabbage, sweet potato pudding fennel braised tomatoes, even New Orleans Braised Onions.
There is also some great dessert options. As you all know I am a major sweet-a-holic. That is another reason diets are always getting the better of me. I need something sweet. The desserts in the book give me that option. Gingery pears poached in green team ultimate baked apples, which I absolutely love, and maple surprise. Of course there are many others too.
The recipes in The 163 Best Paleo Slow Cooker recipes book feature such a variety that it makes staying on the meal plan easy.