So you know you need to earn extra money each month, but you are not sure where to start. You can earn extra money when you start to flip for profit. If you are looking at flipping items to make a little (or a lot) of extra cash, you need to make sure you know what to look for.  It is easy to see a great deal on something and assume that it will sell for more.  That is simply not always the case.  Many of these times you will just end up with a pile of stuff you just can't get rid of.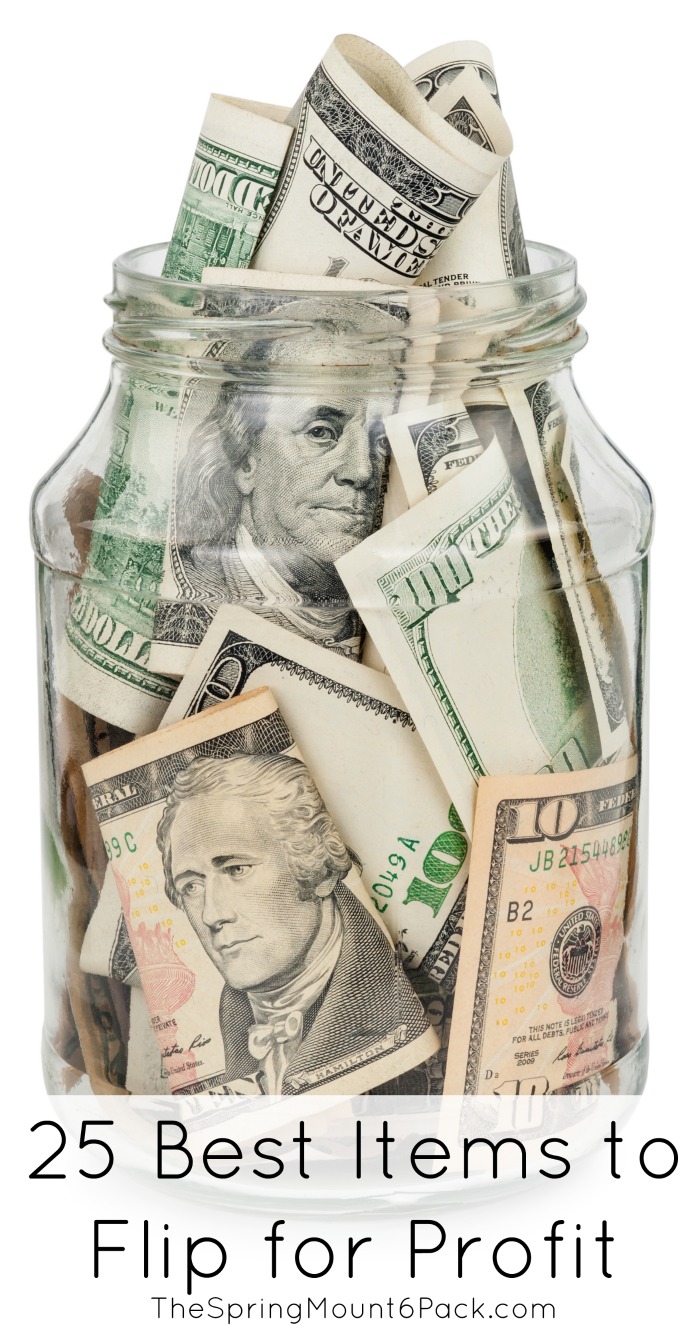 So when you want to flip for profit and you are out shopping, make sure that you have a plan on what you are looking to buy as well as the amount that you are willing to spend.  In case you need a little bit of help knowing what to buy, check out this list of the 20 best items to flip for profit:
Brand name clothing.  People will pay big money for brand name jeans and clothing.  It's not hard to find a pair of $120 jeans for $5-$10, which can almost always be resold for $25 or more.  That's a pretty good profit right there!
Brand new clothing.  If you find brand new clothing with tags still on, it can be a good sign that you can sell it for profit.
Antiques.  Keep an eye out for antique items that you can buy at rock bottom prices.  Nostalgia is strong and people will spend big money on these items.
Old Toys.  Yes, these can be antiques as well, but they do deserve their own category since there are so many collectors of old toys.  Old metal and wooden toys in good shape can almost always be resold.
Legos.  Did you know that some people make a full time living simply flipping Legos?
Old Coffee Mugs.  I love old coffee mugs and so do a lot of other people! They will pay well for a classic one.
Real Wood Furniture.  These are obviously not feasible to flip if you need to ship them, but if you are able to sell them locally, real wood furniture can be very profitable.
Sports gear.  Sports gear, both old and new can be great for resale.
Vintage Kitchen gadgets.  Potato mashers, old KitchenAid mixers, etc.
Vintage Tupperware and Pyrex containers.  You will find great opportunity for income with these vintage food storage containers.
Vintage Glassware. I already mentioned Pyrex, but really any vintage glassware can be a great flipping item.
Board Games.  Board games, especially classic editions, can be a bit hit.
Mason Jars.   Always a favorite for canners and decorators.
Photography Equipment.  Both old and new photography equipment sells well.
Baby clothes.  As long as the clothes are clean and in good shape, you can easily sell them on many online platforms.
Records.  People love their classic vinyl records.
Picture Frames.  Older style picture frames are a huge seller right now.  If you find any at yard sales, I recommend buying them.
Office Furniture.  Not the cheap stuff either.  Oftentimes people starting a business are doing so on a budget, so they will be looking to buy used.
Video Games/Consoles.  Video game consoles, especially vintage ones are a hot seller.
Books.  Be sure to have your smartphone on hand to do a little research when you find cheap books, they may be worth a lot.
Outdoor Furniture.  Outdoor furniture is a big seller, especially during the warmer months.
Bikes.  If you find kids bikes for free or cheap, grab them when you can.  These are great sellers!
Tools.  Sometimes people are cleaning out their garage and have no idea how valuable tools can be. These types of things sell great at yard sales and large flea markets.
Garden/Lawn Equipment.  These are great to buy at the end of the season and put up for sale in the spring.
Canvas artwork.  You never know when you might stumble into a valuable painting.
What is your favorite things to flip for profit?