This is a sponsored conversation by Nature's Harvest®. All thoughts are my own.
We want our kids to eat healthily. But most of them balk at the idea of eating whole wheat bread. Introducing whole wheat, unless it is the only bread they have ever eaten can be challenging. My kids started getting whole wheat at school and would come home and complain every day. They hated it. I have found that giving them a good quality whole grain bread, that taste great and not like cardboard makes a big difference.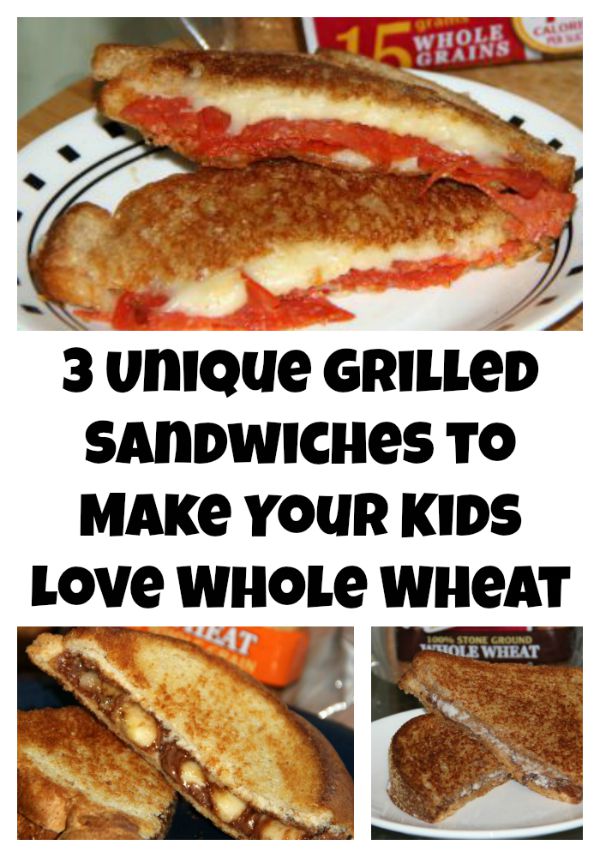 My kids love Nature's Harvest whole grains. There are many types and flavors to choose from and what the kids like the best are that it resembles their "normal" bread. They love that there is a honey wheat, which happens to be on rollback right now at Walmart, and they love that the slices are not very thick. I love that it has 8 grams of whole grains.
Now while they do like the Nature's Harvest® whole wheat now, at first they gave me the deer in the headlights look about even trying it. That is where the 3 grilled sandwiches come into play. With these 3 sandwiches, my kids didn't even notice that they were eating whole grains. Once they had devoured the sandwiches, they saw what I used to make them, and the next time I made a basic ham and cheese for them, there were no complaints.
Now on to the goodness. All of these sandwiches go together like grilled cheese. Whether you like to butter the bread or put the butter in the pan. What are my 3 miracle sandwiches? First off:
Grilled Pizza Sandwich:
Using Nature's Harvest® light multigrain bread, layer mozzarella cheese and pepperoni on the bread. Grill like a grilled cheese. Then use pasta sauce in a container for the kids to dip. Before you can even ask what they think, their plates will be clear.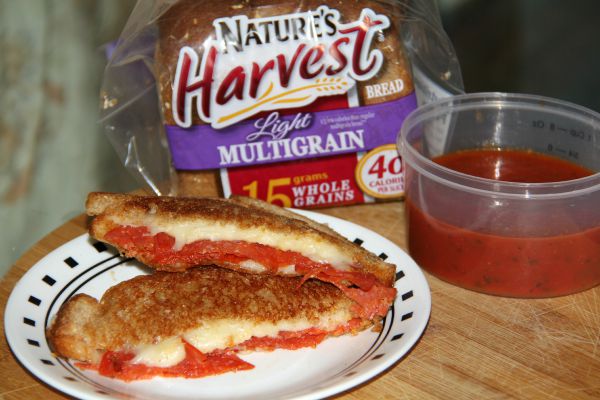 Chocolate Peanut Butter spread and Bananas:
This sandwich never even stood a chance. I mean, come on. How can this go wrong, unless of course, you can't have peanut butter? There are a few brands of chocolate peanut butter out nowadays. We choose to use the Honey wheat with this one because honey adds a nice flavor to peanut butter. After spreading the bread with the peanut butter, we sliced up the bananas and grilled.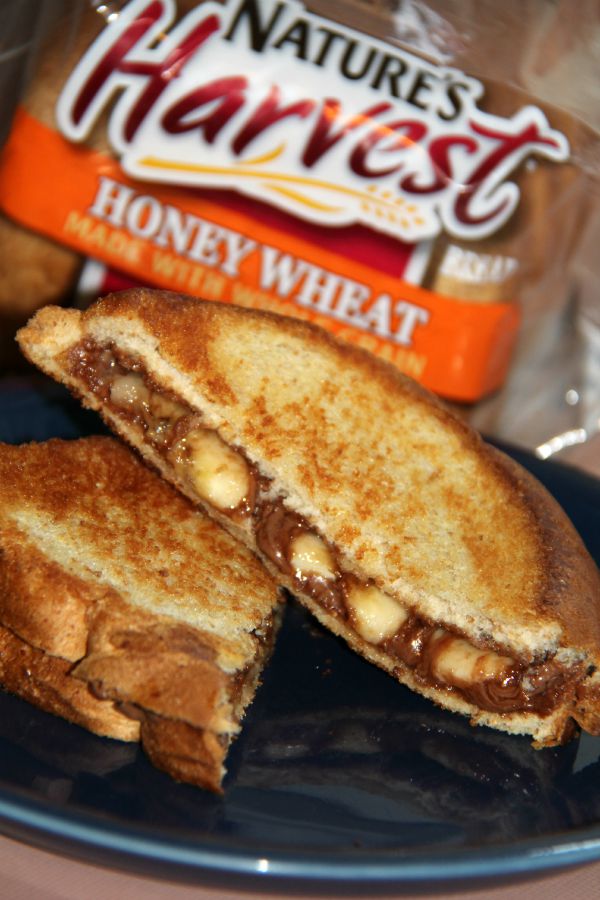 I hadn't even had a chance to take my first bite before the kids were trying to steal this one off my plate and asking for more. I think one child even tried to stab another with the butter knife while protecting her sandwich. Just saying, watch out. These are awesome.
Flavored spreads, like Cookies and Cream:
Speaking of the different types of spreads that can be found in the peanut butter aisle, any of these work great for a sandwich. We choose to try a cookie and cream spread. I personally found it too sweet for me, but the kids ate it up. I was concerned about the amount of sugar in the sandwich, but once I added up the amount of sugar in a pb&j it was pretty close to this, so that eased my concerns some. Use the Nature's Harvest® whole wheat and let the kids think that they are getting a real treat.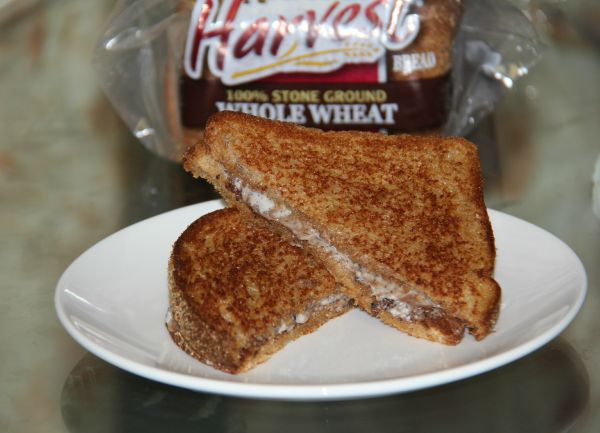 Right now, Nature's Harvest® is holding a contest. I mentioned it in my last post showing off some fun back to school lunch ideas.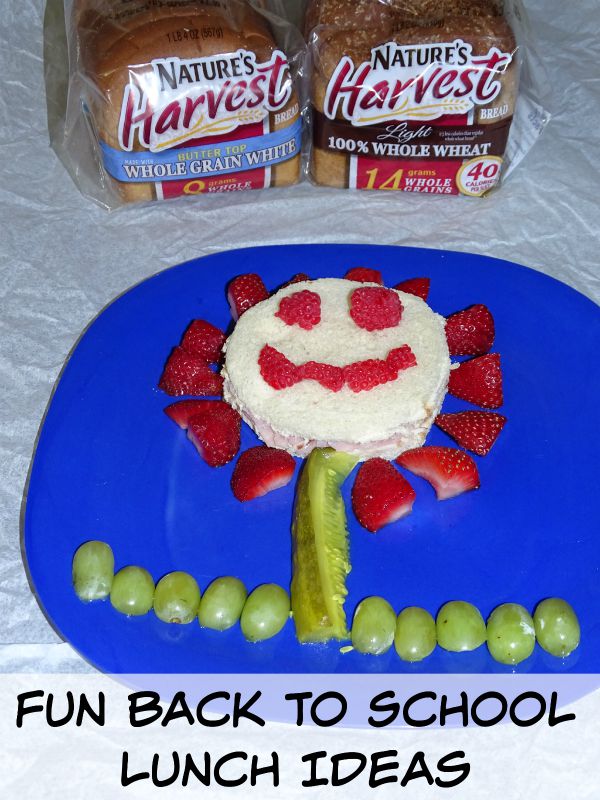 If you have an artful sandwich you like to make for your kids, You can share your creation with Nature's Harvest® and you can be entered for a chance to win a Kitchen Crash from celebrity chef Kelsey Nixon.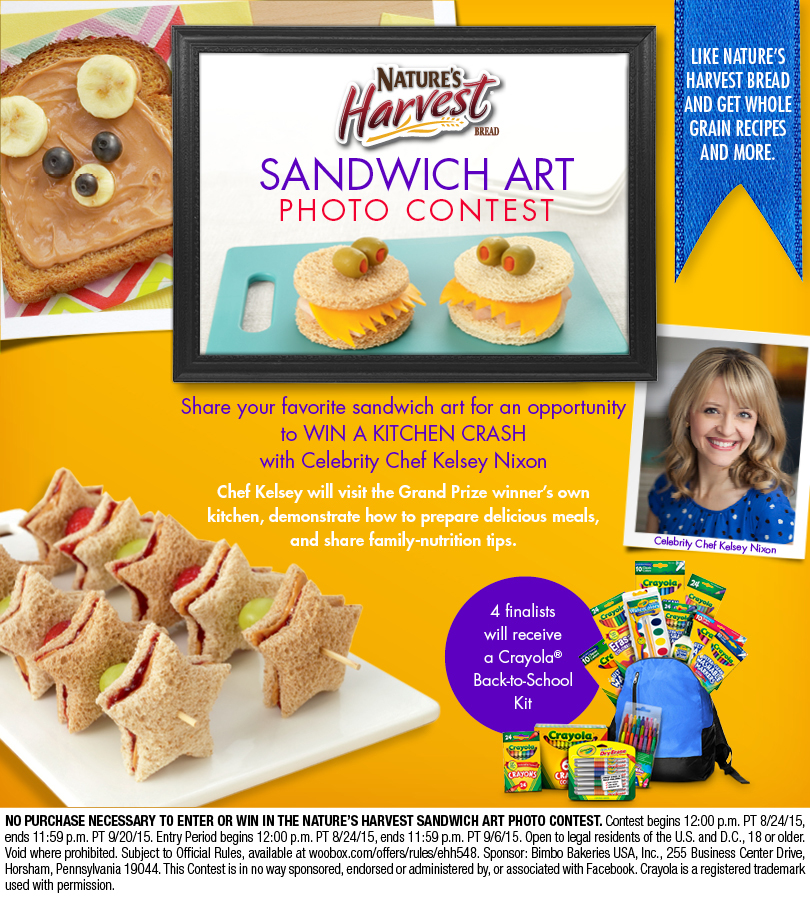 After entering the contest, be sure to complete this simple 10-minute opt-in shopper research survey. They will be sending a $5 Walmart gift cards to the first 100 people that fully complete the survey (U.S. citizens only, must be 18 years or older to participate).