This post with tips to be more green in your everyday life is sponsored by Dasani & The Coca-Cola Company.
Everyone wants to be more green and eco-friendly, but not everyone wants to do things that take a major effort. I completely understand that. We have do some things in our house but we have lots of other things that require a little more effort than we can not do on a daily basis. Since, I want to make sure that life is more fun than it is work, despite being busy and hectic, I am always looking for life hacks, in this case, green hacks, to make life easier.
3 Ways to Be More Eco-Friendly Without Even Trying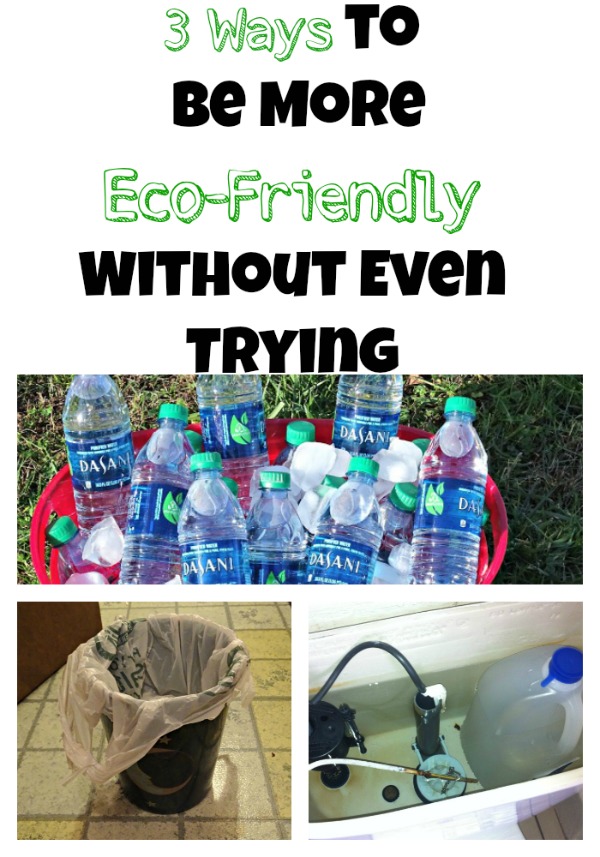 Make Your Toilet Use Less Water: Conserving water is important and it can also save you money. A simple hack to make your toilet use less water is to fill a plastic container, like a milk jug, and place it in the water tank of the toilet. It causes the tank to have less space, which makes it fill up faster and use less water.  You can also use 1 or 2 bricks to have the same effect.The toilet still flushes the same but it saves water, and makes a regular toilet more eco- friendly.
Reuse Plastic Bags: Everyone knows the most eco-friendly thing to do is to bring your own bags when you are shopping. A lot of people tend to forget the bags at home, or even just forget them in the car. The next best thing to do is to bring the plastic bags back to the store with you when you go, to add them to the recycling bin there. But if you have trouble remembering to bring bags to shop with, chances are you will forget to bring the bags back to the store. I am with you. I am horrible at remembering these things. So, reuse the plastic bags. Use them when you are cleaning the cat box. Use them to hold your recycling all together for the recycling bin, or just use them as trash bags. Instead of buying small bags to use in the bathroom trash or for the laundry room trash, use these bags. It will, also, save you money from buying more plastic bags.
Buy Plant Based Plastic Water Bottles: Everyone knows that the best way to be the most eco-friendly is to not buy plastic water bottles. For most people that is absolutely unrealistic. Either they like the convenience of having bottled water or even people who would normally avoid bottle water might need to buy a drink while they are out or while traveling. An effortless way to reduce your impact on the planet is to buy a bottle that uses less plastic. Even better, buy a bottle made from plants. What, from plants? Yep. Dasani & The Coca-Cola Company are doing just that. First, they reduced the amount of plastic that they were using in their water bottles to create less waste. Now, they have started to create water bottles that are still 100% recyclable and contains even less plastic, because it has up to 30% plant based material. In fact, their current half liter DASANI® bottles contain 45% less plastic than our original 2001 bottle. Less plastic makes the DASANI® green cap water bottles a more eco-friendly choice, without any effort on your part.
While these steps might not be the greenest choices you can make, and they might not seem like they would make much of an impact, it is every little bit that matters. Small changes can add up to be a big change for the planet. These hacks take almost no effort on your end and help make the planet a little cleaner and greener.