I was invited to Pittsburgh to see some of the amazing attractions and enjoy lunch with Visit Pittsburgh. All thoughts are my own.
Pittsburgh is about 5-6 hours from Philadelphia and although I have driven close by, like heading out to Sandusky Ohio, I had never had the chance to stop and explore. When I received an invitation from Visit Pittsburgh to hear about upcoming events going on in Pittsburgh, I honestly couldn't say yes fast enough. Even if I could only stay for a short time due to what I thought was a family meeting about a house, which was in fact a late bachelorette party, which is a post for another day.

How did I spend my time in Pittsburgh? What are some things to do in Pittsburgh?
First things first, when we got into town, we started to look for something to eat. We were recommended to visit a small little mom and pop type diner on the north side. I love to visit these types of places. As much as I love a nice restaurant to eat, it is fun to eat somewhere small and recommended by someone local. The food was good. The service was a little slow, but the staff seemed to know just about everyone who came in and asked them if they wanted… fill in the blank. I love that the staff knew the customers.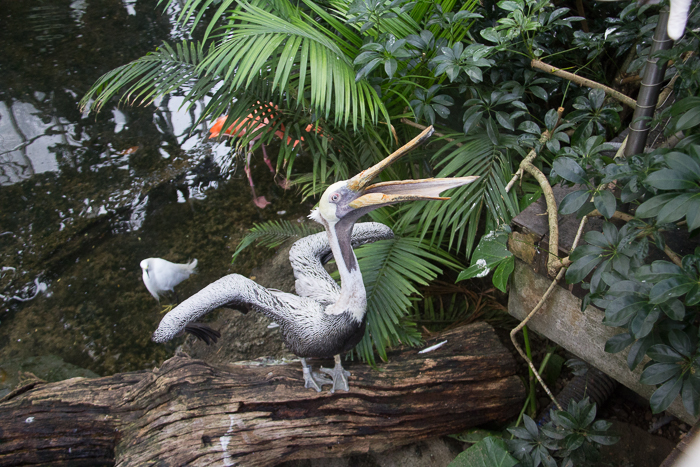 If you follow me on some of my social channels, you will know, we are always at the zoo. I love anything to do with animals, so whenever we have free time, or whenever we travel, we tend to be at some zoo or another. Pittsburgh was no different. We did decide to skip the zoo because we had 5 hours before most things closed, as far as attractions go. We decided to head to the National Aviary, so basically a bird zoo.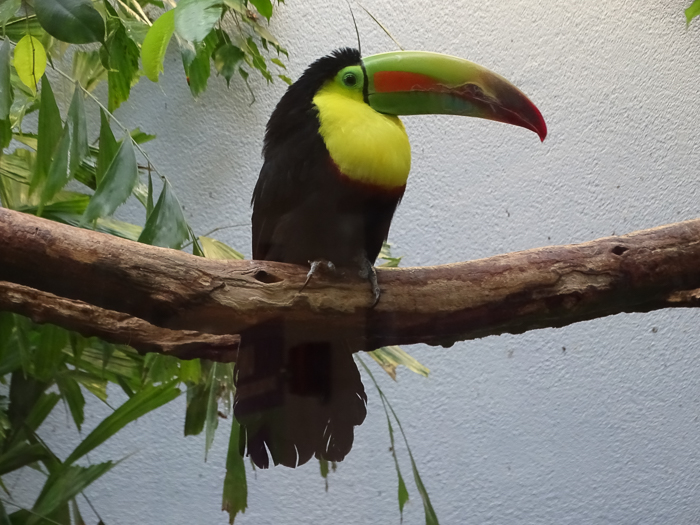 I loved seeing all of the birds. There were even some birds I had never had a chance before. I saw one of the biggest owls I have ever seen.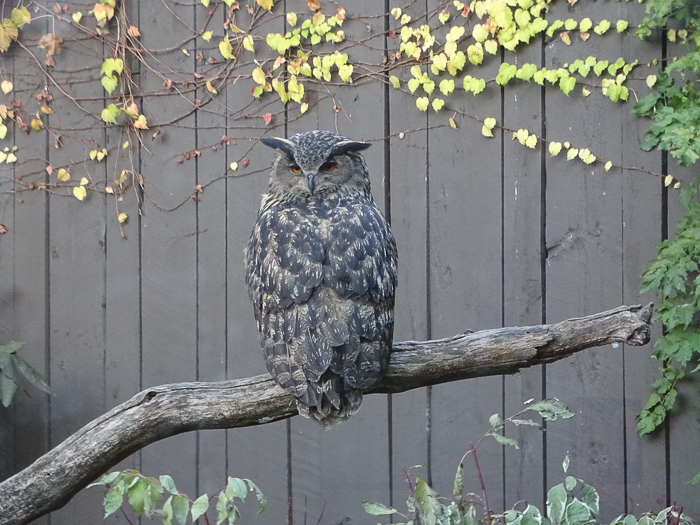 And these bats, which are called flying foxes. The only bats I have seen were small fruit bats or the kind that fly around our back yard at dusk. These bats are actually biggest than my cats.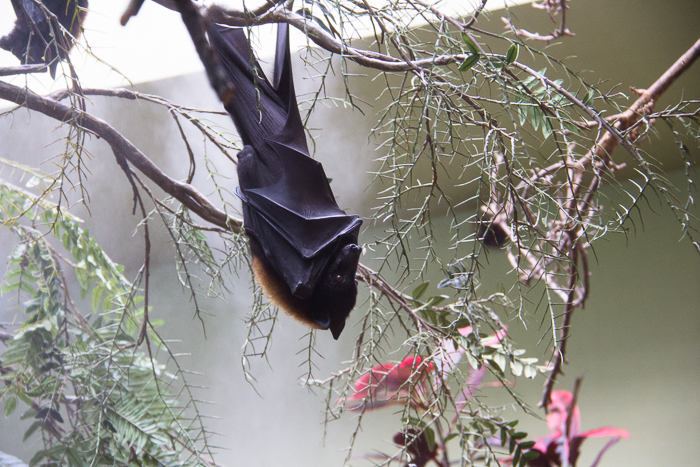 And there were the penguins. I am a sucker for penguins. I have always loved them. Some of them were swimming around their pool, and others were just hanging out waiting for the keeper to come and feed them. We stopped there closer to the end of the day and we were able to see them being fed while the other keeper was telling us about them.
There are a few animals at the National Aviary that are not birds. Like the 2 toed sloth, which of course is my favorite because I adore sloths. I will make a special trip to a zoo, even in another state in order to see a sloth.
And there is this super cute armadillo. I mean, have you seen anything so freaking cute?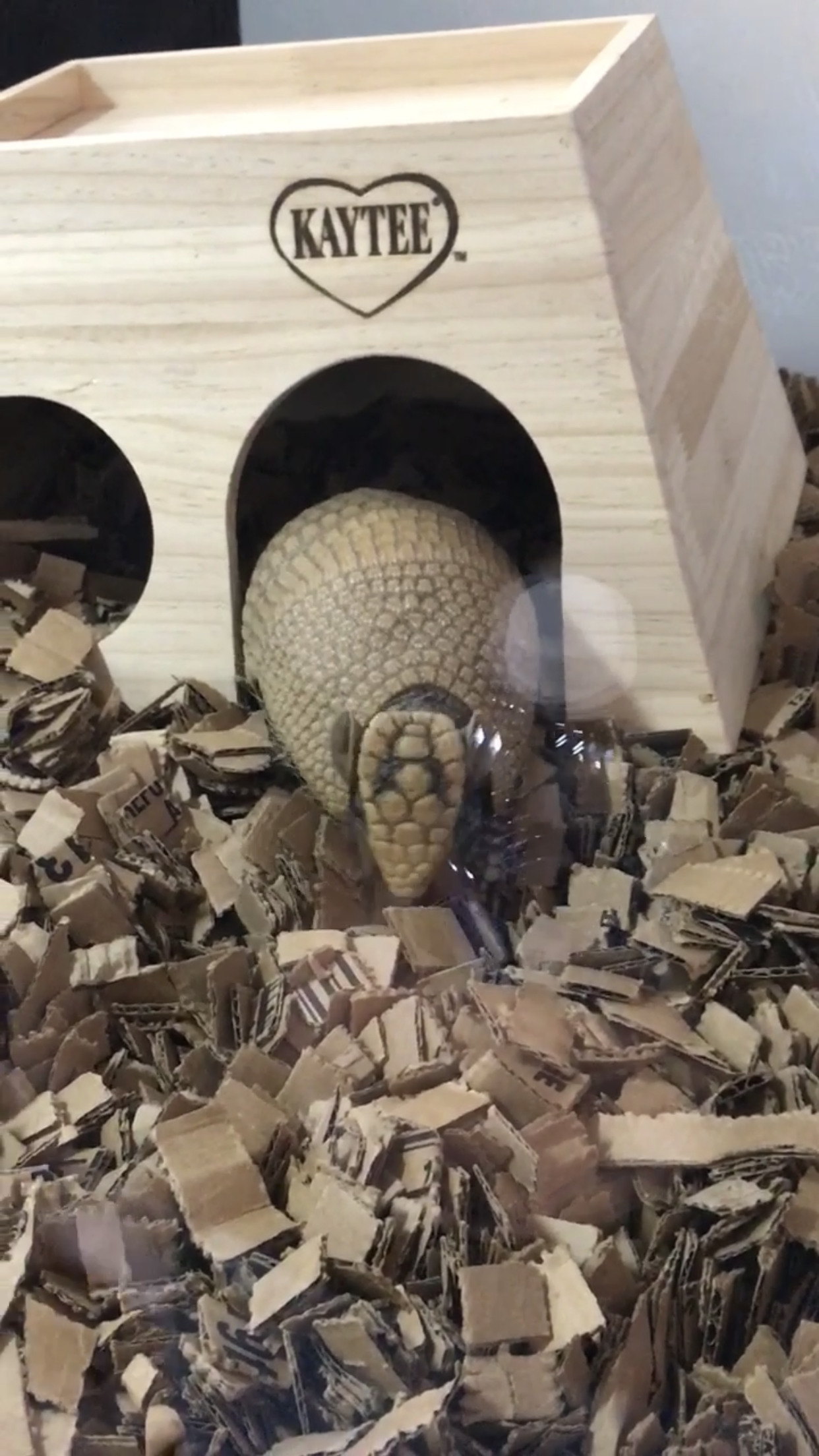 Most of the attractions, like the zoo, aviary, museums and such all close at 5. Because of that, we weren't able to see anything else on our first day. While some people can get through the National Aviary in under 3 hours, I tend to take a very long time at places like this. I also tend to walk around the same exhibits more than one time.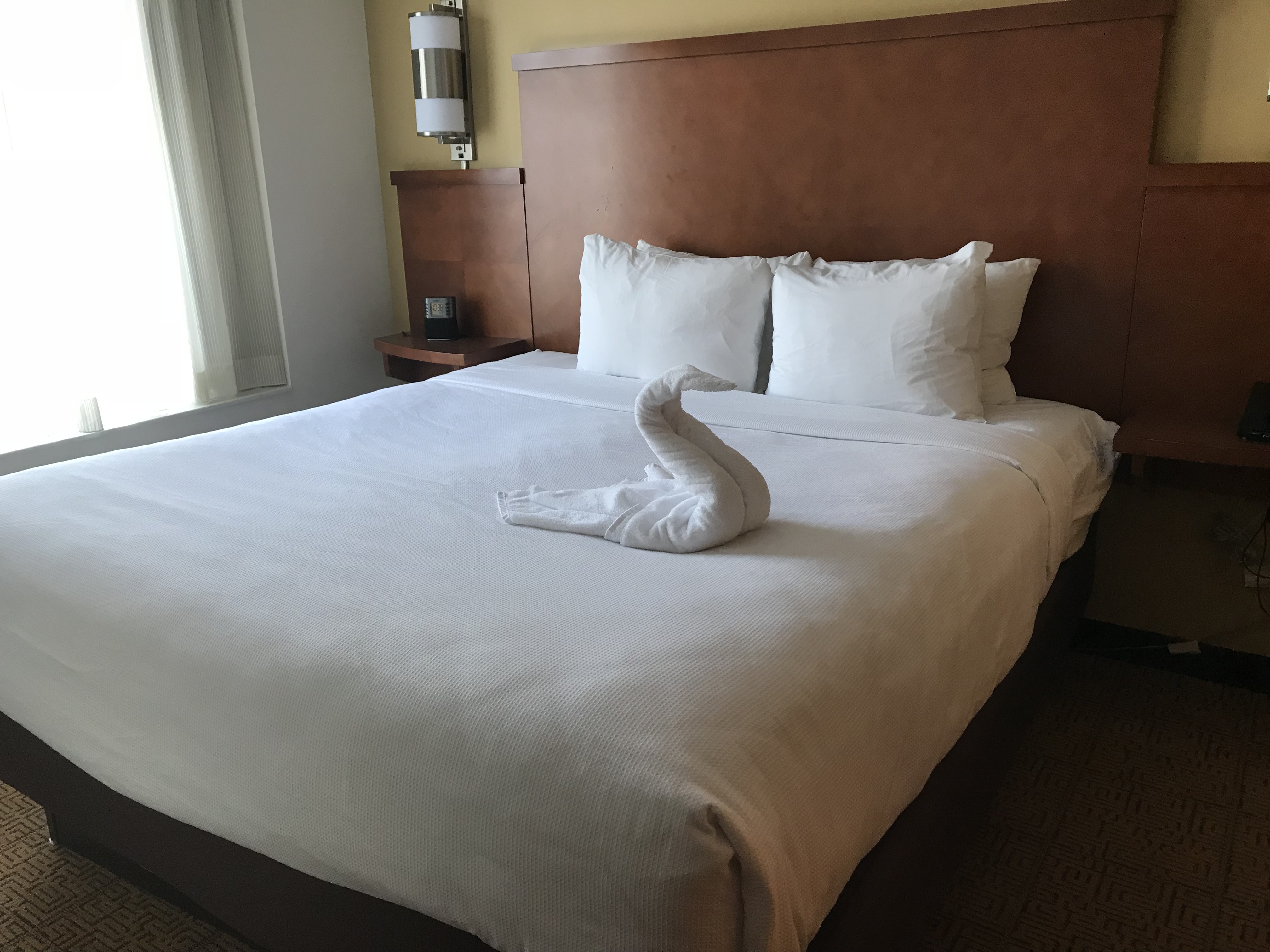 While we were staying in Pittsburgh, we stayed at the Hyatt Place, North Shore. I really liked the hotel. The room was very nice. There was enough space for a family or more than 2 family. There was a king bed, and a living room area that also turned into a pull out couch. There was a mini wall dividing the space, which is nice to create a feeling of separation in the space.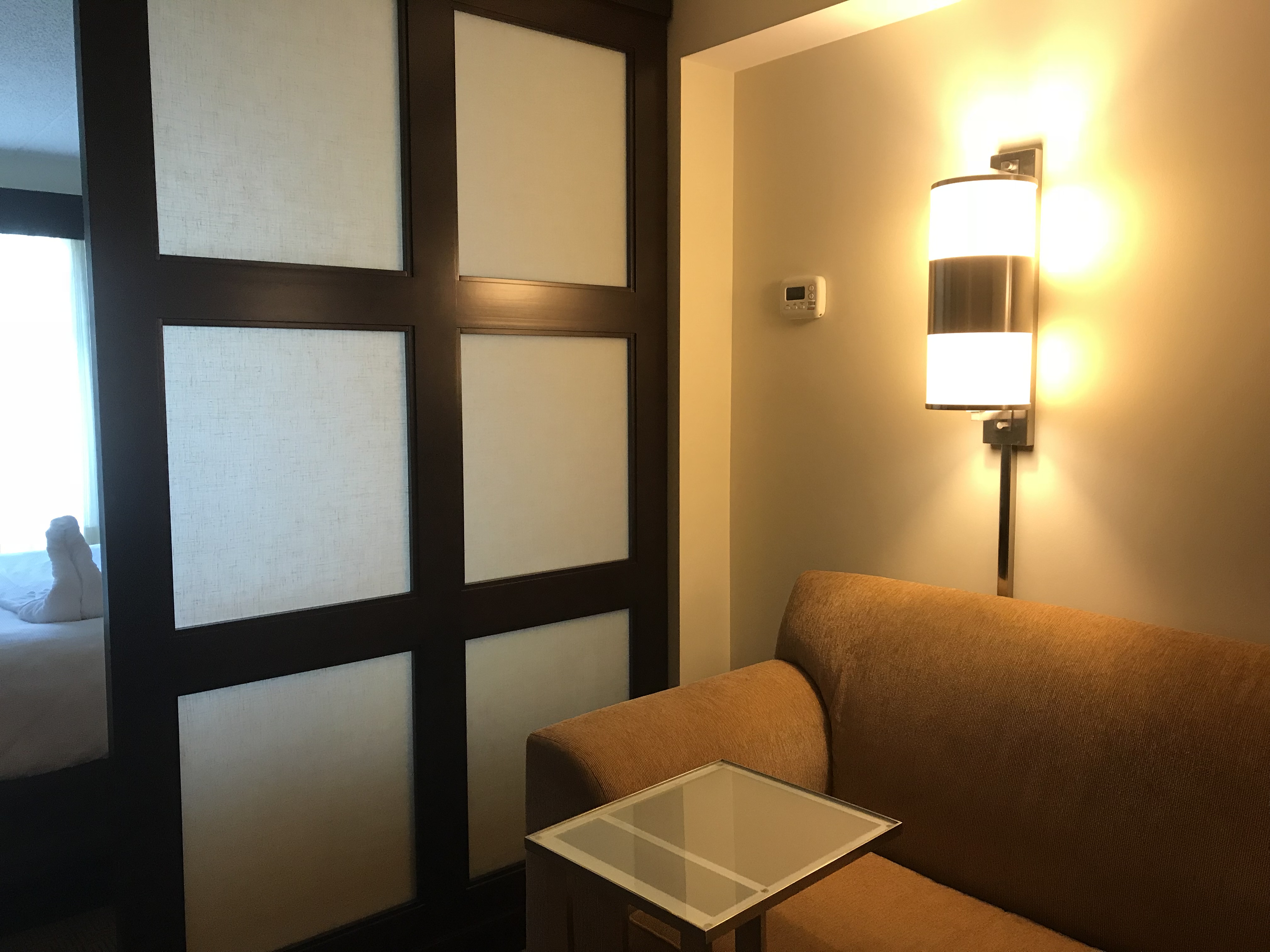 There was a nice sized shower, a mini fridge and a nice desk to work at.
The hotel also offers breakfast in the morning, which is nice because that is one less meal to have to buy while out. After a lazy-ish morning and then getting breakfast from the hotel, we checked out and headed to the Penn Brewery.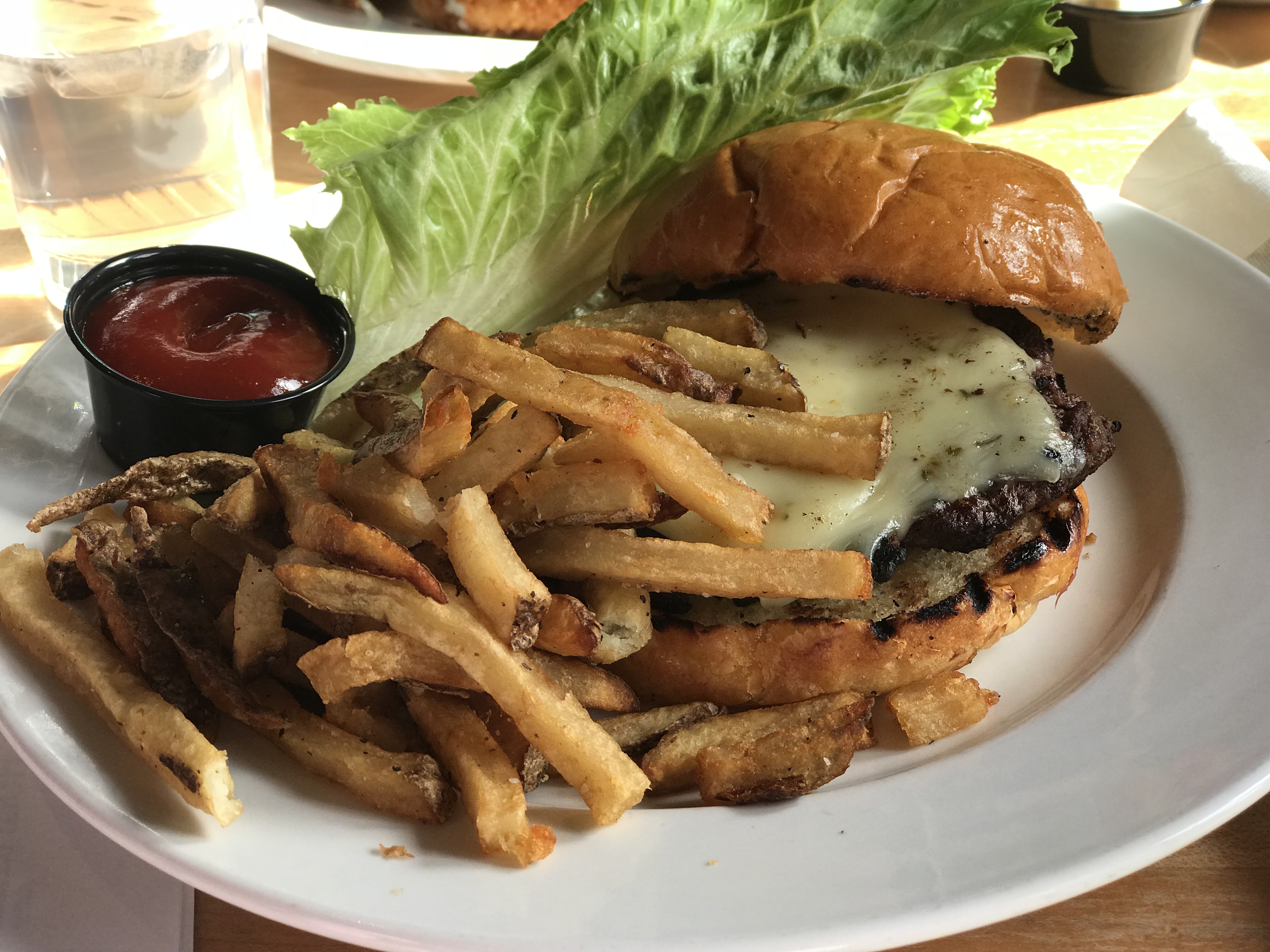 After a fantastic lunch Visit Pittsburgh to hear about some of the upcoming events for the rest of this year and next year, we took a tour through the brewery.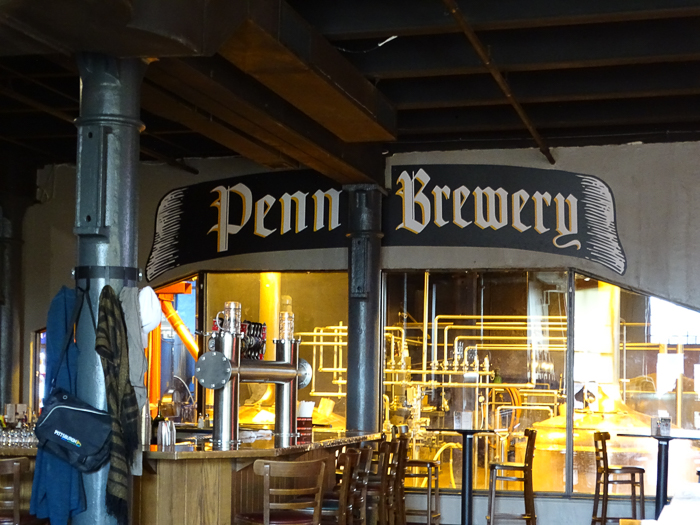 We took a look into some of the old tunnels that were used years ago to keep things cold at the brewery. We learned about different ways that they use to make their beers. I have never taken a brewery tour before so that was extremely fascinating.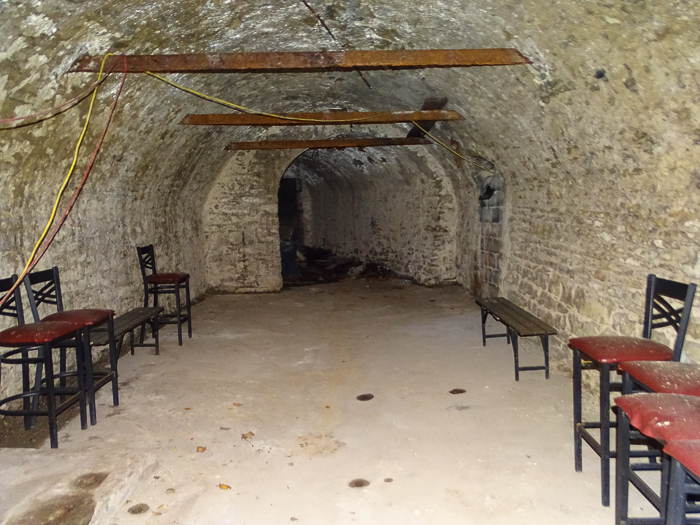 The crew who works for the brewery is really small and I love that. The gentleman who was giving the tour was able to name the people who did different jobs in the factory. I love that it is such a small factory but provides a great quality product.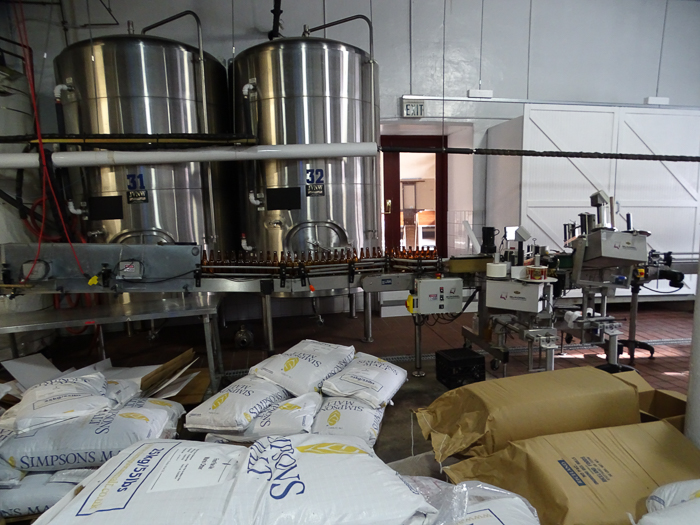 After lunch and the brewery tour, it was already close to 4. Since there was not much time to visit the other fantastic attractions, we decided to get the best view in the city and go to the Duquesne incline.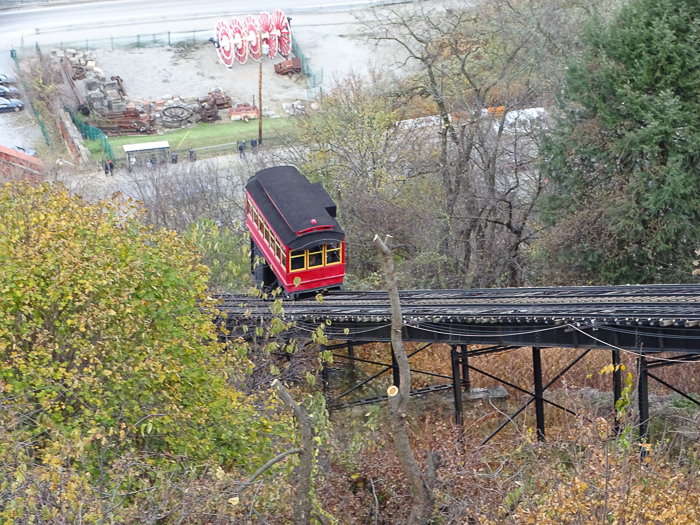 After going up the 400 feet elevation, 794 feet incline, in an old trolley car, we were able to get out and look down on the city. We had already noticed that there were a lot of bridges, over 446 according to a local, and we could see several of them. From this view point, we could see 3 River Stadium, the Science center and we looked right down to where the 3 rivers met.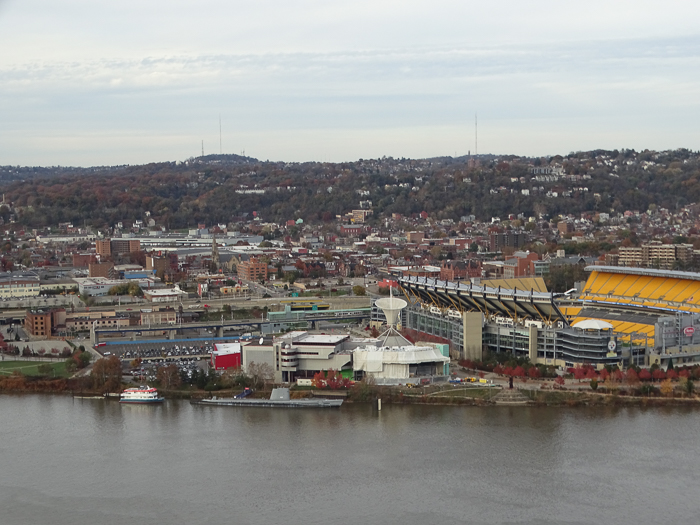 I can only imagine this sight at night with everything lit up. The view from Mount Washington was beautiful. I was expecting to see a bit more at the top of the incline, like a little market or something, but there wasn't much. So unless you want to take time to read all of the old newspaper clips and look at the old pictures, like we did, once up at the top, there isn't much more to do. Don't let that deter you though. The view is worth it. I am told that we could walk down about 3/4 of a mile and there is some shops and another trolley to ride down. We didn't do this walk.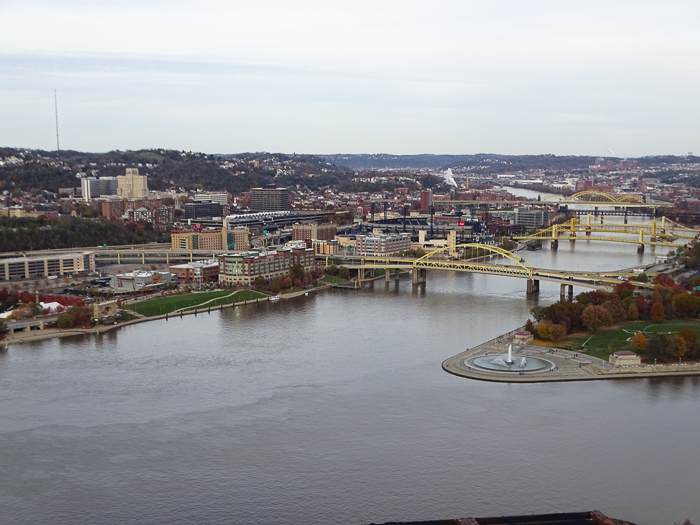 As the day started to get dark, and we had to leave in a few hours, we decided to stop off and check out the Riverside Casino. We had our backpacks with us, and the guards stopped us and informed us we were not allowed to bring them in with us. So we had to go to the bag check and leave them there. I like that there is a smoking and a non-smoking section, because I do not smoke and I have issues being around smoke.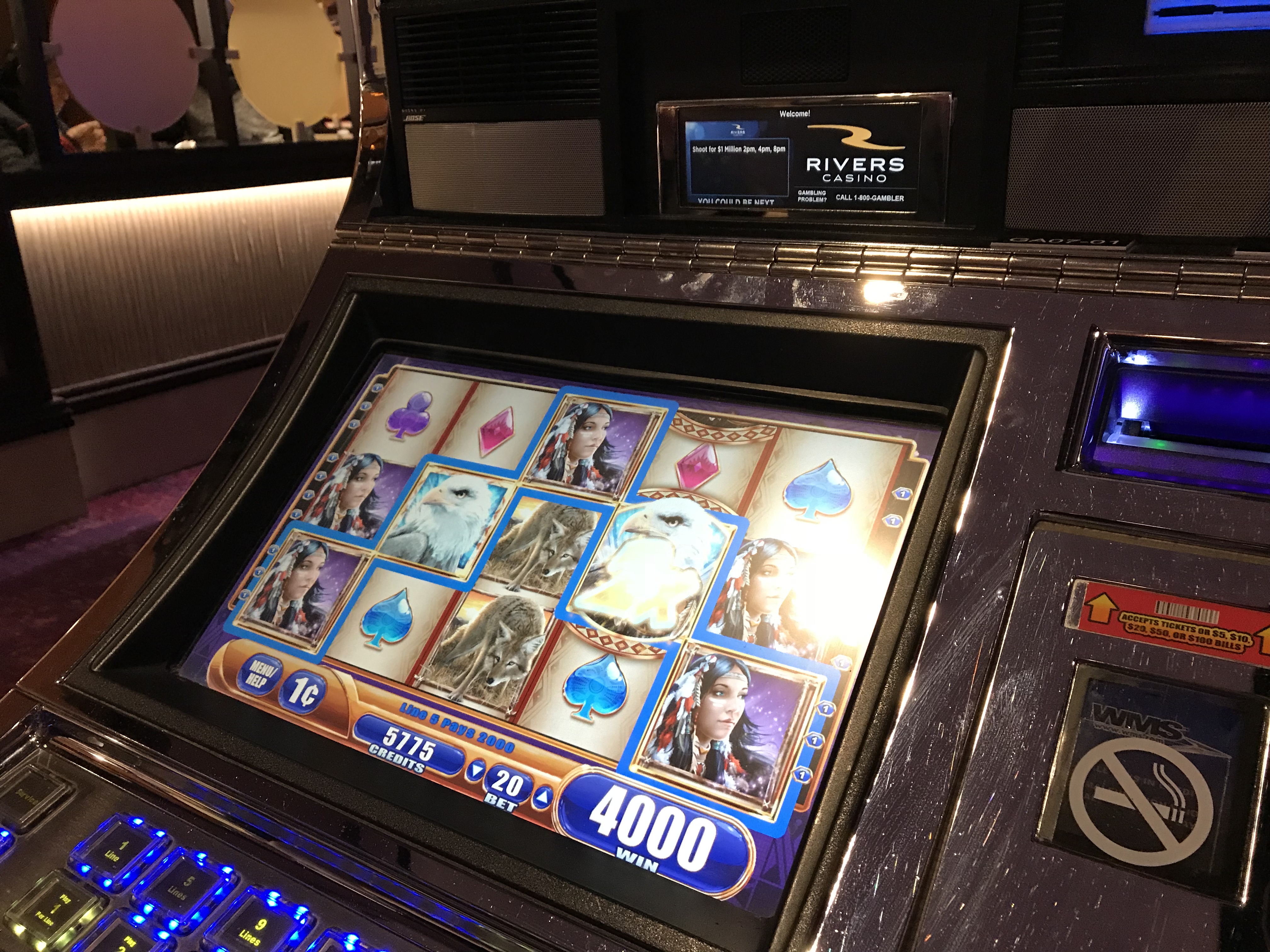 We stopped to play some slot machines and ordered a cocktail. Unlike the casinos around SE PA and in NJ, the cocktail are not free while playing the machines, but there is a complementary are with soda, coffee and water. I have to say, while I don't normally like coffee from vending type machines, the coffee was really good.
After winning some money, and of course, losing some money, all in all, we spent $40 while at the casino. Around 8:30, we needed to head back to our area. I am already planing my next trip to Pittsburgh. There are a lot of events that are coming that I want to attend.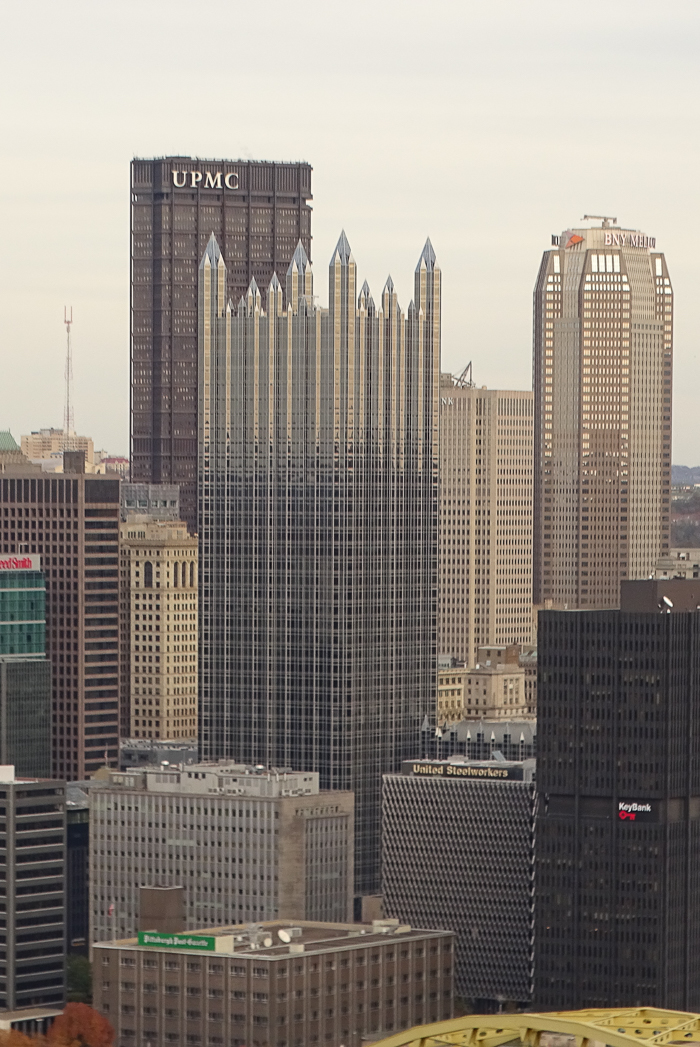 So what's going on in Pittsburgh for the end of this year and next year? Looking for things to do in Pittsburgh? These events are definitely ones I want to add to our calendar this coming year.
Andy Warhol Museum
Farhard Moshiri: Go West
October 13, 2017 – January 14, 2018
The first solo museum exhibition of the Iranian artist. The exhibition brings together paintings and sculptures that have never been displayed together, many of which are traveling to the U.S. for the first time.

Carnegie Museum of Art
57th Carnegie International
October 12, 2018 – March 25, 2019
One of the world's oldest, most prestigious exhibitions of contemporary art returns to Pittsburgh. The exhibition considers what it means to travel and cross borders with works by over 30 artists from around the world.

Carnegie Science Center
PPG Science Pavilion
Opens June 16, 2018
The PPG Science Pavilion will include eight STEM classrooms and a 14,000 square foot exhibition hall that will offer world-class blockbuster touring exhibits, with the first being The Art of the Brick – the world's largest LEGO art exhibition.

Heinz History Center
Destination Moon: Apollo 11 Mission
September 29, 2018 – February 18, 2019
The History Center will serve as one of just four museums – and the only one east of the Mississippi River – to host this blockbuster traveling exhibition. Along with Dozens of artifacts from the Apollo 11 mission will be on display, the exhibition's centerpiece is the Command Module Columbia – the only portion of the historic spacecraft to complete the first mission to land a man on the moon and safely return him to Earth.

Mattress Factory
Through July 29, 2018
40th year anniversary of new installations
Forty years ago, artists took over an old mattress factory on Pittsburgh's North Side, founding what would become an iconic museum.

The Frick Pittsburgh
Undressed: A History of Fashion in Underwear
Through January 7
Van Gough, Monet, Degas: The Mellon Collection
March 17 – July 8, 2018
An exhibition featuring 70 masterpieces collected by Paul Mellon, son of Andrew Mellon and Pittsburgh philanthropist.