Pronounced "Law-fee-et" and founded in 1889, Lafayette, Colorado, has a diverse population around 25,000 people. This Boulder County location is home to a vibrant and creative community offering year-round events and breathtaking scenery. Discover the four must-visit places you shouldn't miss in Lafayette.
Alley Art Amazin'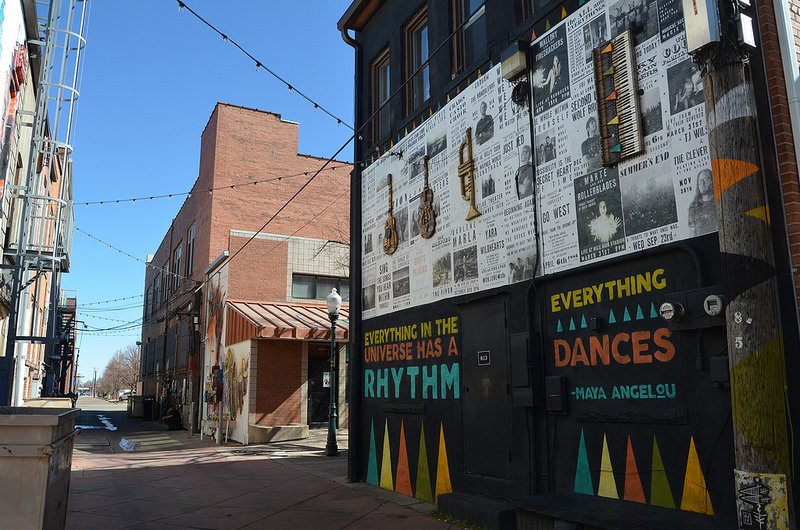 Image via Flickr by greeleygov
You'll find yourself immersed and inspired while admiring the alleyways that are turned into galleries of public art. If you're an art lover, you'll want to see these one-of-a-kind murals for yourself.
The movement began in 2011 by Marissa Perry Saints when she decided to cover up her garage door with a mural of her own handiwork titled "Art Deco Garden Abstract." The rest, as they say, is history.
This place offers something special, and that uniqueness is apparent in the alleyways of Old Town Lafayette. The creative art environment atmosphere is something that'll surely stay with you for years to come.
Waneka Lake
With an amazing view of the mountains and gorgeous sunsets, Waneka Lake is one place you'll want to visit. Stretch your legs and walk the 1-mile trail that circles the lake or jump into one of the paddleboats.
If these activities sound attractive to you, you'll want to find a place in Lafayette to rest your head for the night, preferably at a hotel with a reasonable rate. Once you're fully rested, how about watching the sunrise over the lake?
Main Street Lafayette
Regardless of the time of year, you'll have a chance to experience one of the seasonal festivals such as the beer festival in September or the oatmeal festival in January. You'll always find something to do in downtown Lafayette.
Main Street truly showcases the diverse creative vibrancy that is Lafayette, so spend some time exploring its shops and businesses.
The Post Brewing
As you can tell by now, Lafayette can be an extraordinary experience. The same can be said for some of the restaurants located throughout the town if you know where to look.
However, you wouldn't want to settle for any restaurant that comes up on the next block. What you're looking for is a place that'll be as much of an experience as the last — one with name recognition.
Why not satisfy your appetite with some of the best food and beverages Lafayette has to offer?
A local favorite that has also been featured on Guy Fieri's "Diners, Drive-ins, and Dives," The Post Brewing offers a variety of delicious craft beers. Their iconic fried chicken and chicken chicharrones are sure to satisfy your taste buds.
Lafayette: An Experience to Remember
From the beauty of Waneka Lake to the colorful and captivating murals along the alleyways of Old Town Lafayette, visiting this community will be an experience you'll find hard to forget and a place you'll easily want to return to.
Whatever time of the year you decided to explore the town of Lafayette, you're sure to enjoy every minute of your experience. Be sure to add the must-visit places above to your itinerary.