Traveling is fun, but sometimes it can be terribly worrisome. Here are 4 travel hacks to make your next trip full of fun instead of worry or annoyance. These have all served me well, and I hope they'll be just as helpful for you!
4 Hacks to Make Travel Easier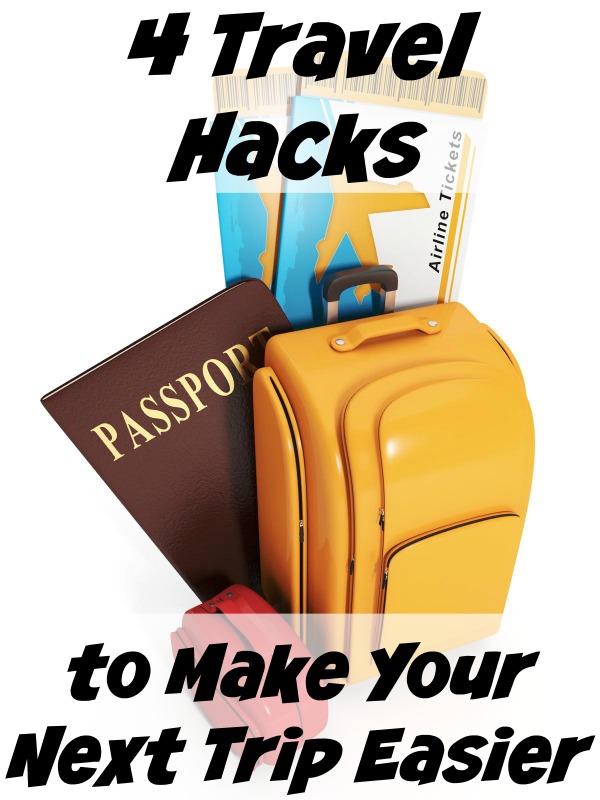 Roll Your Clothes
The rules of travel are different from house rules. At home, we love our clothes to be nicely folded in their little squares or rectangles. Not so when traveling. Here is one of my most important travel hacks: Roll your clothes. If it can be rolled, roll it. Underwear, shirts, shorts, pants – roll them all. You would think that folding them flat would save more space, but it doesn't. Rolling clothes makes packing so much easier.
Pack Lightly
I've included this as one of my travel hacks because I've seen the way some people pack. Plan out what you're going to wear and pack accordingly. You don't need to plan forever eventuality. You just need your clothing for the days you'll be gone. Pull up the projected forecast for the area you're visiting and pack for the weather. DON'T pack for every chance weather event. It will be way too much. This is especially true if you're flying.
Skip the Toiletries
Over the years, I have found that it's much easier to just buy my toiletries when I get where I'm going. It saves a ton of space and a ton of worries. Instead of bagging up your shampoo, conditioner, toothpaste, and what not and trying to cram it into any empty space you can find, just hit a discount store when you get to your destination and buy some on the cheap. This makes my travel hacks list because it's a great space and time saver for flights, especially with all those rules.
Staycation
This is the ultimate on my list of travel hacks to make travel easier. You're not traveling anywhere! "That's no fun," you say. Not so. I guarantee you that if you hit Google, you'll find all kinds of cool things in your area. Even the most hardcore of us travelers doesn't want to road trip all the time. So a staycation is a great way to discover new things and experiences close to home.
Are They Travel Hacks or Tips?
Some may call these travel hacks. Some may call them tips. I call them travel hacks, because my definition of a hack is something that makes things easier on me, and all of these fit that bill! So the next time you're gearing up for a trip, remember these 4 travel hacks, and enjoy yourself instead of putting in extra work or worry!