Dandruff affects many people in the United States, and while it's very rarely dangerous, it is often annoying. Fortunately, most types of dandruff are treatable, although it may take some trial and error before you find out what works best for you. Here are some ideas on using natural products in your kitchen, buying products online, or even changing your diet, to help get your dandruff under control.
Pinpoint the Cause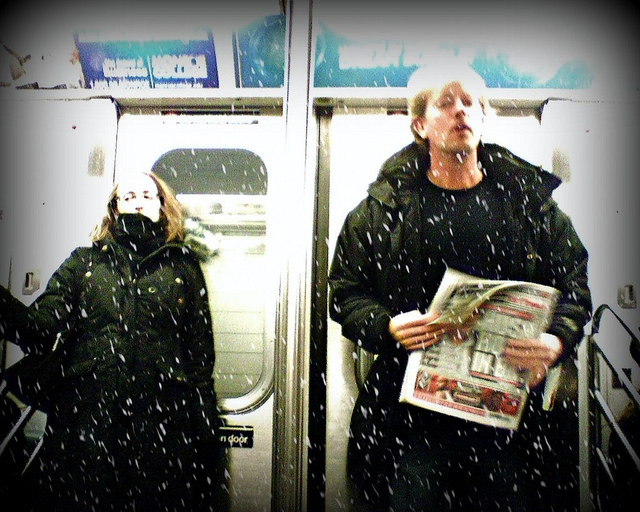 Image via Flickr by bettyx1138
Understanding what is causing your dandruff is the first step in treating it. Several different issues can cause dandruff such as seborrheic dermatitis, eczema, psoriasis, or an overgrowth of yeast on your scalp. You wouldn't treat a flaky scalp by psoriasis they same way you would treat traditional dandruff. Have a friend or family member look at your scalp and see if there are red patches which would indicate psoriasis or eczema. If you're still unsure, visit a dermatologist who will likely be able to diagnose your type of dandruff.
Change Your Diet
Although few case studies prove for a fact that your diet affects dandruff, some people have found changing their diet to be an effective way to treat dandruff. For those with psoriasis or skin disorders, consider eliminating processed foods to help control those skin issues. For any type of dandruff, increase your intake of zinc, foods rich in Vitamin B, and allicin, to your diet, and cut refined sugars if possible. If you have any known food allergies, such as lactose intolerance, make sure you avoid foods that cause reactions.
Go the Natural Route
You have things right in your kitchen that may help to control dandruff. Massage four teaspoons of coconut oil on your scalp and leave on for an hour. After the coconut oil has penetrated the skin, shampoo and condition your hair as you normally would. Consider spraying apple cider vinegar on your scalp and leaving it on for about 15 minutes. Then use baking soda as a shampoo and condition as you normally would. You may be surprised that you don't even have to leave your kitchen to fend off dandruff.
Non-Prescription Products
There are plenty of products on the market to help with dandruff that don't require a prescription. Products that contain coal-tar and salicylic acid have been known to be effective at preventing and controlling dandruff. The products will typically list the type of dandruff it is most effective at treating.
It may be easier to do your shopping for dandruff shampoos online to save time and money. Many hair care products from Amway work toward eliminating and preventing dandruff. Even if the first product you try doesn't work right away, don't give up hope. Sometimes these products take a couple of weeks before starting to control dandruff. If you don't see results after a week or two, you may want to consider trying another product.
Visit Your Dermatologist
Dandruff is rarely dangerous, but it's sometimes inconvenient, itchy, and embarrassing. If you've pinpointed the cause of your dandruff and have tried different products unsuccessfully, it may be time to go to your dermatologist. Considering how time-consuming and expensive doctor's visits can be, you want to exhaust all your at-home options before scheduling the visit. Many products are effective at treating dandruff at home; you just need to use trial and error to find the right one.
If you can't figure out the cause, or you can't find anything to curb your dandruff, then a doctor's visit might be warranted. Your doctor will discuss the skin condition, your lifestyle, and diet, and may try to find an over the counter option before prescribing something. If your doctor decides a prescription is necessary, you will likely get a prescription for a shampoo that has steroids. Sometimes these shampoos work instantly, while other times it may take a few weeks to see results.
Although dandruff is annoying, it is usually treatable. Don't assume you have to rush off to the doctor either. Start out by testing different products, and possibly even changing your diet. It's likely you can find products online that help control your dandruff. As a last resort, a dermatologist can prescribe something stronger if necessary to help control your dandruff.