This post contains affiliate links. If you purchase something from these links, The Spring Mount 6 Pack earns a small commission.
Whether you're a working mom or a stay at home mom, there's no doubt that life can get hectic. Between parent teacher conferences, soccer games, doctor's appointments, and more, you're probably looking for ways to make life just a little easier. I am always looking for life hacks for moms that will help me get done the things faster and easier so I can get to the fun things that I want to do.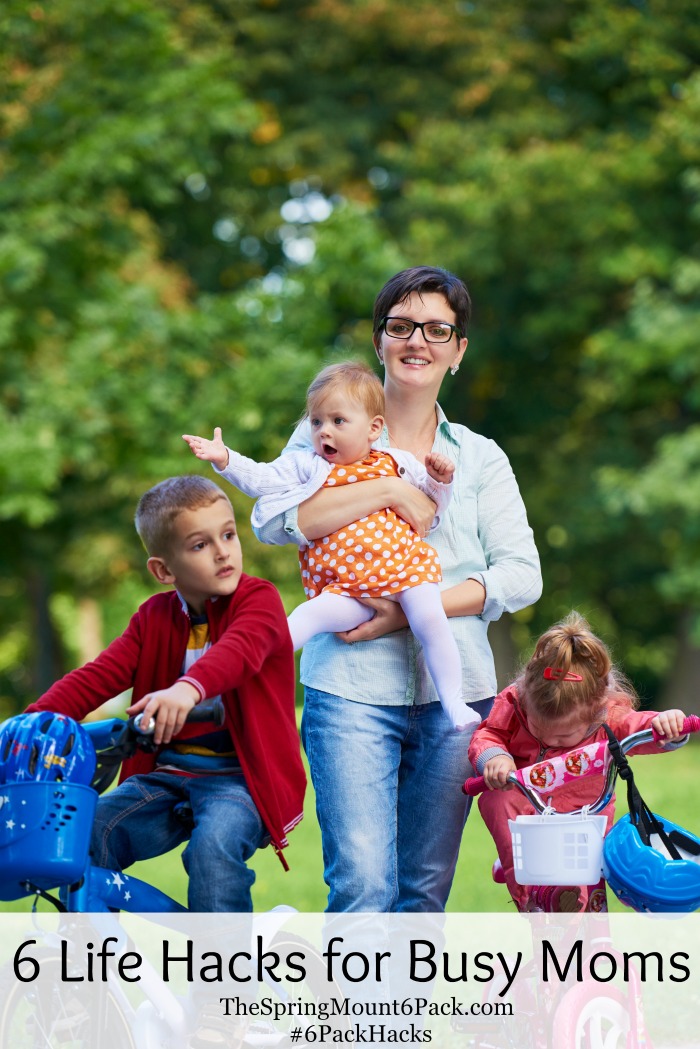 Here are 6 great life hacks for moms:
Make an activity bag for the car. Fill it with books, notebooks, and coloring books to keep your kids occupied during a long ride. When you go to appointments, you might consider bringing in a book for your child to look at while you're in the waiting room. This lap tray also doubles as a bag to hold everything. It is a great way for kids to be able to play, hold snacks and drinks without the mess. When kids are done, it all goes together into the tray pockets.
Choose one day a week to prepare your meals. Make meals that you can freeze and then pop in the oven when you're ready to have them. Things like chili, lasagna, casserole, and stuffed peppers work great. Buy these meal prep containers designed for the freezer to make it easier to freeze prepped meals.
Consider having your groceries delivered. Many grocery stores now offer a delivery service. For some busy moms, this can be a better alternative to carting your kids around the store. Amazon offers grocery delivers.
Encourage your kids to do chores. Even toddlers can help with chores by putting their toys away when they're finished playing. Older children can dust, vacuum, and put their laundry in the hamper.
Always keep a first aid kit in the car. You never know when your kids may need a Band-Aid! You might also consider packing a spare change of clothes for every kid in the event of an accident. Get a car first aid kit.
Consider organizing a car pool with your neighbors. Try to arrange so that you only need to drive the kids to and from school one or two days a week. This will help take the burden off all of the parents involved in the car pool.
These are just 6 great life hacks for moms! Although there's no doubt that parenting can be hectic, there are plenty of great ways to make your life easier.