A Room with a view: On top of a mountain!
Travelodge have given a new meaning to the term 'room with a view' after teaming up with Macmillan Cancer Support to assemble a hotel room on top of Ben Nevis, and raising a generous £40,000 in the process.
The 38-strong team carried a collection of hotel room furnishings (including a heavy bed!) and equipment all the way up the 1,344 metre peak, before assembling the highest hotel room seen in the UK since 1916!
The first time a hotel room has existed on the peak of Ben Nevis was the Temperance Hotel, which provided food and a bed for climbers during 1894 to 1916.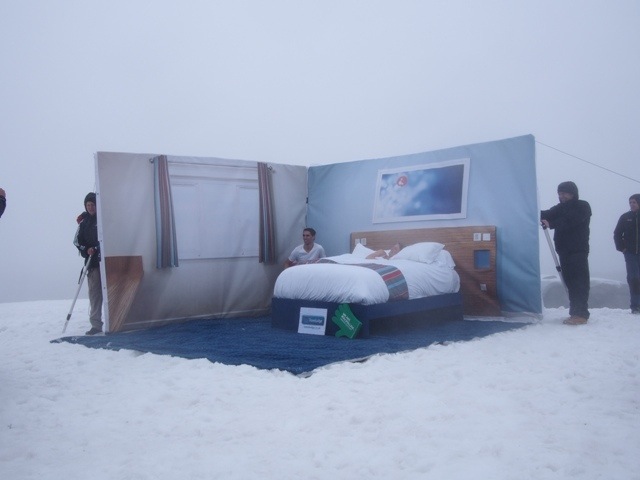 Similarly to Temperance, Travelodge wished to give weary travellers a well earned break. What's more, not one to do things by the half, the Ben Nevis Travelodge room included all the luxuries of a normal hotel room, including the Travelodge Dreamer bed complete with sheets, duvet, pillows and a bed runner, but also walls, a hanging picture and a comfortable chair to rest aching muscles.
I think it's safe to say, the brave team who took the challenge slept even better than the customers that night! After all, the only thing which sounds more exhausting than climbing a mountain, would be to haul a bed up one!
For pictures of the highest the room in UK, visit Travelodge.