Disclosure: complimentary accommodations and activities, and, in some cases Media rates, were provided to showcase this venue properly. All opinions are my own. My husband and I are celebrating 15 years of marriage. Most people hear that and they can not believe that we have been together that long. And then I really surprise them by saying we have been together 21 years. This comes as such a surprise is because I am only 37, so that is a long time to be with someone, from such a young age.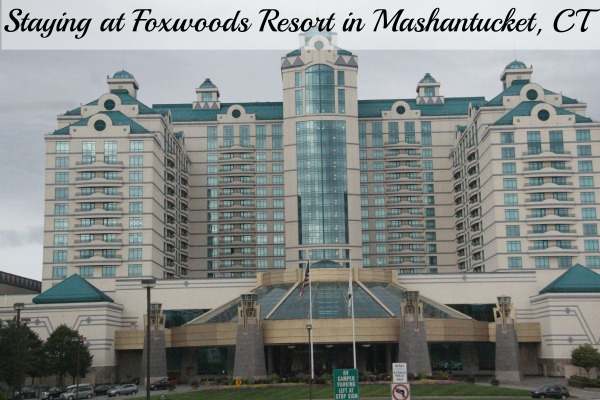 We wanted to celebrate with a weekend away and when I heard about the Foxwoods Resort Casino, this was the place to go. The Foxwoods Resort Casino is one of the premier hotels in the Northeast with gaming, shopping and entertainment. Foxwoods is the largest resort casino in North America. It has 6 different casino floors , AAA Four-Diamond Hotels. It has an array of places to eat, from gourmet restaurants to places to grab a quick bite, world renowned spas, an award winning golf course, plenty of entertainment like night clubs, comedy clubs, state of the art theaters, and exclusive retailers.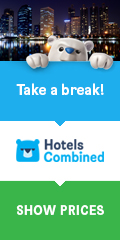 Find Foxwood on Hotels Combined and Save money on your trip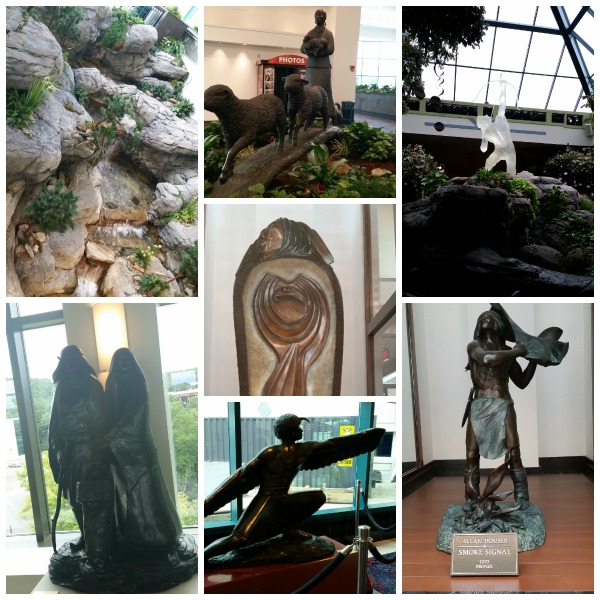 Foxwoods Resort Casino is owned and operated by the Mashantucket Pequot Tribal Nation. The Mashantucket Pequots are a native Algonquin people in Southeastern Connecticut known for their "Pequot spirit of survival". There is so much to learn about the Pequot tribe that you can see at the Mashantucket Pequot Museum and Research Center. The resort is filled with beautiful reminders of the Pequot spirit.  All though the halls, there are these beautiful sculptures. I could have walked around just looking at these art pieces. The resort is huge. I mean huge. We arrived early in the morning, much earlier than our room was ready just to have some extra time to explore. We parked in the first lot that we saw, and come to find out, it was the complete opposite end of where we needed to be. To give you an idea, when we asked a security guard where the Fox Towers was at, we were by the Rainmaker Casino Floor, she told use the directions and then said it was 1/4 mile walk, or we could go outside and take the shuttle to the other side. Now we walked that length several times, so don't let the sound of that discourage you.
Each area of the resort has it own things to do. The resort has really worked hard to make it so that you do not really need to leave the property to spend your time. I was very impressed with how many little stores and boutiques there are to shop at. My husband even surprised me with a beautiful ring from one of the stores. There are stores for everyone ranging from cute and reasonable to very high end and luxurious.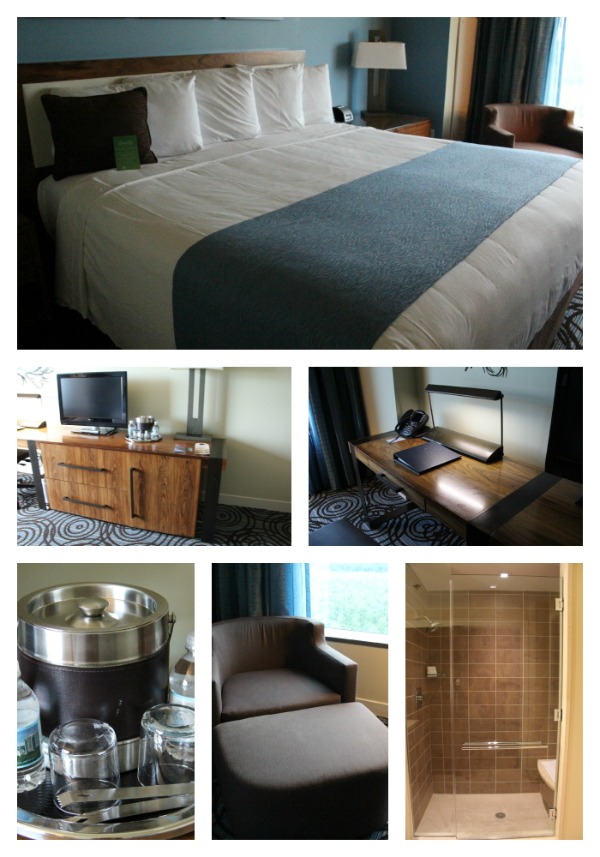 There are several hotels to stay in at the resort: Grand Pequot, The Villas, Great Cedar, Two Trees, and The Fox Tower. We stayed in the newly renovated Fox Towers. Our room was beautiful.  A comfy bed, a spa like shower, a high definition tv, with a nice desk to work at. There was a mini fridge which is nice because with all the restaurants  on site, it is sure to leave you with left overs at dinner that you might want to take with you.  And the view. Oh the view.
The resort offers amenities like 3 pools and 2 spas. Jimmy and I was able to indulge ourselves at G Spa. And by the time I was done, I was this incredible soft (skin) pile of goo. The spa in on the 3rd level, when you come off the elevator, you turn towards the doors and you leave the craziness of the casinos and shopping behind. It is so serene. And the staff is so incredibly helpful. There is a rest room that has a private changing room, everything you need for touching up your hair afterwards, and other small items needed for once you leave so that you do not have to go back to your room to get yourself back together. There is a locker room to leave your personal items and clothes. You get your robe and slippers and then relax while you wait for your appointment. In this room there is a selection of tea and water and fruit to snack on. Then you go back for your services. I received the Milk and Honey wrap and then a massage. I wasn't sure what to expect from the milk and honey wrap. You start off with what seems like a sugar scrub. I do not know what kind of scrub it is, but that is what it reminded me of. After you are perfectly exfoliated, you are rubbed down with a warm oil and then wrapped up in a Mylar blanket. While you are relaxing and letting everything soak into your skin, you are treated to a scalp massage. Then it time to take the blanket off and get cleaned up. The relaxation would be ruined if you had to get up to go shower off, plus it would be a little awkward. The G Spa has a shower that goes over you right where you lay on the table. Once you are clean, if that is the end of your treatments, you are completely ready to go off and enjoy the rest of your day. Or I highly recommend staying and getting  a massage afterwards. The massage was perfect. She asked me if there was any areas that needed special attention and her pressure was perfect. By the time I was done, I was seriously just a pile of goo. I was so soft and relaxed.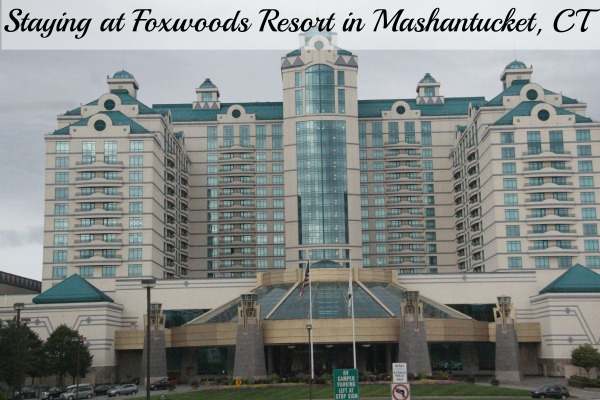 And then there is the food. There are plenty of places to find great food to eat. We enjoyed dinner at David Burke Prime. David Burke Prime features a contemporary steakhouse menu with meats handpicked by Chef David Burke himself, and dry-aged on the premises in a salt-tiled aging room. The kitchen is open so that you can see right inside. I was so fascinated watching the kitchen staff work together to turn out this amazing food. We started with cocktails ,Tia Misu and Blueberry Beauregard, while we decided on our meals. I order french onion soup just about everywhere I go.  This was one of the best I have ever had. It was rich and had a deep taste in the broth. The Cesar salad is made table side and the staff explains each step along the way.  Jimmy ordered one of the 12 ounce 60 day dried sirloins while I order the filet Mignon. I like my steaks well done and my server recommended that if I ordered one of the salt dried steaks well done, I would not enjoy it because it would be too dry.  The side dishes are served family style so that you can share them.
Dessert was amazing. Homemade ricotta doughnuts with 3 sauces. These were little puffs of heaven.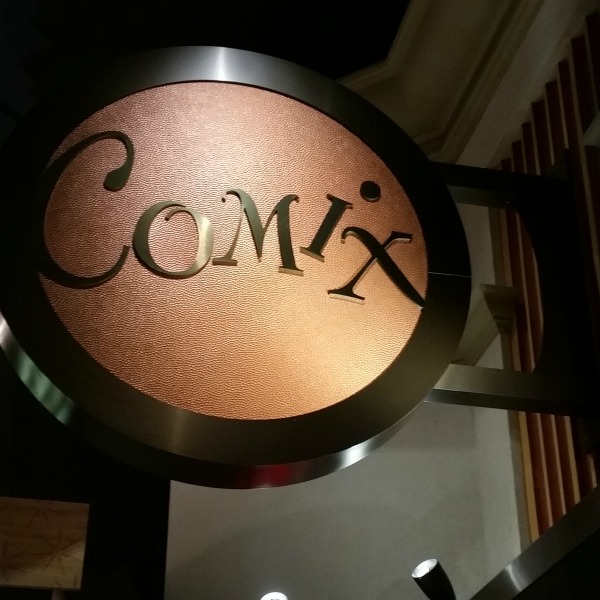 Later that night, we went to one of the night life spots, Comix. On Friday nights, the Comix features Friday Night Filthy edition. Think about watching a comedy show that comes on closer to midnight rather than one that is on at 8pm to get the idea. It was my first comedy show and I loved it. We had great seats at one of the VIP tables. Right in front of us, there are VIP couches. There are also general tables. Comix does have a 2 drink minimum but the drink prices are very reasonable and they also offer non alcoholic options so it is easy to meet. I really hated to see my stay at the Foxwoods end because there was so many things I still wanted to do. I only spent a short time checking out the Casino floors, and since there were smoke free options I would have loved to check out more of the games. There is a giant Bingo hall. And I mean GIANT. There were so many stores that I wanted to window shop in. I love staying at the Foxwoods Resort Casino and it is definitely on my list of places to revisit. Connect:
Visit HotelCombined to book your stay and save money your trip.