Looking for a simple skillet meal? Skillet meals are great for a quick one pan dinner. This Autumn Vegetables and Pasta Skillet Meal brings together all the flavors of fresh fall vegetables with the simplicity of skillet meals.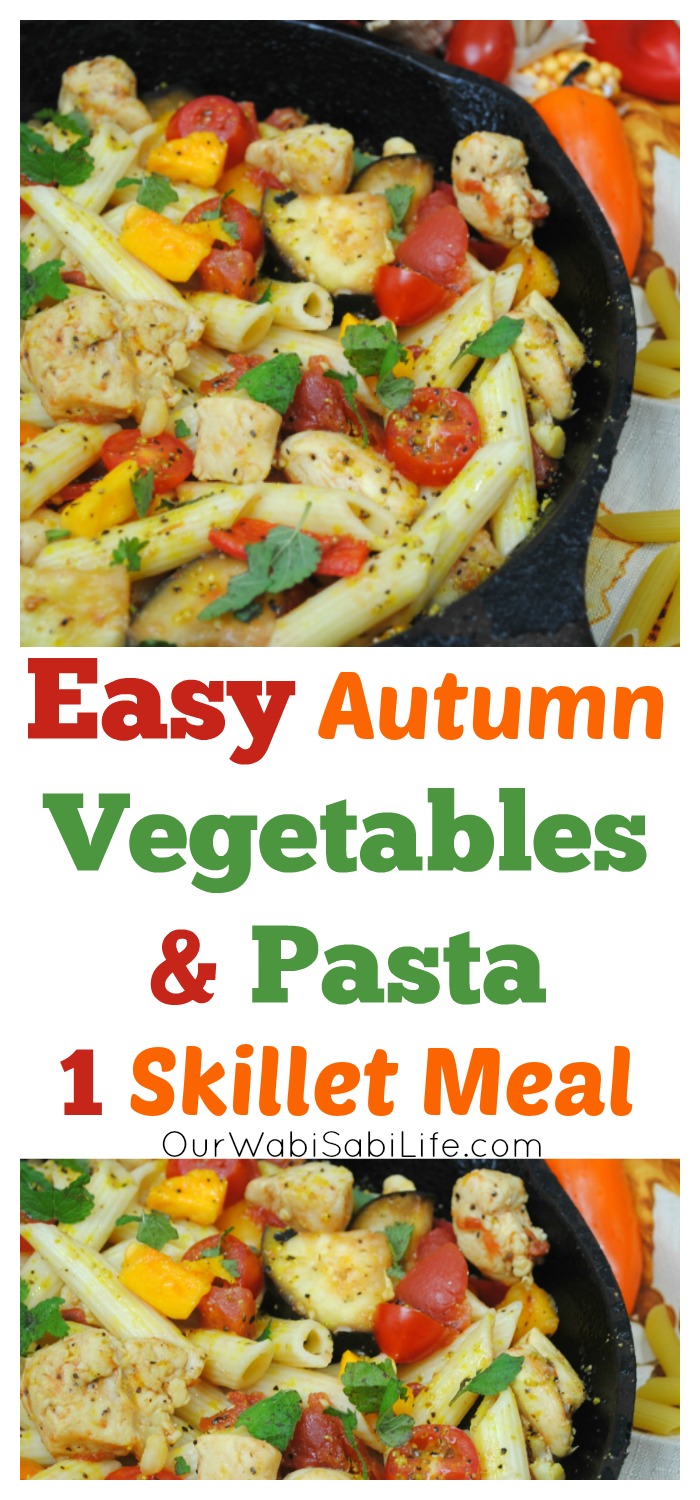 Easy Skillet Meal
I love an easy skillet meal. Dinner is easier when it is made in one pan. In the past, we have shared a few skillet meals, like Cajun Pork Skillet Meal and Oriental Pork Cast Iron Skillet Meal. We even make an Easy Skillet Frittata that is a low-cost dinner as well as an easy skillet meal.
What makes this skillet meal so fantastic is that it is so easy to make. As summer comes to an end and fall starts, there are so many delicious vegetables that are coming into season. Those vegetables come together so well in this one skillet meal that you will be looking for every produce stand and farmer's market you can find in order to make this dish often.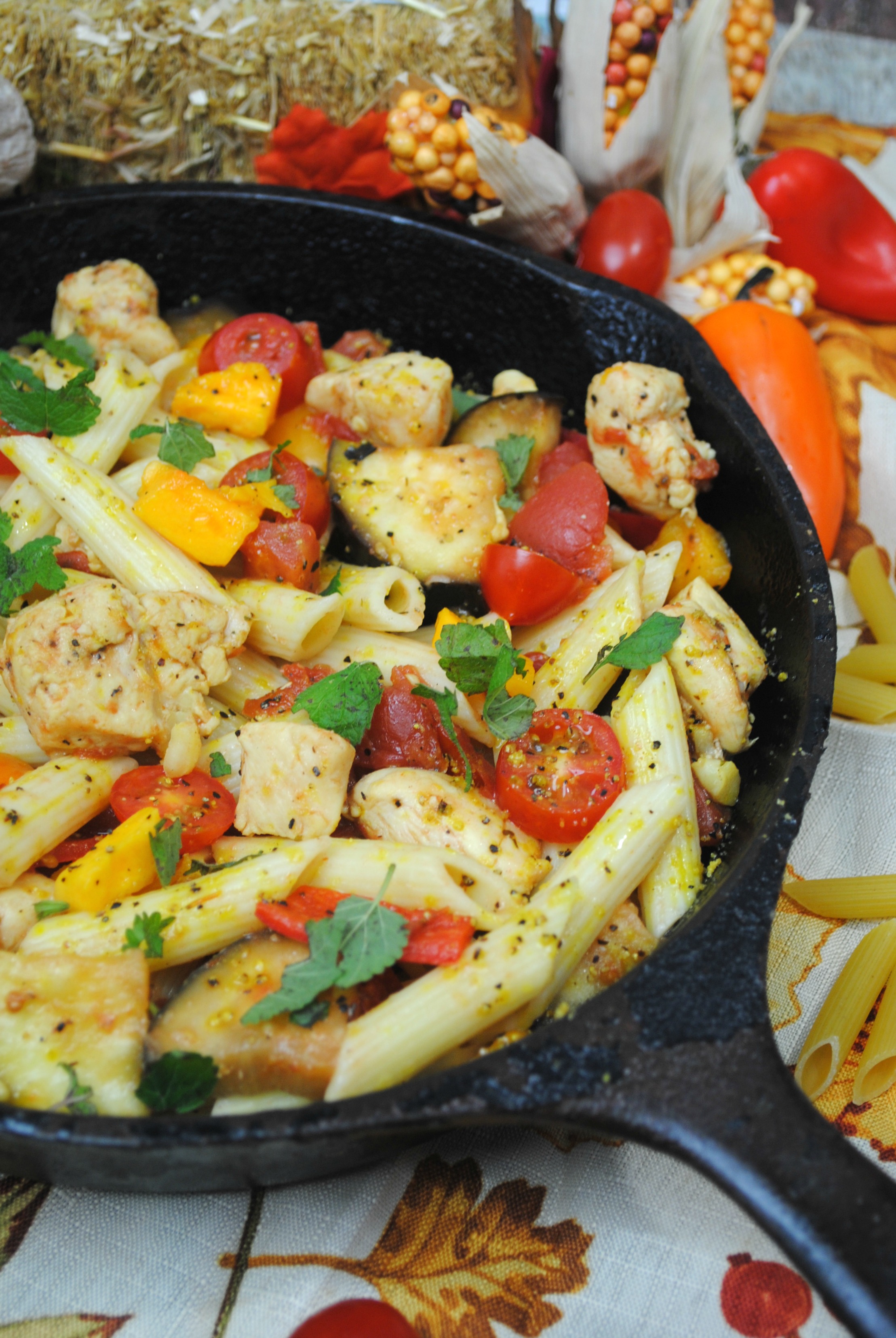 Autumn Vegetables and Pasta Skillet Meal
Want a printable version? Be sure to scroll down.
INGREDIENTS
1 box of Penne pasta
3 boneless skinless chicken breasts
1 cup chopped squash
1 cup of chopped eggplant
1 cup of sliced mini peppers
1 cup of diced yellow and red mini tomatoes
1 can of fire roasted tomatoes
3 Tbsp. of Lemon pepper seasoning
1 Tbsp. of Crushed red pepper
3 Tbsp. of Olive oil
1 tbsp. of minced lemon balm
DIRECTIONS
Cook your pasta as directed and set to the side
Dice your chicken into small chunks
In your skillet add your oil and chicken sprinkle with 1/2 of your lemon pepper seasoning and cook until done
Add your vegetables ( not the can ) to your chicken and cook until tender
Add your can of fire roasted tomatoes and begin to add your cooked penne.
Toss to combine
Garnish with the rest of your lemon pepper, crush red pepper and Lemon balm
Enjoy
Be sure to scroll down for the printable version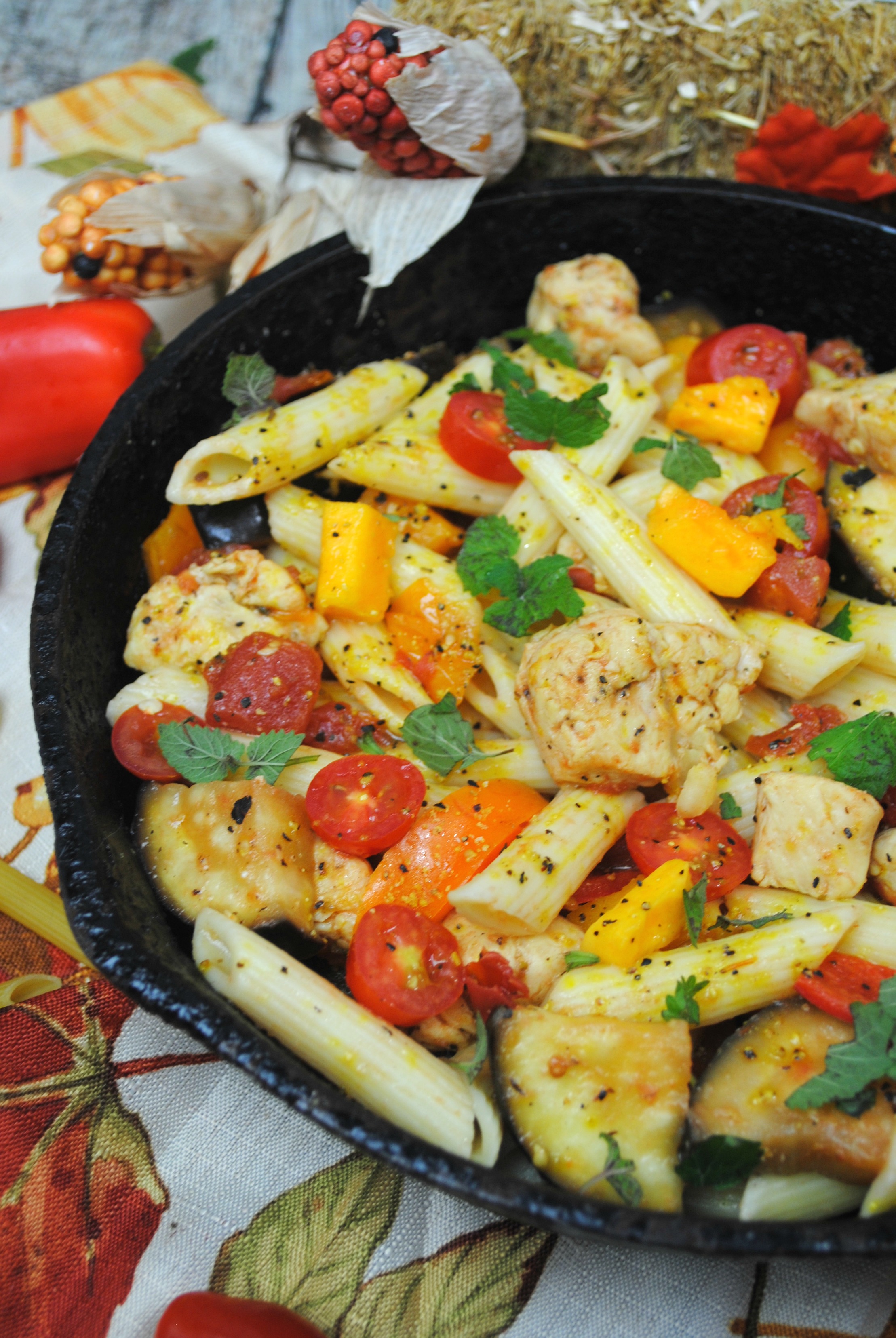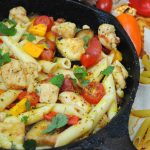 Autumn Vegetables and Pasta Skillet Meal
Ingredients
1

box of Penne pasta

3

boneless skinless chicken breasts

1

cup

chopped squash

1

cup

of chopped eggplant

1

cup

of sliced mini peppers

1

cup

of diced yellow and red mini tomatoes

1

can of fire roasted tomatoes

3

Tbsp.

of Lemon pepper seasoning

1

Tbsp.

of Crushed red pepper

3

Tbsp.

of Olive oil

1

tbsp.

of minced lemon balm
Instructions
Cook your pasta as directed and set to the side

Dice your chicken into small chunks

In your skillet add your oil and chicken sprinkle with 1/2 of your lemon pepper seasoning and cook until done

Add your vegetables ( not the can ) to your chicken and cook until tender

Add your can of fire roasted tomatoes and begin to add your cooked penne.

Toss to combine

Garnish with the rest of your lemon pepper, crush red pepper and Lemon balm

Enjoy