You know that Aveeno is known for being a great skin care product. It has been recommended by Pediatricians for over 60 year. Now they have come out with the AVEENO Baby Bathtime Solutions Gift Set, which includes products to nurture baby's skin and pamper mom!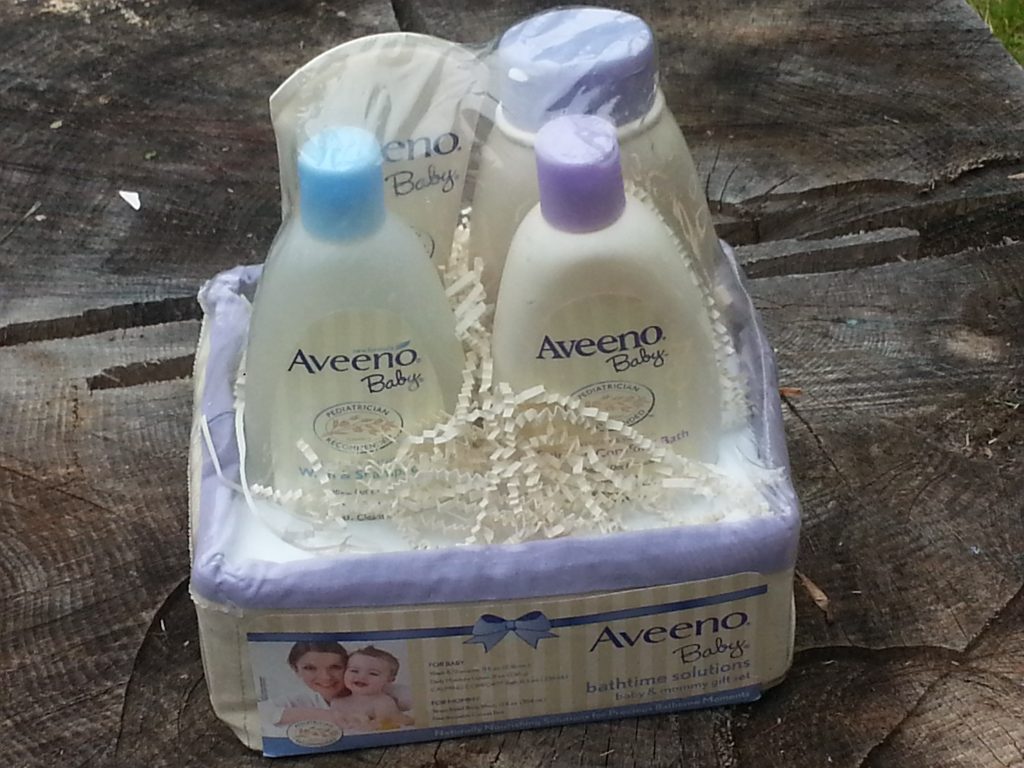 AVEENO® BABY BATHTIME SOLUTIONS GIFT SET

AVEENO®Baby Wash & Shampoo:  blends natural oat extract into a rich, lathering, soap-free cleanser that cleans without drying
AVEENO®Baby Daily Moisture Lotion: non-greasy formula contains natural colloidal oatmeal to help soothe baby's delicate, dry skin
AVEENO®Baby Calming Comfort Bath: tear-free, soap free cleanser contains soothing scents of lavender and relaxing vanilla

·         AVEENO®Stress Relief Body Wash: formulated with natural colloidal oatmeal to clean and moisturize skin, and scented with lavender, essential chamomile and ylang-ylang oils to help calm and relax you in the shower.
I have shared with you all several times how much I love essential oils. I love natural products and I love things that are gentle on my daughter's skin. Willow is 3 now but her skin is more sensitive than most babies. So because of that, I only use baby washes and lotions on her because otherwise she is likely to break out in hives randomly.
Aveeno's Baby Wash and Shampoo is a great wash that cleans both Willow's hair and her skin. It works into a great lather and can also double as a bubble bath for kids that have sensitive skin. I love the Daily lotion for her skin as well. If Willow doesn't use a lotion every day, her eczema kicks up, and she spends she just digs at her skin, even in her sleep. Which any mother knows, is completely heartbreaking.
Everyone in the family loves the Calming Comfort bath. It is perfect for both girls because it is tear free and if they get it in their eyes, it doesn;t burn and stings. We use this one as a bubble bath as well. Personally, I feel like children and adults of any age can benefit from lavender and vanilla. It is designed for babies, and is great for young children as well. For older kids and adults, there is a Stress Relief Body Wash. As any mother knows, those first few days weeks months years, can be stressful. With the Stress Relief Body Wash, besides being great for the skin, it contains lavender, camomile and ylang-ylang. All of these essential oils are great for helping to calm nerves, relax, and just help settle people down.
All of the lotions and washes are amazing for the skin and makes a perfect gift for Mom and baby. It  retails for about $18.10 at food, drug and mass merchandisers nationwide. Do you know a new mom or family that this would be perfect for?