When I found out I was pregnant with Willow, I was working in the office of a daycare. It was a great place to work, I loved it. Serenity loved coming to work with me, she would play with the kids and learn from things before heading off to kindergarten, and I would have the afternoons off, to get everything done, before all of the kids getting home from school.
When I found out I was having Willow, my fully intended to head back to work, my only problem was that they didn't take children until they were 13 months. But I was able to work out an arrangement where I would be able to work a different schedule until Willow was old enough to come in with me.
When Willow was old enough to come to work with me, I was thrilled. No more crazy schedule. But I son started missing a lot of work because Willow kept getting sick. She was 13 months old, and in a matter of 3 months, she was sick 7 times. Each time was a little worse. The last time she got sick, she was the sickest I had ever seen. I had always been lucky, my kids were never sick. The worse we had ever gone through was one ear ache, when Joey was 2. So seeing Willow so sick all the time was frightening for me. One night, when she was so sick, we ended up in the er. She couldn't stop coughing, she couldn't breathe, and she was starting to look blueish. Willow had RSV and pneumonia. I was scared to death. I had always heard horror stories.
We were lucky. Willow did not need stay in the hospital. She was given some medication for the pneumonia, and after a bit of time, started to feel better. But it was a hard road for her to get better. She was sick for about a month, and there were more times than I could count, where I wondered if she was getting enough air. I was always ready to run back to the doctor or the er.
When we were home, I did a lot of research on RSV. And what I learned was both scary and informative. Most children by the age of 2 will have contracted RSV, but do not know it. When a child has a serious RSV infection is can lead to a hospital stay, and it is the leading cause of infant hospitalization, responsible for more than 125,000
hospitalizations and up to 500 infant deaths each year. With an estimated 82% of U.S. children aged six weeks to six years old in some kind of child care, children spread germs easily. Since many kids do not wash their hands properly or often enough, and child care settings is a place kids are rewarded for sharing toys, it is a breeding ground for germs.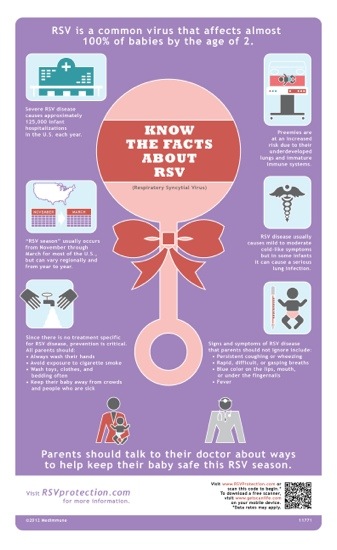 Some children are at an increased risk of complicated infection from RSV, especially preemies. Symptoms of serious RSV infection can be persistent coughing or wheezing; rapid, difficult, or gasping breaths; blue color on the lips, mouth, or under the fingernails; high fever; extreme fatigue; and difficulty feeding. If a parent sees these symptoms, it is important to consult a physician. Since there is no treatment for RSV, the best line of attack is prevention.
To learn more about RSV risks and prevention, visit www.RSVProtection.com and follow #RSVProtection on Twitter.
I wrote this review while participating in a campaign for Mom Central Consulting on behalf of MedImmune and I received a promotional item to thank me for my participation.