Whether you are driving on a road trip or heading to the gas station, the bad weather is something that is inevitable in most parts of the country. It is important to know how to drive in bad weather for your safety as well as others. If you spend time on the road during the cold and icy winter months, it is important to know how to drive in winter weather.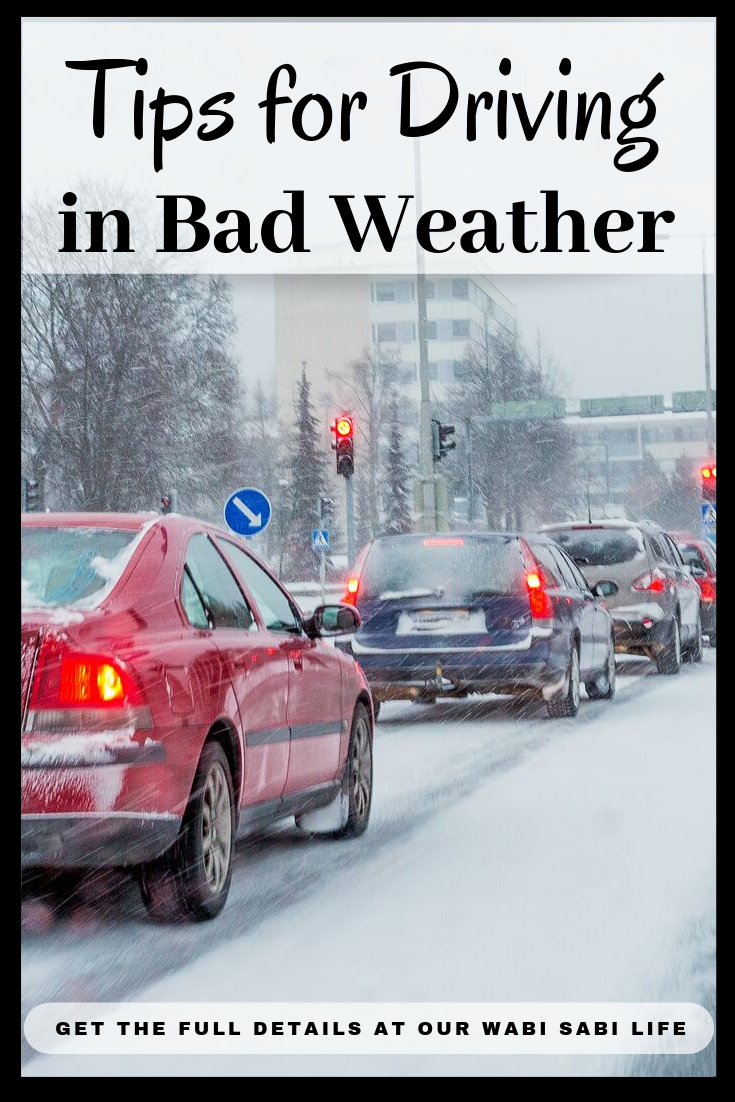 Around here, there are a lot of people who like to head out in the cold weather months. Many want to hit the slopes and go skiing and snowboarding. Other just need to get from destination a to destination b. No matter the reason, you need a roadworthy car to help keep you safe on the road. Be sure to check with your local dealership to make sure your car is winter road-ready and then, remember these bad weather driving tips.
Bad Weather Driving Tips
I truly believe that when it is bad weather, don't go out unless you have to go out. And this isn't just because I hate going out in the cold weather. It is just safer to stay home with the roads are bad. This keeps vehicles out of the way and lets the salt trucks salt the road and plow the roads faster. It also lets emergency services to deal with true emergencies instead of car accidents. Stay home, watch a movie and drink hot chocolate with the kids.
If you have to go out, try to do so during the day. The temperatures are usually higher which means less ice. It is also easier to see what is going on with the roads including black ice.
Stay on the Main Roads
If you have to go out, stay to the main roads. Don't take the back roads because it is a shortcut. The main roads are traveled more which means that they are usually sated and plowed better. But even then, the roads are icy. Remember that just because the road seems fine, especially when you have been driving for long stretches. Most bad spots are not seen until you are skidding on them.
How to Drive in Bad Weather
There are simple things that you can do to make it a little better when driving in bad weather.
Remember that concrete freezes before blacktop or asphalt.
Go easy on the brakes. Do not press hard when you are trying to stop. This will cause you to skid and lose control.
Also, do not press hard on the gas. This can cause the tires to spin and you can lose control.
Go Slow. You need to drive much slower when the roads are bad. If people do not like it, let them go around you. Do not let someone make you feel pressured to go faster than you are comfortable with.
Be sure to leave enough space between you and the car in front of you. If you have to stop fast, you might slide into the car ahead of you and have an accident. Leaving space gives you more time to stop.
Check the township's website or call the township building to see when they salt and plow. Some towns even have info on how to track the salt trucks to see where they have been and what route they are taking.
Put salt or sand, even kitty litter in the back of the car. More weight in a car, when it is a rear wheel drive car gives better traction. If you get stuck it doubles to give you traction.
What to Do When You Start to Slide on the Ice
The most important thing to remember when you start to skid on ice is do not panic. Let go of the brakes because if you are pressing down the ABS, anti lock brakes, can lock up. You want to turn into the slide. That means, whatever way the back end of the car is sliding is the way tou want to turn. An easy way to do it is to look the way you want to turn and start to turn that way. However, do not overturn or compensate to much because you can start to turn too far that way.
If you can stay home during the bad winter weather. If you have to go out, use these ideas to stay safe.