If you travel frequently or are just generally on-the-go, keeping house plants alive can be a challenge. This list of the best house plants for travelers will help you enjoy your travel and also enjoy beautiful, healthy house plants.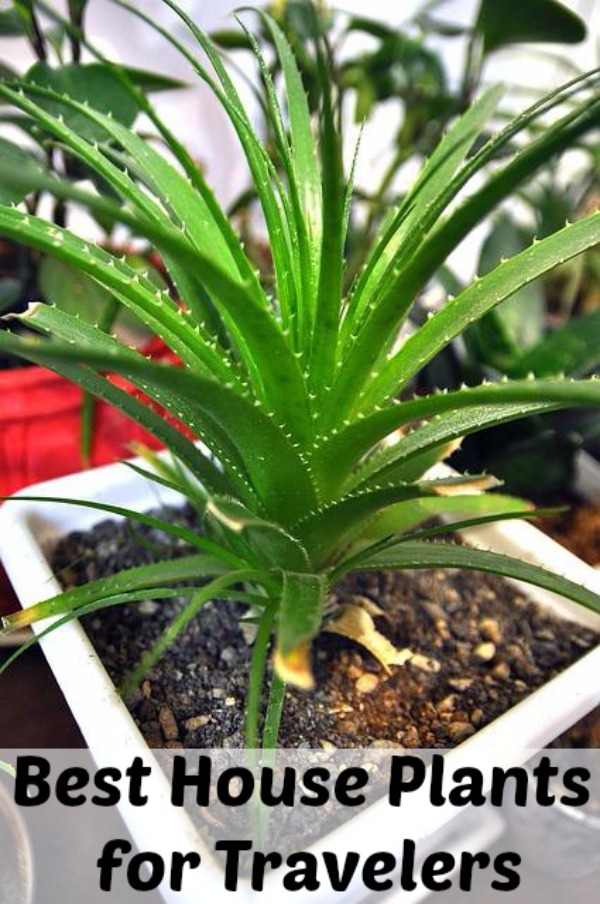 The Best House Plants are the Toughest
Frequent travelers or people who are just extra busy are going to need plants that can thrive even when the water is infrequent and TLC doesn't come as often as it should. These are the best house plants for travelers because, like Steven Segal, they're hard to kill.
Pothos
Pothos is a beautiful variegated plant that can actually absorb toxins from the the air and porous materials in the home. Because it has trailing stems, make sure you have some sort of surface for it to climb on. This is a great plant for travelers because it likes the soil to be somewhat dry before watering, and it can flourish in a variety of light conditions.
Aloe
Aloe Vera is a succulent, and travelers know what that means – low, low maintenance. As a succulent, the Aloe plant enjoys dry soil, which makes it one of the best house plants for busy people. All you really need to do is make sure it gets a lot of sun in a day. You have to actually TRY to kill the Aloe plant.
Jade
Jade plants are not only hardy, they're just plain cool. It's a succulent, so it needs very little water, and like the Aloe plant, it needs lots of sunlight. If you make sure your Jade has a touch of water every so often, and you leave it in a sunny spot, it can live for years. I'm talking decades.
Snake Plant
Like all the other plants on this list of the best house plants for travelers and busy people, the Snake Plant is ridiculously easy to care for. This is absolutely one of the fool proof plants for anyone to have. It enjoys dry soil, and it can thrive in almost lighting conditions. It's pretty much indestructible.
Ficus
Ah, the Ficus. It's the reigning king of house plants. I can't think of many people who don't have a Ficus in their house plant collection. The Ficus is a super easy plant to care for if you do it right. It needs a deep watering, but it only wants it after several days of the soil being dry. It also likes full sun or bright filtered light. That means that if you're heading out on a week long trip, make sure your Ficus' soil is dry, then water the heck out of it right before you leave. By the time you get back, it'll be ready for another watering.
Easy peasy.
These are just a few of the best house plants for busy people and frequently travelers. There are more, but these are my personal favorites. Unless you absolutely set out to kill these plants, they can thrive with EXTREMELY minimal effort and care, which is exactly what we busy traveler types need!