Looking for back to school lunch ideas? Want something more than sandwich ideas? Get these Best No Sandwich School Lunch Ideas.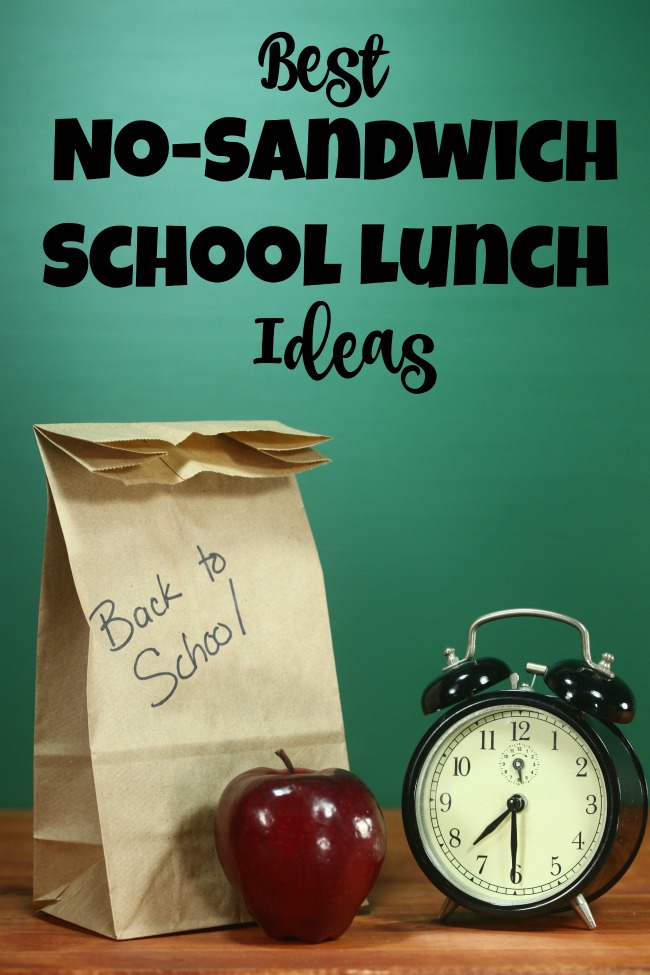 Back to School No Sandwich Lunch Ideas
Sandwiches are a standard for lunch boxes because they're easy to prepare, easy to eat, and they don't need to be reheated. However, sandwiches can get old when you eat them five days a week for nine to ten months out of the year. Finding non-sandwich alternatives will keep your kids interested in lunch and make you the coolest parent. Here are some non-sandwich lunch ideas for your kids' school lunches.
Back to School Lunch Ideas
Pasta Salad
Pasta salad is filling and delicious. It's also nice and cool to eat during the hotter months of the hear. There are so many different types of pasta salad, you can pack it often without your kids getting sick of it. You can make an Italian pasta salad, which is a universal favorite. It includes corkscrew pasta, mini pepperoni, tomatoes, black olives, and shredded cheese. Add some Italian dressing and your child has a delicious main course for lunch.
Ranch pasta salad is another type that children tend to love. Mix the corkscrew pasta with shredded cheddar cheese, diced tomatoes, and pieces of bacon. Mix it all up with some ranch dressing, and your kids are going to love it. You can even add some canned chicken breast for some extra protein.
Ham & Cheese Skewers
Everyone loves kabobs. Most people make them on the grill with meat and vegetables. You can make some school lunch-friendly kabobs with ham and cheese. Buy chunks of ham or cut up a whole ham into thick slices. Put the ham on skewers with slices of cheddar or Swiss cheese between them.
Quesadillas
Quesadillas are just as delicious cold as they are warm. If you want to try and keep them warm, you can make them in the morning and wrap them in foil. If your kids have a good, insulated lunch box, they should still be warm at lunchtime. Put some shredded cheddar cheese between two tortillas and fry it on the stove in a little butter. Remove it from the heat and cut it into triangles, like a pizza. Wrap the triangles and add a side of sour cream for dipping in a small container. Here is a delicious Chicken Taco Quesadilla recipe or a Breakfast Quesadilla.
Taco Nachos
What kid wouldn't want chips for lunch? This is a great meal with a taste of home. Heat up some taco meat before school and wrap it in foil. In separate, small containers, include shredded cheese, lettuce, sour cream, and salsa. Put a handful of corn chips into a sandwich bag. Your child can dip the chips into the taco meat and top with the salsa, sour cream, and cheese. You can also send a larger Tupperware container so your kids can put the chips in it and put all of the sides on top a once.
Mini Pizzas
Kids seem to love the pizza lunchables. This is a great way to make your own. Buy some pizza dough from the store that you can roll out. For some extra fun, cut out the small pizzas with cookie cutters. Your kids can take pizzas to school that are shaped like hearts, stars, or even Christmas trees during the holidays. Add a little pizza sauce, cheese, and mini pepperonis. Bake and pack the pizzas in their lunch box.
Sandwiches aren't the only option for school lunches. These lunches are thoughtful and they'll be fun for your kids to see in the lunchroom. Once you start making these ideas, you'll come up with plenty of new ones on your own.
Need More Back to School Lunch Ideas?
Try these recipes: