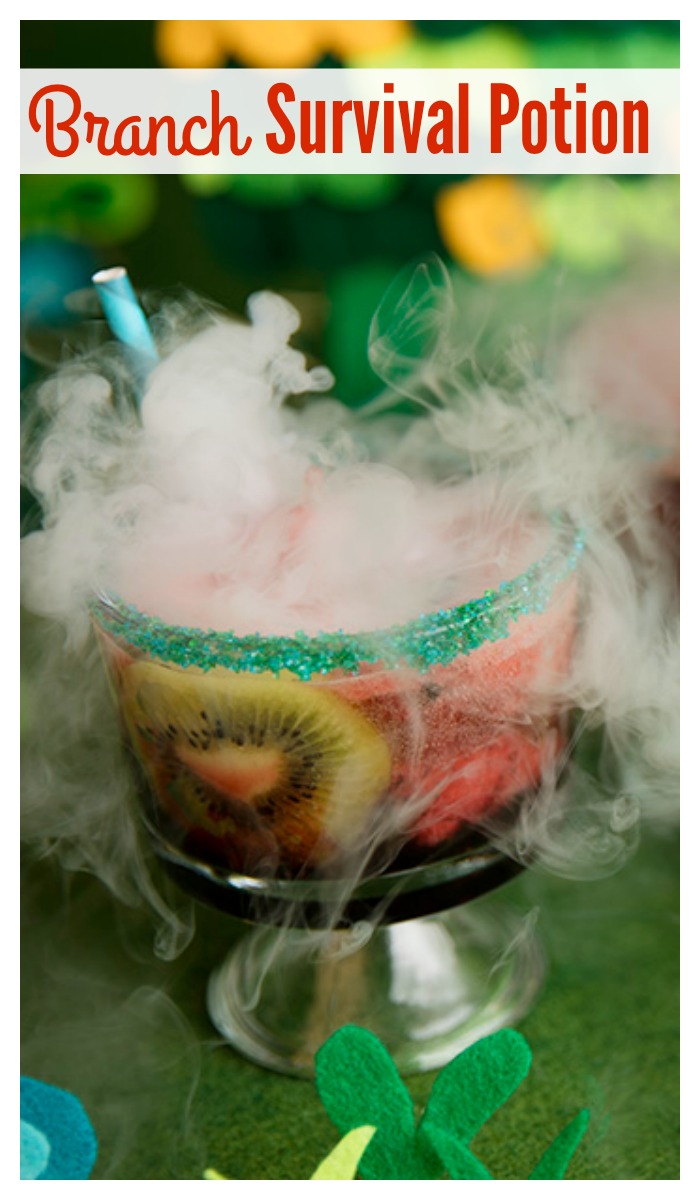 Have you seen the new movies Trolls? How cute does it look? We haven't seen it yet but I have heard rave reviews about it.
Just in case you don't know what the movie is about:
The Trolls are tiny creatures that live in a state of happiness, where they spend their time singing, dancing and hugging all day long. But there is a problem. They have been discovered by the Bergens, who are large creatures that have never felt happy. The Bergens discover that they can feel happy for a little while if they eat a Troll. So, the Bergens take the Trolls and put the them and their tree in a cage. The Bergens start to hold an annual festival that involves each Bergen gets to eat a Troll so that they can feel happiness. The Trolls, led by their King Peppy, escape through underground tunnels on the day that the Bergen prince Gristle Jr. gets to taste his first Troll. King Gristle Sr. banishes the Chef  because he was in charge of the Troll preparation.
Twenty years goes by and King Peppy's daughter, Princess Poppy, who is extremely happy and always optimistic, throws a big party to celebrate the day the Trolls escaped. Troll Branch, who is a grumpy grey troll, warms that the loud party will attract the Bergens, but the princess ignores his warning and celebrates anyway. Branch's fears come true when the banished Bergen Chef spots the fireworks and captures some of Trolls. Poppy managed to hide with some of the other Trolls. She soon learns that non of the other Trolls are willing to venture to Bergen Town to rescue their friends so she heads off by herself.  Along the way she gets trapped by several spider-like creatures. Who should come to her rescue, but Branch himself, and together they go to Bergen Town.
More trouble awaits Poppy and Branch when they get to Bergen Town but to find out more, you'll have to see the movie. While you are waiting to go to the movies, why not enjoy a Troll inspired potion.
Branch Survival Potion,Troll Inspired Drink
Branch Survival Potion is just what any inner-Branch character needs to boost their confidence and encourage positivity!
Serves: 4 // Total Time: 10 minutes
Ingredients:
Sparkling Ice Kiwi Strawberry
3-4 Fresh Strawberries, hulled
5-6 Fresh Blackberries
Garnishes: Sugar for Glass Rim, Pop Rocks, Dry Ice (optional), Fresh Sliced Kiwi
Directions:
Blend the strawberries and set aside. Rim a glass with colored sugar of your choice. Smash blackberries at the bottom of the glass. Add the blended strawberries and sliced kiwi. Fill the glass with Sparkling Ice Kiwi Strawberry and add a pinch of Pop Rocks. Drop three small pieces of dry ice (optional) as garnish.