Have you been waiting for CAPTAIN AMERICA: THE WINTER SOLDIER to hit the big screen. Well, guess what? You can see it tomorrow.
I was lucky enough to go to a prescreening of Captain America and let me tell you. It was awesome. This is coming from someone who is not a big super hero fan (ducking from my kids throwing pillows at my head) I have just never gotten into super heros that much. But the new Marvel movies are really pulling me in.
I recently read that when they wrote the screen play for this movie, they wanted a movie that tied in all the elements of S.H.I.E.L.D but was able to stand alone. They did a great job. I was not lost at all.
After the cataclysmic events in New York with The Avengers, Marvel's "Captain America: The Winter Soldier" finds Steve Rogers, aka Captain America, living quietly in Washington, D.C. and trying to adjust to the modern world. But when a S.H.I.E.L.D. colleague comes under attack, Steve becomes embroiled in a web of intrigue that threatens to put the world at risk. Joining forces with Natasha Romanoff aka Black Widow, Captain America struggles to expose the ever-widening conspiracy while fighting off assailants sent to silence him at every turn. When the full scope of the villainous plot is revealed, Captain America and the Black Widow enlist the help of a new ally, the Falcon. However, they soon find themselves up against an unexpected and formidable enemy—the Winter Soldier.
Steve Rogers really struggles with if he is making the right choices. When things go wrong at S.H.I.E.L.D., he is forced to find out what is really going on and who he can trust. He teams up with Natasha, the Black Widow, as they find who is on their side and who is against them.
This movie is so action packed. It was a bit much for my girly 10 year old. But for me, I was on the edge of my seat the whole time.
When you head out to see CAPTAIN AMERICA: THE WINTER SOLDIER this weekend, make sure to download the Captain America Experience app. When you focus the phone at the Captain America posters, Captain America jumps out into the pictures.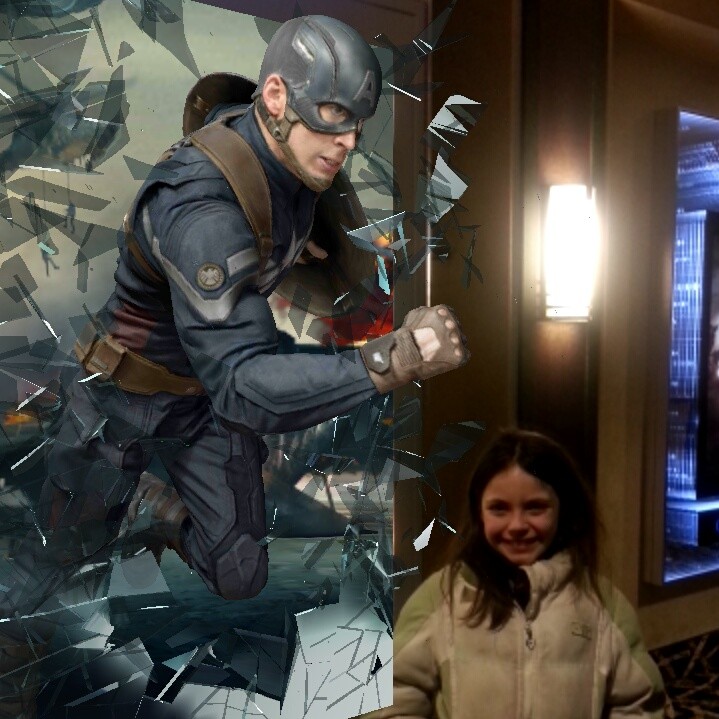 Are you looking forward to seeing Captain America- The Winter Soldier this weekend?