I was invited to the Carrabba's Italian Grill to experience their new menu items. All thoughts are my own.
My son, Joey, is in culinary school. He is definitely a foodie in the making. He loves the chance to go out to restaurants and try all of the culinary creations. This week, I was invited to come out and see the new seasonal menu items at Carrabba's Italian Grill. Of course, I brought my foodie in the making.
We arrived at one of the Carrabba's Italian Grills in the area, we actually had many to choose from. We arrived and was seated at one of the bars. This was a hit with my son, not just because he isn't usually sitting there, he also was able to see the open kitchen and see the chefs preparing meals.
Our first course was Arancinis. These are crispy breaded bites of risotto, with Italian fennel sausage, red bell peppers and romano cheese. They are served with a house made marinara sauce. I could seriously have eaten these alone all night.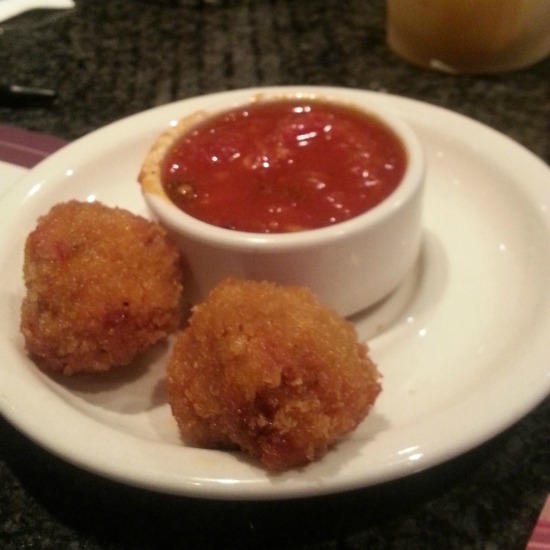 The second item  was a parmesan-crusted chicken. Sautéed chicken breast with fresh parmesan cheese and breadcrumbs. It was served with a roasted red pepper sauce. The chicken was extremely crispy but so moist.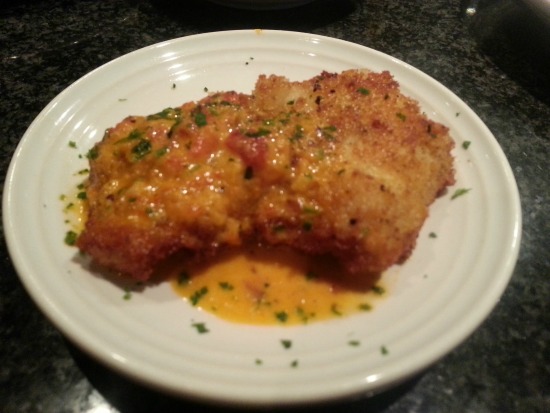 Next we tried, potato-crusted haddock. This light flaky whitefish is coated with crispy potato and cooked golden brown. It is topped with a light mustard sauce and diced tomatoes. Honestly, I do not usually care for fish. Most people are shocked that a girl who grew up on the beach does not like fish. But I just never liked it. I ate the whole thing. There was no fishy taste and between the seasoning and the potato crust, it was simply amazing.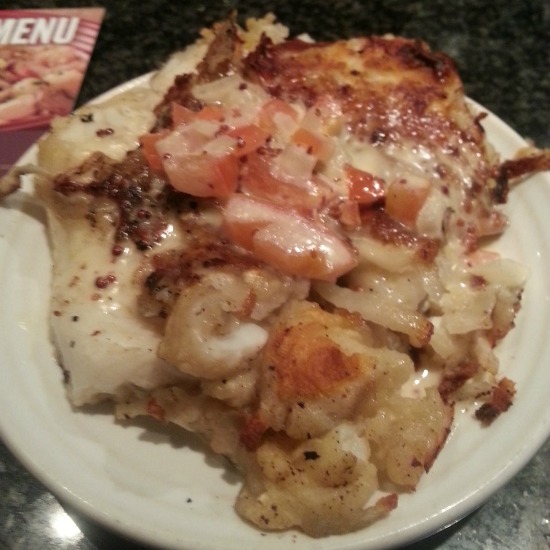 When the champagne shrimp & scallop linguine came to the table, my son kept stealing mine. He could not get enough. Filled with pan-seared shrimp and scallops with mushrooms and roasted red peppers, all tossed together with linguine in our champagne cream sauce. I was shocked how much seafood was actually in it.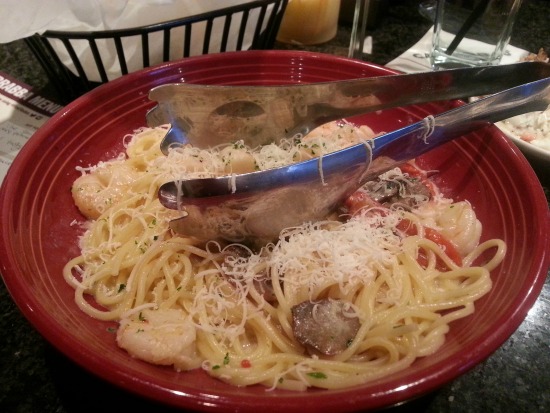 Next up, "Forever braised" beef brasato. The boneless beef short rib is slow-cooked for hours and you can cut it with a fork. It just melts in your mouth. It is topped with a rich red wine vegetable sauce. It is placed over risotto which is cooked perfectly.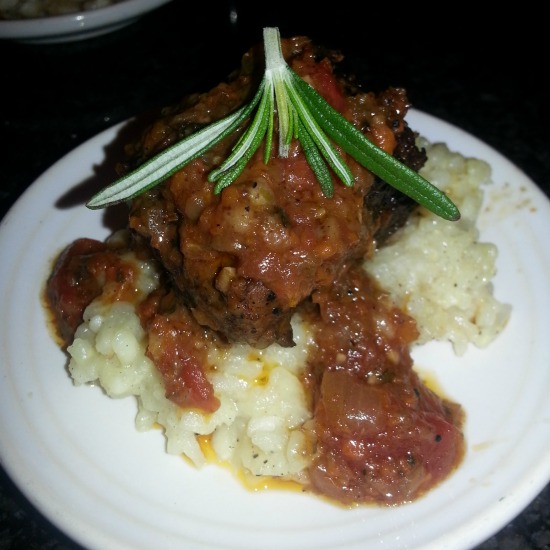 Grilled tuscan skewers with wood-grilled sirloin, red onion and tomato that was topped with Chianti wine sauce can next. The meat was extremely tender and the vegetables had a sweet grilled taste. The sauce was perfect, not to thick or over powering.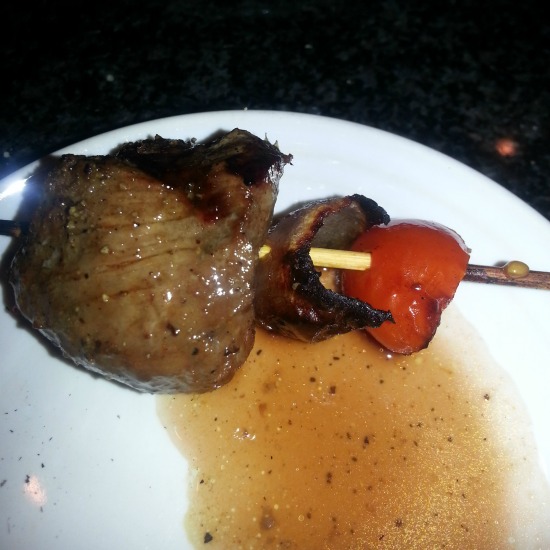 I have never had lobster man & cheese before but I think this might be a new favorite.  Cavatappi corkscrew pasta with lobster, pancetta and four cheeses, topped with toasted breadcrumbs, how could it not be? It is extremely creamy and the pancetta off sets the lobster perfectly.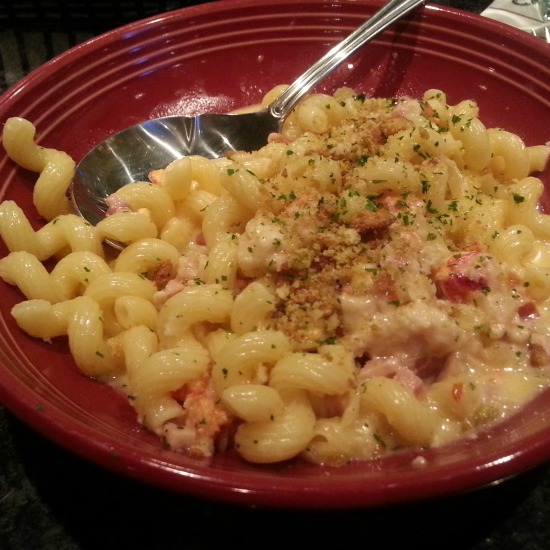 Then of course, if you hang out around here often enough, you know I am all about the dessert. Before I explain this dish, let me tell you, at this point I have eaten a lot of food. I am stuffed. I mean, I do not think I eat this much in 2 days let alone in a sitting. But when they lay this in front of me.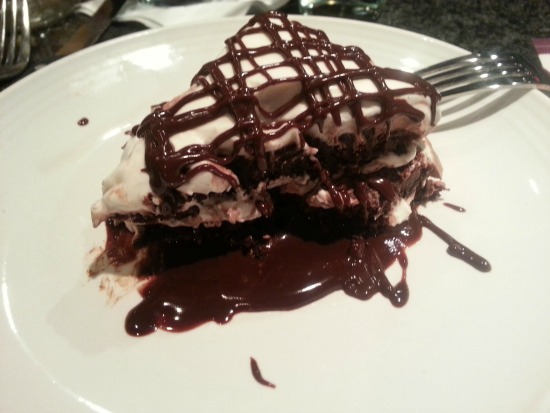 You know I am going to eat it. Sogno Di cioccolata is a rich fudge brownie, with chocolate mousse, fresh whipped cream and house made chocolate sauce. I don't even think there is enough words to tell how great this is. But I have a way of showing you.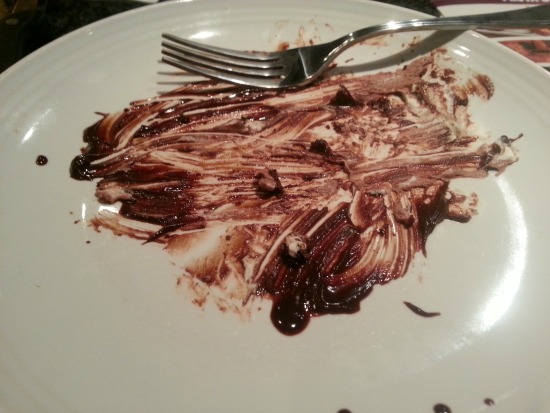 This was my first experience at a Carrabba's Italian Grill. And I will be back. I wasn't aware there were so many of them around me. I am smack in the middle of about 5 of them. Be sure to find a Carrabba's in your area, because these foods should be on your next night's out menu.