I received a sample case from Snugg. All thoughts are my own.
I have had an iPad for years, for work of course. But I can never keep it away from my family. Someone always has it, playing a game or reading a book, when I want to use it. Since Jimmy is one of the top culprits, I decided for Christmas that I would get him his own tablet. He loves his Samsung Galaxy phone so I decided I would get him a Samsung Galaxy Note 10.1 for Christmas.
He will be taking his tablet back and forth to work, keeping it in his car and using it on breaks. Sine his car is his office and he has everything under the sun in there, he tend to have a huge mess, and things get thrown around a bit. I have no doubt that it would not take long for him to have a mess laying on top of his tablet. Plus if he drops it as he walk back and forth with everything in his hands. I wanted to make sure he had a great case to keep his tablet safe. Just because I buy a warranty on it, do not mean I want to use it.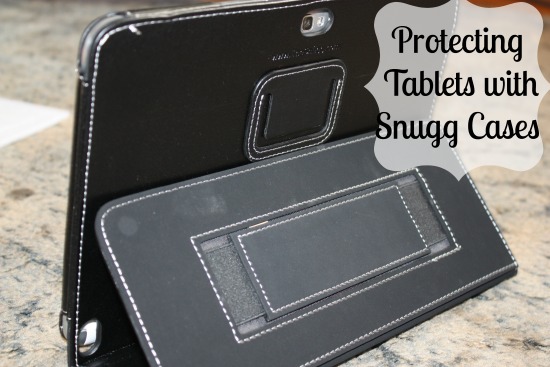 When I decided to get a case for Samsung Galaxy Note 10.1, I knew what I was looking for. I wanted something that looked great. I wanted something that would protect the tablet if it fell, but also would protect the screen on just a normal basis. I love the tablets that have a magnet to shut the tablet on and off, because it helps save the battery.But every since my trip to Blissdom last March, I also really like the cases that are like wallets. The have places to put credit cards and a driver's license. Things like that.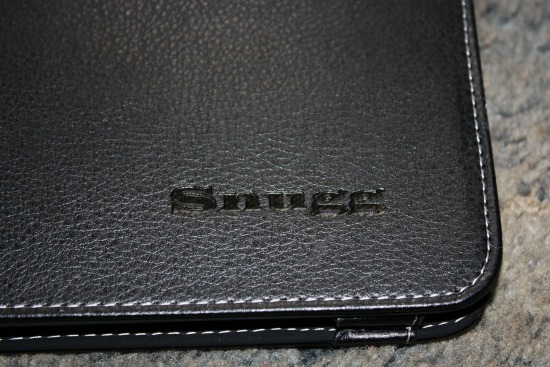 I found the perfect case from Snugg. When they gave me a chance to choose from their cases, I chose the Snugg Galaxy Note 10.1 Executive Case Cover and Flip Stand in Black Leather. The black leather fits the "looks great" category perfectly. It is classic and elegant.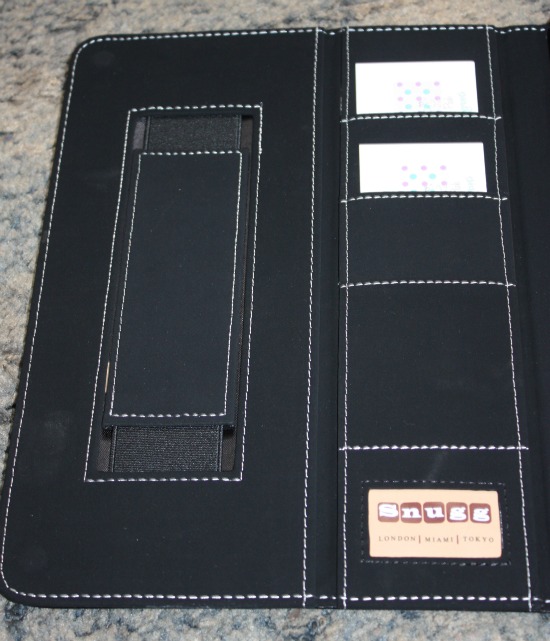 This case also has the wallet-like features I love. It has several spaces to slide in Jimmy's credit cards or license, even business cards. But it also has the flip over stand that Jimmy loves. He likes to be able to prop it up because it makes reading easier. Not only does it flip over and sit up, there is also a little safety catch so that it doesn't slide.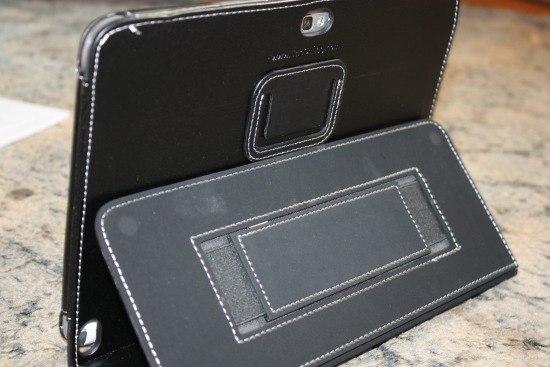 A feature that I have never seen on a case before is this cool little handle. It works great for holding the tablet in place while playing games, reading or working on spreadsheets.
My most favorite feature is the way the case holds the tablet in place. All of the cases I have seen in the past just slide in and the case closed. That is how it stayed in place. With this case not only does the tablet slide in, there is a flap that goes around the tablet and then velcros into place. There is no way the tablet is falling out of the case.
I played around with Jimmy's tablet and case for about a week. I carried it along with my in my bag, like I would do everyday with my own tablet. The case kept the tablet safe and clean. I have absolutely loved it.
Snugg carries cases for all of the main tablets on the market right now. I am sure you can find a similar case or one that has features that you are looking for specifically on their website. I highly recommend them for any tablet, for the holidays and anytime.