You know you want your kids to eat a healthy cereal but those darn cartoon commercials make those sugary cereal so appealing. What if there was a cereal that had something that really appealed to little ones, fun characters that they already love, and a cereal that you can feel good about giving to your kids.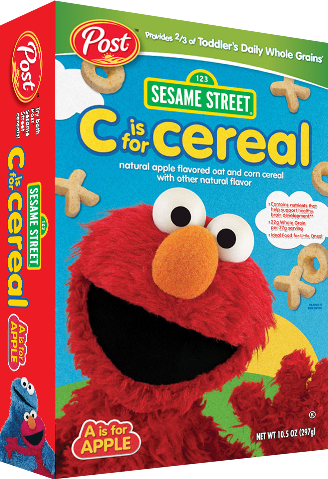 The new post cereal, C is for Cereal, features the 2 most lovable, in my opinion, character from Sesame Street: Elmo and Cookie Monster. Every child, even ones who are very young or haven't watched the show, know exactly who those 2 lovable monster as. The front of the box features their familiar faces. Elmo, featured on A is for Apple and Cookie Monster, who is featured on B is for Banana, will grab the kids attention, making them want to eat their cereal.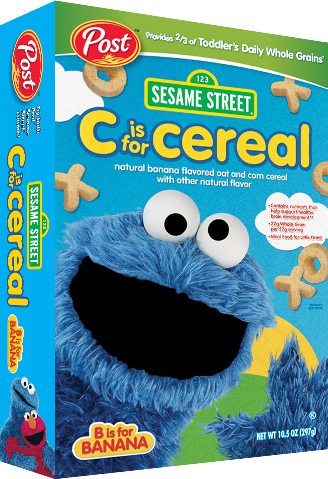 Now the best part for Mom (or Dad or whoever is feeding the kids). The cereal is made in Xs and Os, making them easy to pick up. It has a soft, easily melted texture so that is dissolves quickly so that they are safe and easy for little ones to eat.
Each box features 2 different educational activities per flavor for little one and grown up to enjoy together. It adds to the fun by collecting them all.
My kids thought the cereal was ok. It had a better reception than most healthy cereals I feed them, but of course they would rather have the sugar packed junkie ones. This cereal is good for any kid, especially with it being packed with 2/3 of their daily whole grains and only 1 gram of sugar, but in my opinion it will be best suited for young kids, just learning to start on real cereal and toddlers. But maybe you are lucky enough to have older ones who will eat it without complaint.