I received a set of Fire Disks. All thoughts are my own.
Whether you are heading out to go camping or you are trying to make sure you have supplies for an emergency, starting a fire is usually at the top of the list. It isn't that it is hard to start the fire, but it takes time and certain materials. If you are in a hurry, there are products that are a huge help.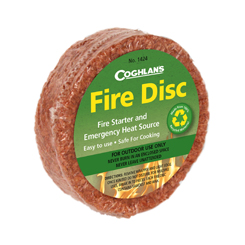 Recently I was sent a sample of the Coghlan's Fire Disk. This disk is great to add to your camping supplies because it will get a fire started fast. Most cook out meals take under 30 minutes to cook,  the disks are also a perfect solution as an emergency source of heat for cooking. These starter disks allow you to ditch the kindling and leave the lighter fluid at home.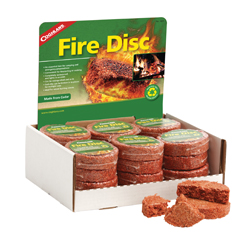 It is also a great resource to have on hand if you are preparing for an emergency. These fire starting disks are small and compact, making them perfect for adding to a Bug-Out bag or adding to a supply of materials kept at home.
The disks are made of cedar and highly refined wax. They are environmentally friendly. Since they burn hot, they are perfect for all different uses. They are great for storing for long periods because they last indefinitely.
Coghlan's Fire Discs are available fro the Coghlan's website along with other great outdoor adventure items.