The most obvious effect of a missing tooth is aesthetic, affecting the way you look and feel. It can make your face look older and more wrinkly, and with increasing tooth loss, your cheeks could look hollow and sagging. But more important than the cosmetic aspect is the fact that missing teeth can have drastic impacts on the jaw bones and gums, disturbing the interplay between teeth and bone.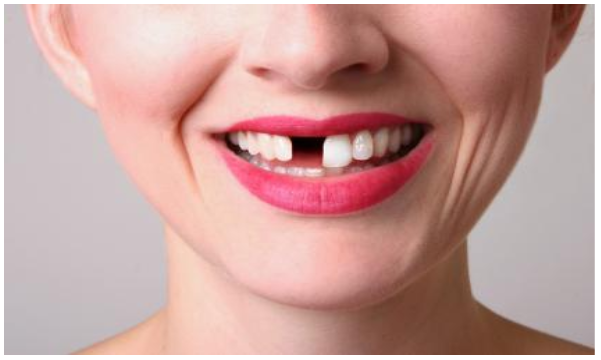 The jaw bones start shrinking and the gums pull back, weakening the neighboring teeth until they collapse as well. You will observe that the teeth in the opposite jaw start growing into the gap. The best way to deal with this situation, according to the expert dentists at Simply Smiles Sarasota, is to opt for dental implants to replace the missing teeth.
Major Causes of Tooth Loss
Congenital Absence: In some case, the primary teeth or the baby teeth come out normally, but once these are lost, there is no successor or permanent tooth to replace some of them. By the time the child reaches adolescence, there are gaps on the gums where there should have been teeth.
Bad Oral Hygiene: When we don't brush our teeth regularly, at least twice a day, the acid producing bacteria in the mouth accumulate on the surface of the teeth in the form of plaque. They then go on to cause cavities in the teeth by demineralizing the tooth enamel. There are prominent chances of Periodontal disease developing in such cases, which destroys the supporting tissues, such as the ligaments and bones, leading to loss of teeth.
Improper Nutrition & Unhealthy Diet: Our teeth, like any other part of our body, need certain nutrients in order to retain their resistance to infection. Research shows that calcium is responsible for mineral density of the bone supporting the teeth. Calcium deficiency can therefore affect tooth retention, increasing the risk of tooth loss. Additionally, a diet rich in sugar, carbohydrates and acids will damage the teeth and gums.
Not Correcting Improper Positioning of Teeth: Improper positioning of teeth or malocclusions could be a prominent reason for tooth loss. When they are not well aligned, it is very difficult to clean the teeth effectively. This makes the teeth more prone to tartar deposits. Bacteria grow on the accumulated dirt, leading to gum and periodental problems. If you're afraid to wear braces in public, cosmetic dentistry in Sarasota, offers Invisalign aligners, which are a good alternative to metal braces for adults, kids and teens. These are made up of virtually invisible plastic that you wear over your teeth.
Trauma: Injuries to the mouth or an accident involving a fall from a bicycle or while playing a sport can lead to one or more teeth being knocked out. As a matter of fact, even if the tooth does not fall immediately, the accident can cause a root fracture, which may develop infection months or years later. This in turn can cause tooth loss.
Dental implants are the best way to replace missing teeth. However, given that prevention is always preferable to cure, make sure you visit your dentist for regular check-ups and to ensure oral health. If treated on time, you can save your teeth.