This post contains affiliate links. If you buy something from them, I earn a small percentage that helps keep The Spring Mount 6 Pack running.
So I have been saying, oh since the beginning of this blog just about, I love recipes. I really really heart copy cat recipes. Recipes that let me control what goes into what my family eats, and can help me save money. I have 4 growing (quickly) children, who seriously love to eat. They can polish off a box of snacks in an afternoon, and those things are seriously expensive.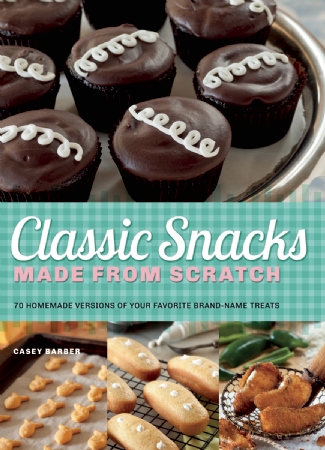 I was recently sent a copy of Classic Snacks Made from Scratch, by Case Barber.  I think this might be my all time favorite recipe book every. It is filled with the best copy cat recipes, and they are all snacks! Whether you are upset because Hostess is no longer selling Twinkies or just can not get enough of those cute little fishies, or have a late night craving for Jalapeno Poppers and one serving isn't enough, this book will have something that will leave you drooling and running for the kitchen.
Whenever I get a new recipe book to try out, I like to show off something that I have made, if I can squeeze it in. So, I made the Mint Milanos. I subtracted the Mint because I am not a fan of mint cookies but Milanos are one of those cookies I buy, and hide from the kids, because they are so super yummy, but so expensive, I don't want to share. Anyway, I followed the recipe, had them all made and ready to go, cooling and getting the chocolate to set. Well, I had to run out of the house, unexpectantly, and never told the kids not to touch my cookies. THEY ATE THEM ALL! Leaving me to get the one cookie I tried before I left the house. So I do not even have a picture to show you. While they were not as pretty as the store-bought cookies, they were just as yummy, I can tell you that. (And those darn kids ate them all, so sad.)
There are 70 different recipes for you to try. There are animal crackers, and cheese crackers, and Wheat Thins, to Snow Balls and Devil Dogs, to Fig Newtons and Mc Donald's Apple Pies,  to mozzarella sticks and tater tots, even down to sauces like french onion dip and spinach artichoke dip. This book of copy cat recipes is packed full of yumminess.
What is your favorite store bought snack, that you would love to amke at home?