I received the Dareway Revolutionary Ride On for review. All thoughts are my own. This post does contain an Amazon affiliate link. That means if you purchase a Dareway Revolutionary Ride On through my link, I will receive a small commission.
We are an outdoorsy kind of family. We love being outside even if it is just in our own driveway.  So when I am looking for toys to keep the kids entertained with, I love when I can find a toy that excites the kids as much as it excites me. My most recent find, the Dareway Revolutionary Ride On.
Similar to a segway that adults use for tours of the city or to travel through a large resort, the Dareway Revolutionary Ride on lets the kids ride around. Controlled by a foot pedal, the ride on forward and using hand controls turned either left or right. It is easy for kids to manipulate because the way that they want to go is the side that they push. It has a sturdy platform making it a stable place for the kids to stand without the need to balance. Molded-in treads on tires provide traction while riding. The Dareway is perfect for ages 6 and up and holds up to 88lbs. Since it runs on a 12 volt rechargeable battery, it is easy to keep it charged and ready to go.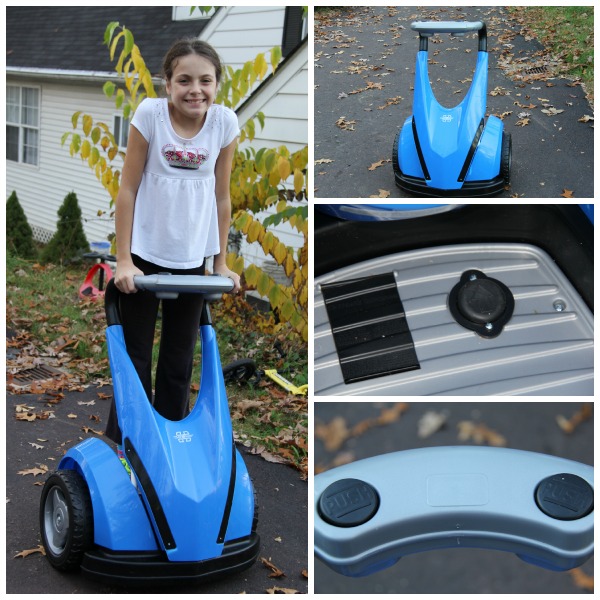 The kids are loving it. Even on days when it has gotten chilly and the girls would normally be asking to head in the house and play Minecraft, they are still riding up and down the drive way.
The girls' favorite part of the Dareway Revolutionary Ride On is the 360s. They love making it spin until they get dizzy. While the girls do not have their helmets on when they first tried it out, for safety reasons, I do recommend having kids wear the same helmets they use for riding their bikes or skating, just to be on the safe side.
My older daughter was very disappointed when she outgrew the smaller ride on toys, like the ride on Jeeps and corvettes. This is a great next step up for her so she can still have a ride on toy.
Available on Amazon, you can add the Dareway Ride On into your family's outdoor activities.