The Milo's Kitchen® dog treats, gift cards, and information have been provided by Milo's Kitchen®

My girls love their sweet little angel, our puppy. But they have taken a huge liking to the neighbor's dog, Huck. He could almost be ours. He is always running around in our yard, playing with the girls. He climbs up into my car when I am trying to leave, or when I get home to come and see me. He is a sweetie. He is 17 years old though and he is starting to show it. He is deaf, and slow, and get overworked easily. He is a sweet boy, though, and my girls just adore him.
My neighbor saw the girls outside playing and he wanted to show them this cool trick that Huck does for treats. Then my girls kind of hijacked treat time. They watched the first time. But Huck was only slightly interested in the treat so they were not super impressed. Then they wanted to give him some of the new Milo's Kitchen® dog treats that we just received. What happened next was pretty funny.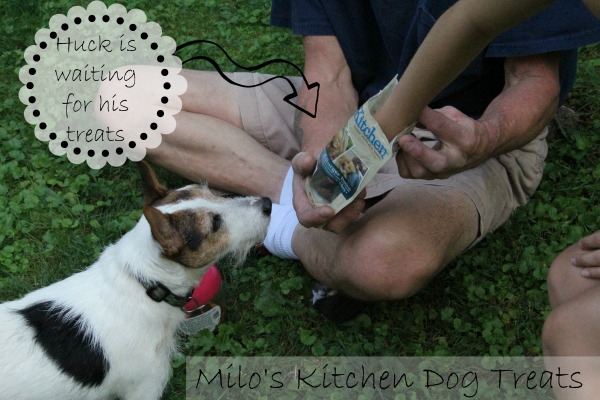 Artie, the neighbor said that Huck can be fussy and usually only eats one treat tops. I think that is because he has never had theseMilo's Kitchen® treats. He loved them.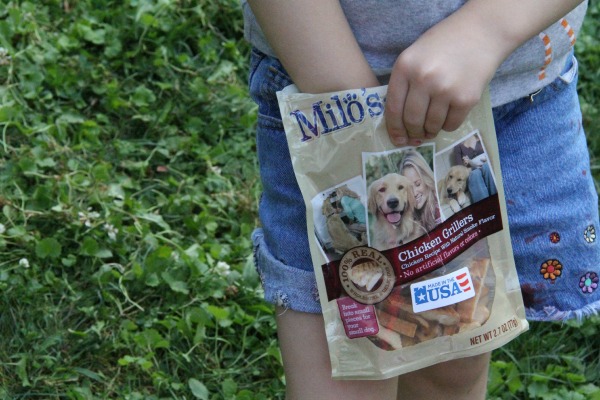 The girls gave him his first one and that was all it took. Huck was hooked.  He was taking them from the girls almost faster than they could hand them to him.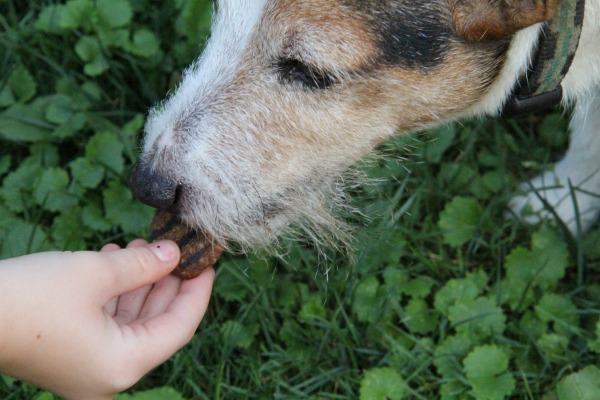 Milo's Kitchen®  thinks like we do. They believe that our dogs deserve only the best. Their treats are made in the U.S. with real chicken or beef as the #1 ingredient, and they have no artificial flavors and colors.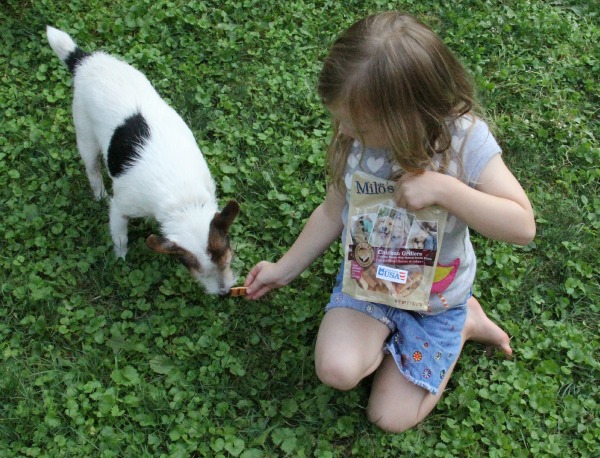 They believe that dogs to eat treats that are the same quality and made from the same ingredients that you would eat. They have unique line of mouthwatering varieties for dogs including: Chicken Meatballs, Beef Sausage Slices with Rice, Steak Grillers Recipe, Chicken Grillers Recipe, Grilled Burger Bites, and Chicken Jerky Recipe.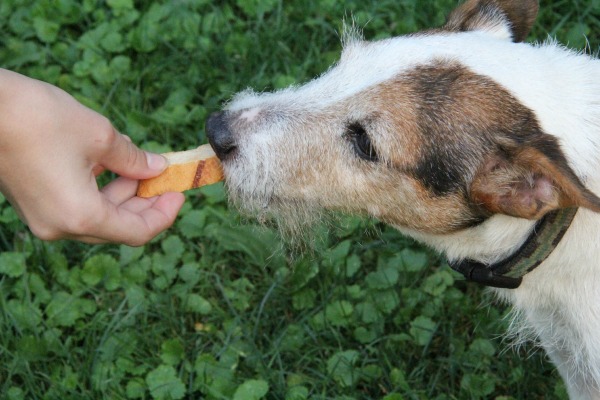 They even started a Doggie Food Truck. This summer, they are taking their kitchen and hitting the road. They want to bring their 100% real, home-style treats to dogs across America. You can visit the Treat Truck for free samples, get a Family portrait, enter the personalized giveaways, and enjoy the lounge.
The Milo's Kitchen Treat Truck is free to visit, so be sure to bring the whole family. The Treat Truck is making visits to:
July 31:  South Carolina
 

August 2-3

:  North Carolina
 

August 5

:  Pittsburgh, PA
 

August 9-10

:  Minneapolis, MN
 

August 16-17

:  Atlanta, GA
 

August 22-24

:  Ohio
 

August 29-31

:  Arkansas
 

Sept. 6-7

:  New York City
And after Artie said that Huck had enough treats, this was Huck for about 15 minutes. Just searching for any of the crumbs he might have missed. For a dog who isn't a big fan of treats, he certainly loved the Milo's Kitchen treats. Artie says he is heading out right away to buy some for his old boy.

Because Milo's Kitchen wants you to know just how great these treats are for your pup, they want to give one lucky reader three varieties of Milo's Kitchen® dog treats and a $25 Visa gift card to stock up on your puppy's favorite treats.
Giveaway is US only and runs until 8/9 11:59 pm est.