I received the Exergen Smart Glow TemporalScanner™ for review. All thoughts are my own.
So it is that time of year again; COLD SEASON. My kids will always bring home those cold germs. With school being back in season, the colds have started.
We were recently on a trip to Bloggy Con and that dreaded fever hit. My boyfriend, whose immune system is compromised right now, started with the fever and next Wilow came down with it.
You know those little gift shops do not usually sell thermometers. So I had no idea what temperature they were running. When we finally got home I go to use my Exergen Smart Glow TemporalScanner™ by to see exactly what kid of fever we were dealing with.
The TemporalScanner™ makes it easy to take a temperature. There is a softly lit display so that even in the dark you can read the temperature. As you run the thermometer across the forehead, there is a slight beeping sound to let you know that it is reading. You can turn that on or off in order to not wake anyone. It can display temperatures in Fahrenheit or Celsius. It also retains the last 8 reading so you can see, instantly, how the fever is progressing. Made in the United States, the Exergen Smart Glow TemporalScanner™ is the number one preferred thermometer by both nurses and pediatricians, and is backed by more than 50 clinical studies proving its accuracy. You can get the Exergen Smart Glow TemporalScanner™ from places like Wal-Mart, Target, Walgreens, Rite Aid, Costco, Babies "R" Us, Toys "R" Us, Kroger and BJ's, or online from Amazon.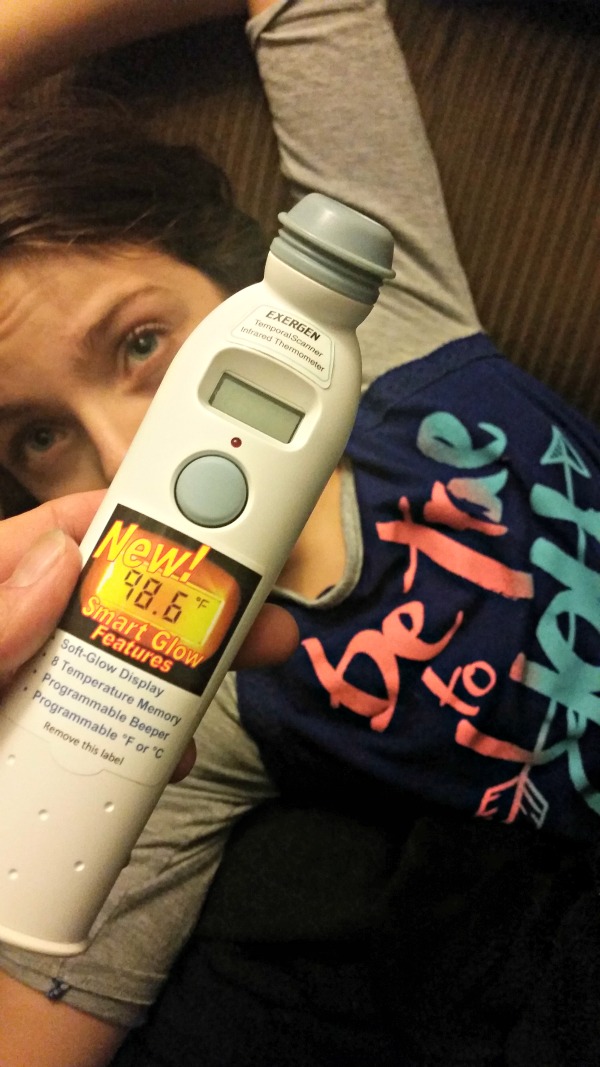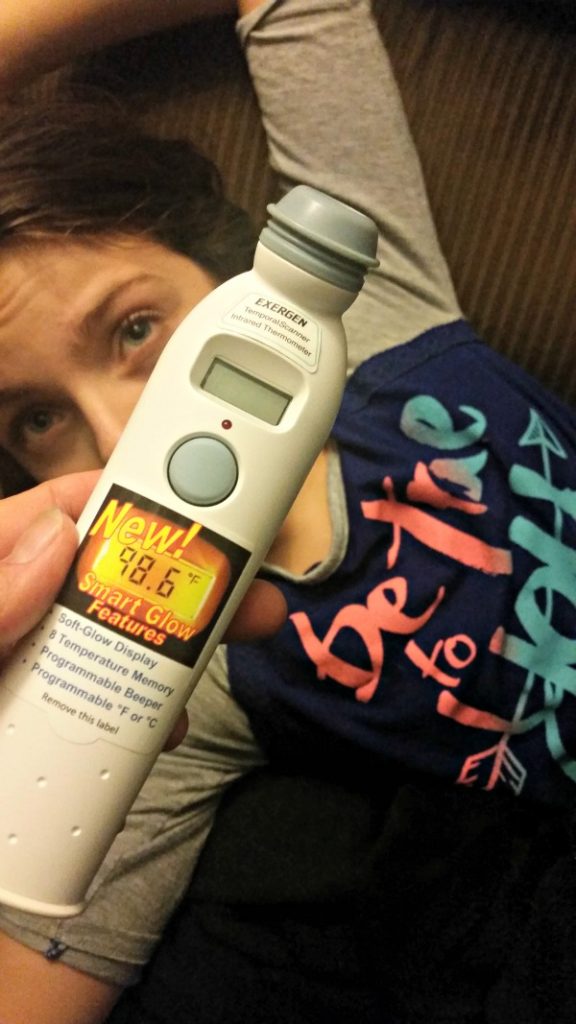 My loves were fighting a yucky bug. They had the sniffles, and they were coughing, and then there was this nagging fever. Most everyone knows that you treat a fever with either medicine, usually either Tylenol or Motrin. But there are other things that you can do to help treat a fever.
1. Cold compress: Take a wash cloth, run it under cold water, fold it up and lay it on your sickie's head.
2. Cold Compress product: There are these products that resemble the wash cloth idea, but they stay put on the forehead. We like (Fevercool).
3. A luke warm bath: A room temperature bath can help lower the body temperature and help lower a fever. Did anyone else ever get shoved into an ice cold bath as a child because you had a high fever? If you did not,, count yourself lucky. It was a horrible experience and these days experts say use luke warm water. Cold water can actually cause shivers and cause a temperature to rise. Horrible Story: When I was about 7, back in '84, I had a severe case of pneumonia. My fever was 104.6. My mom, who had started to freak out, used what she had away heard ad shoved me into a cold water bath, to which she added ice cubes, She was trying to lower my fever, I thought she was trying to kill me. Think about how cold you can be with a fever, and she just threw me into an ice bath. So yes, please use luke warm/water. It woks better, isn't torture for the sickie, and is actually healthier.
3. Fluid: With a fever, you tend to get dehydrated. The body needs to be hydrated to have it work properly. So by making sure the sickie is drinking, their body can fight off the germs and lower the fever.
4. Use a Fan: The cool air helps. You don't want the cold air directly on them. Just have the cooler air circulate around the room
5. Remove some of the layers or blankets: It lets the heat escape the body. Use a light blanket if the child is shivering and dress them in a light layer.
Dealing with sickness is never fun. No one wants to see anyone they love feeling lousy and fighting a fever. Use some of these tricks to lower your sickie's fever and help them feel better. Hopefully in no time at all you'll be back having fun and keeping up with your busy schedule.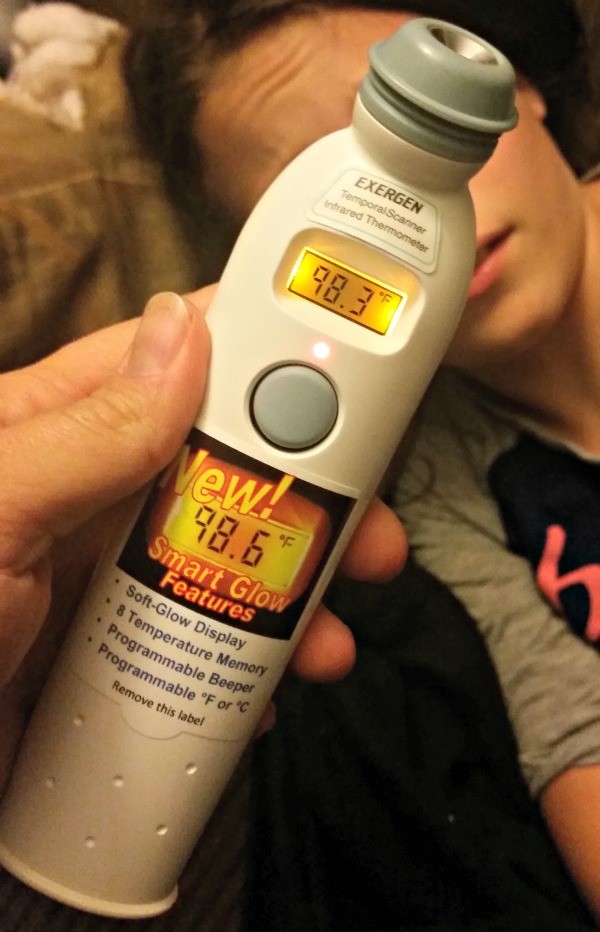 What are your tricks to lower a fever?