This post about stress and your child  is written in partnership with StressHealth.org, an initiative of the Center for Youth Wellness.
Many people think about stress. It is thought of as the overwhelming feeling that you get about pressures in your life or the way you feel when there are too many bills and you don't know how to pay them all. However,  there are different types of stress, and these stresses have very different effects on your children.
Good Stress
Many people don't realize that there is a thing called positive stress, or good stress. Good stress is the type of stress we feel when we are excited. It causes our pulse to quicken and it causes a change in hormones. But there isn't necessarily a threat involved. This is the kind of stress that comes with riding a roller coaster, going on a first date, or planning a wedding. It is a thrill and can spark that feeling of being alive and excited about life. Since you can get too much good stress in your life, it is important to choose activities that make you feel good and to cut out those activities that drain you. Ask yourself, do I feel excited about this activity?
For kids, good stress comes from trying out for the soccer team or the school play or studying hard for a big test in hopes of getting a good grade. Kids also experience positive stress when doing fun things, like riding down a hill on their bike and trying to hold on with only one hand.
Bad Stress
Most people understand bad  or negative stress. This is the stress comes from things going wrong at work, arguing with your spouse or when dealing with money issues. For kids, bad stress can come from struggling in school no matter how hard the child works. Kids who are getting bullied at school also deal with bad stress.
Certain bad stress may be called tolerable stress. Our bodies response to more serious stress with a flood of stress hormones that help our body rise to the occasion. For kids, a trusted and caring adult can offset this response and help calm the child. It is a way to start building resilience.
Toxic Stress
Children who have been exposed to certain situations can experience toxic stress. This is stress that is severe and long-lasting, and it can cause drastic changes in the child's personality. It can also lead to an increased risk of heart disease, cancer, and other chronic illnesses.
What is Toxic Stress?
Toxic stress comes from emotional or physical abuse, neglect, witnessing domestic violence, and other trauma.  When a child doesn't have a trusted, caring adult to support them, powerful stress hormones can overwhelm the child's body and brain. This may cause lifelong issues with mental and physical health and can lead to behavior issues as well.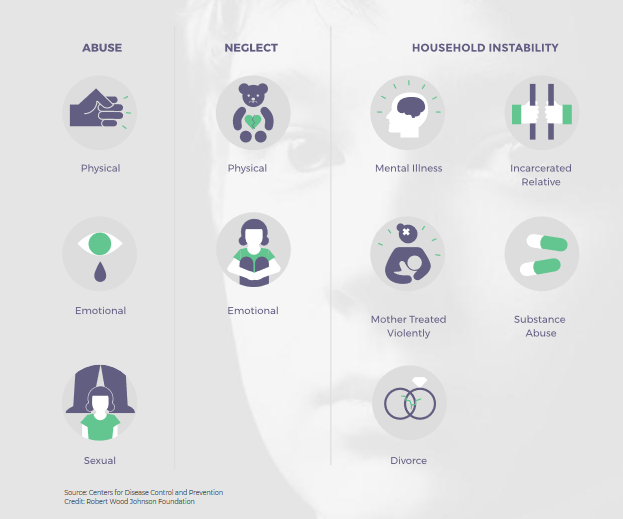 photo from the Stresshealth.org website
Signs Your Child Might Be Dealing with Toxic Stress
You know your children better than anyone and you might notice that something seems off. It is worth paying attention to. Your children might start having sleep issues or might regress to bed- wetting. They might become clingier or start talking baby talk. They also might become more fearful or start having new fears of things they were not afraid of before. Toxic stress might show as physical symptoms too, like frequent headaches or stomach issues. School-age children and teens who are suffering from toxic stress might have poor coping skills and behavior and learning difficulties. They might suffer from mood swings, sleep issues or compulsive behaviors like overeating. These children might be afraid and have anxiety that is triggered by places or people that remind them of the trauma.
Some children get frequent illnesses. This could be another sign of toxic stress. Children suffering from toxic stress sometimes get sick more often because their bodies are dealing with effects of the stress and can not fight off the germs. Sometimes, these children are not able to mature physically or mentally at the same pace as other children their age. If you are concerned about your child and think that he or she might be suffering from chronic stress, take the ACE quiz on his or her behalf.
After taking the ACE quiz, learn more about toxic stress and what you can do to help your child. Your doctor may have some helpful ideas as well.