Dinner at Desaki, in the Poconos Mountains, is such a fun dining experience. The food, the show, the whole thing, is always a great time. Not to mention the hibachi and sushi are so good. Thank you Desaki, a hibachi restaurant in the Poconos, for partnering with us during our visit to Camelback.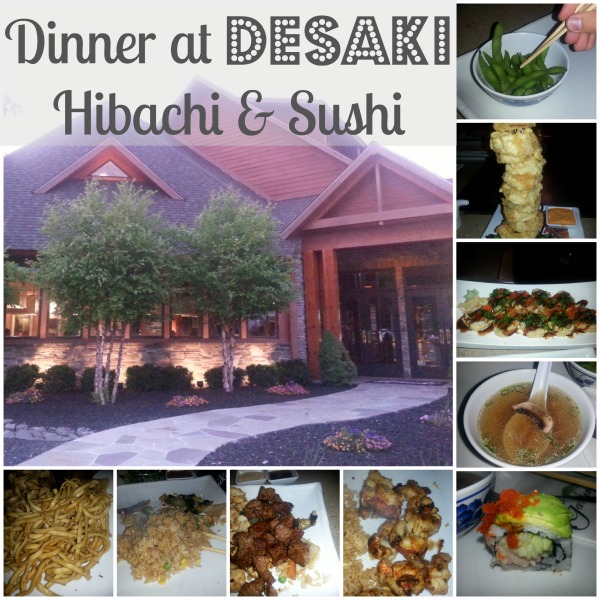 Last week the kids and I had fun staying the night in the Poconos. We spent the day playing at CamelBeach water park and stayed at The Chateau Resort. For dinner, we drove about 10 minutes from the water park and hotel to have dinner at Desaki
I have always wanted to have dinner at a hibachi restaurant. I have heard how much fun it is to interact with entertaining hibachi chefs prepare andcook dinner right in front of you. Plus all the tricks that they do with the food and fire.
When we first arrived, I was taken back by just how beautiful the restaurant was. And clean. I learned later while talking to Vincent, the owner, that every month a company comes in and cleans the building from top to bottom, including shining all the duck work in the building.
We were seated at a table that has seats for 10 that goes around the area that the chef cooks. Of course, Joey being a future chef, he was busy checking out the cooking area and was so excited to watch our chef cook. Plus he could not wait to try several different types of sushi as well and to dive into some lobster.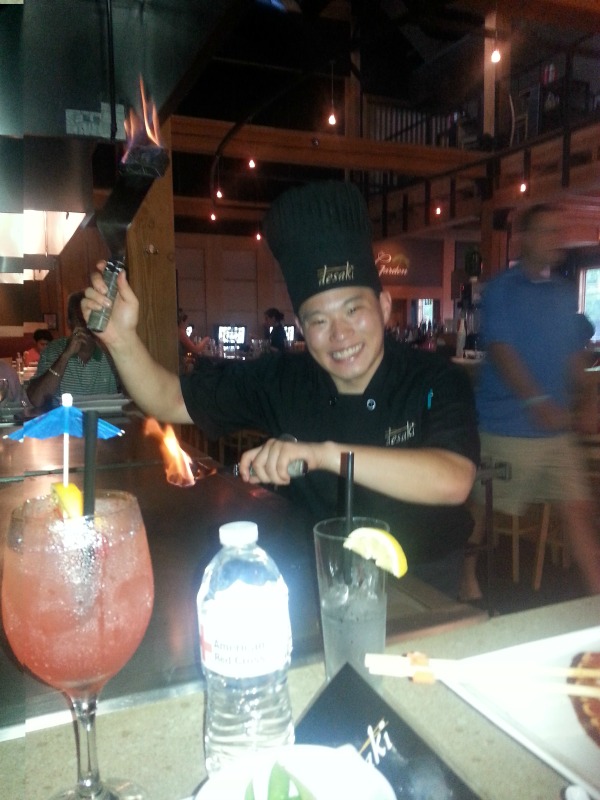 AJ, our chef, was funny, personable, and so much fun to watch. He talked as he cooked, joked around and even gave some great tips to Joey about being a chef.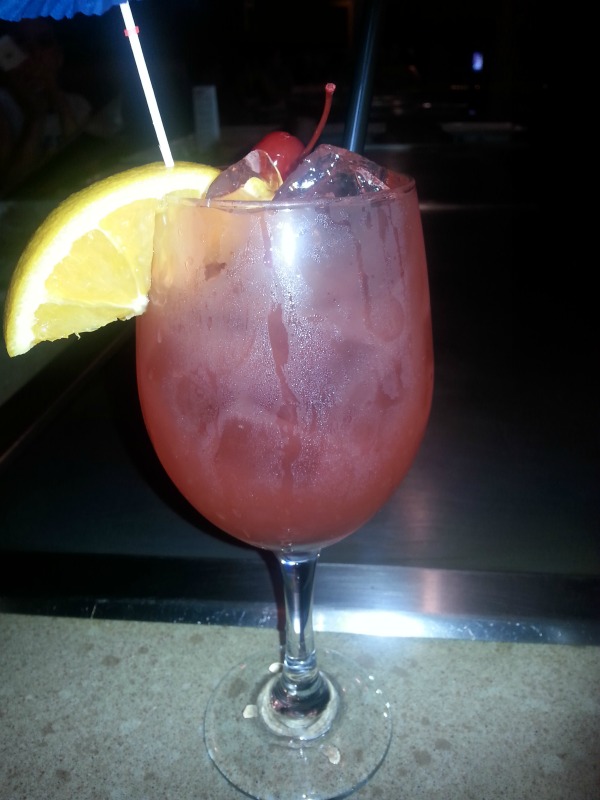 We started off by ordering a Plum wine punch drink for me, the girls orders soda, and Joey ordered iced green tea. Then we started off with a volcano tower of onion rings and some sushi. Joey and I tried a steamed lobster roll and one of the sushi rolls that Desaki is known for, the Kani. The sushi menu includes traditional sushi recipes as well as sushi rolls that are unique to just them.

There are so many things to choose from to get from the hibachi chef, even combinations if you have trouble picking just one thing. There are options for filet mignon, lobster, scallops, or have the chef cook shrimp right before your eyes. I ordered filet mignon and teriyaki chicken. Joey order lobster and the girls ordered off the children's menu, teriyaki chicken. All of the dinners come with soup, vegetable, fried rice and lo mein noodles. The chicken and filet were some of the best I have ever had. I like my steak well done. I mean, no pink. I am a chef's worst nightmare, I am told. So normally the steak is tough. This steak basically fell apart in my mouth. It was amazing. No matter what you want they will happily prepare all your favorites.
I wanted to take so many more pictures while the chef was cooking and possibly even take a video to show you how neat it was, but honestly, I was so enthralled with watching Chef AJ cook, talk and perform, I forgot to get better pictures. I did get this one as he set the onions on fire.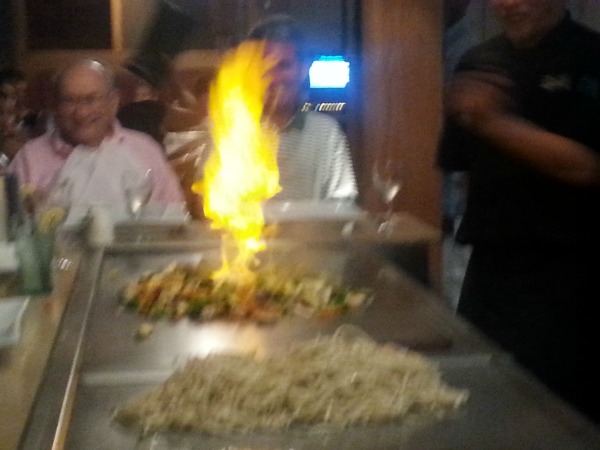 And while I do not usually rave about a bathroom when I talk about a restaurant, I have to tell you about the ladies room. Everything is automated. The sinks, the hand blower, even the toilet paper. And then since so many people hate touching the door handles after washing their hands, there are even tissue napkins to use to hold the handles.
I love the Desaki is really family orientated. Once dinner was done, I was speaking with the owner. He was so proud to show me a picture of his family, telling who works there, doing what. You can see his whole face just beam as he talks about his kids and his business. And he wants to make sure that families want to come with their kids. He knows, if a family is ready to go out to dinner and the kids want to head off to Desaki, chances are, the family is going. There are rickshaw rides for kids on the weekends. It is a great way to keep the kids entertained while you are waiting for your table.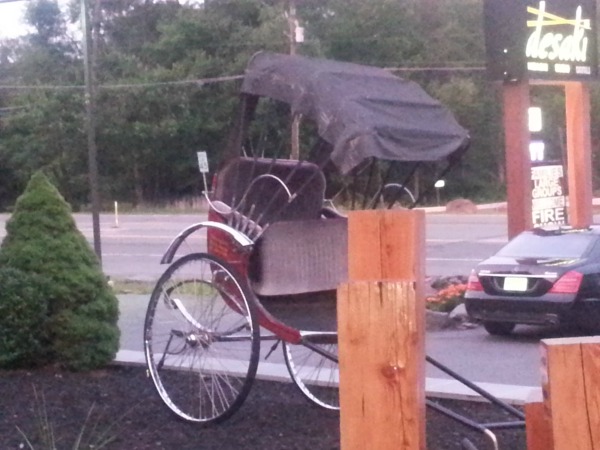 They are planning on an expansion. Right now there is a beautiful field right next to the restaurant. They have  a space that they feed the deer and often times you can see deer when you are there to visit. Once the permits come through, they will be moving the deer feeder into a new, safer place, and they will be breaking ground to open a 5 story lodge. I can see from how they cater to families now, that it will be a fun place to stay.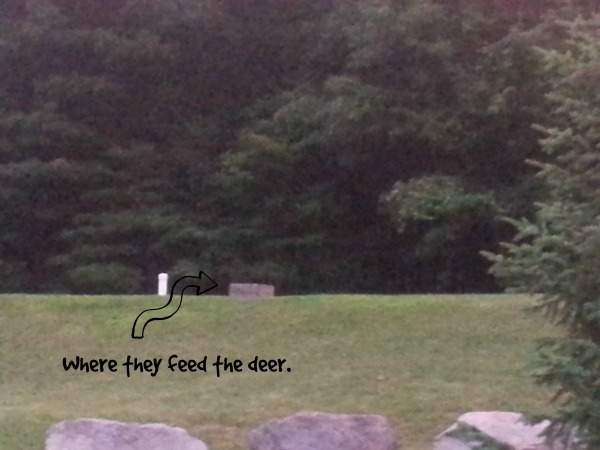 If you are looking for a place to have a business meeting or a get together for family, friends, or even hold the reception of a wedding, Desaki has rooms that will meet your need.
If you are interested in seeing the food that Desaki is serving that day, they are very active on social media and you can find them on Instagram, Twitter, Pinterest and Facebook. They love to share pictures of the fresh fish that just came in or share the specials that they are having that day. They offer special everyday and discounts for casino card carriers, and if you have water park tickets.
Have you ever been to Desaki or another hibachi restaurant? If you are in the Poconos, or in driving distance, I highly recommend stopping in and giving it a try. I know we will be making the drive back up there for dinner soon.