It is no secret we love Dinosaur Train. Willow was Tiny as one of her Halloween costumes, and she loves her Dinosaur Train pjs and slippers. With the holidays coming, Willow is all about having a Dinosaur Train Christmas  too. We recently received the "Ride the Holiday Train" book and DINOSAURS A TO Z DVD that features a bonus holiday episode.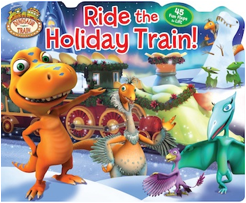 We are all about books in my house. And right now Willow's favorite books are flapbooks or other things that she can interact with. I think most kids love books like that because they help them stay focus and be involved with the book. Ride the Holiday Train has 45 fun flaps for Willow to lift up and find a surprise under each one. And believe me, we are not allowed to turn the page until every single flap has been lifted.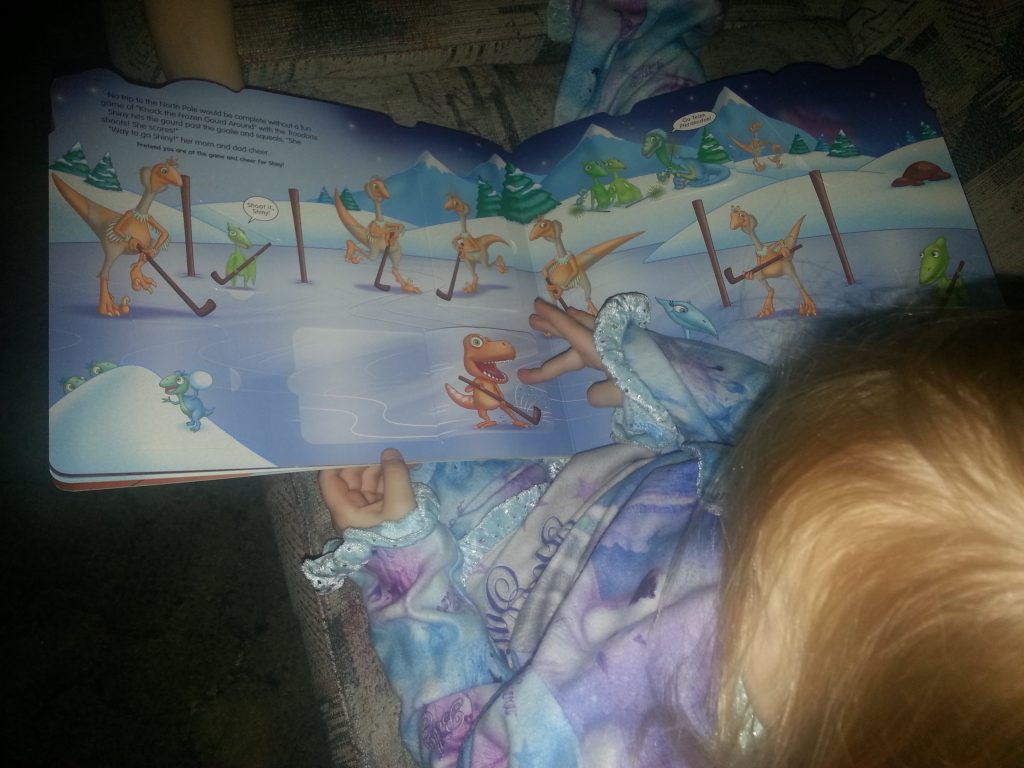 It is Winter Solstice time for Buddy and his family, and they decide to there is no place like the North Pole to celebrate. As the Pteranodon family spends time in the Winter Wonderland, the family meets new friends, makes snow dinosaurs, and decorates an evergreen tree. After some more fun, it is time to head home, with Don exclaiming, "This is the best Winter Solstice ever!"
One of my favorite things about the book is that besides the wonderful story and all the flaps, each page asks a question. As the child goes through the flaps, the answer can be found. It makes them think as they are looking and adds yet another level to the book. Willow loves to just sit and look at the book, and she loves to snuggle up and have it read to her.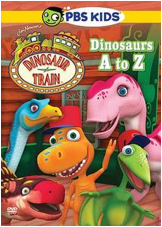 Willow also received a new Dinosaur Train DVD, DINOSAURS A TO Z, that also has a holiday episode. Buddy, Tiny and Mom head off gathering dinosaurs from A to Z, ending with a picnic in Troodon Town. Some of the kinds of dinosaurs the family has met before, but others are brand new. After several episodes, the kids have met 26 new dinosaurs and have practiced their ABCs.
After the A-Z and picnic in Troodon Town, there is a special holiday episode, where the family stops off at the Aurora Borealis station.The kids learn ice skating and sing "Solstice Time is Here" It is a great addition to the DVD and perfect for the holidays, but also for all year round. Consider adding both "Ride the Holiday Train" and "Dinosaurs A to Z" to you holiday gift list.