My house is full of people with big sweet tooths. (Is that how you would even say it, I'm not sure)  That is why you see a lot of desserts featured when I am sharing recipes. Sweets are the one thing that I can make and everyone in the house enjoys. There is no one coming into the kitchen whining, "I don't like that" "Can I have something else" or anything like that. It is more of a question "Can I have another one?" And that is the way I like it. So when I make a muffin recipe, the kids go nuts. We like to have the muffins for snacks, breakfast, eaten cold, warmed up, and sometimes grilled. The family doesn't care as long as they get a muffin.
So for a family of coco-halics, when I made them a batch of Double Chocolate Peanut Butter Chip muffins, needless to say, they did not last. So I made another. And by the 3rd  batch, finally everyone felt they had gotten a fair share of muffin. That was a week ago. Today, someone asked me when I am making muffins again. Guess I will be baking this afternoon. But for now, I wanted to share this easy muffin recipe with you.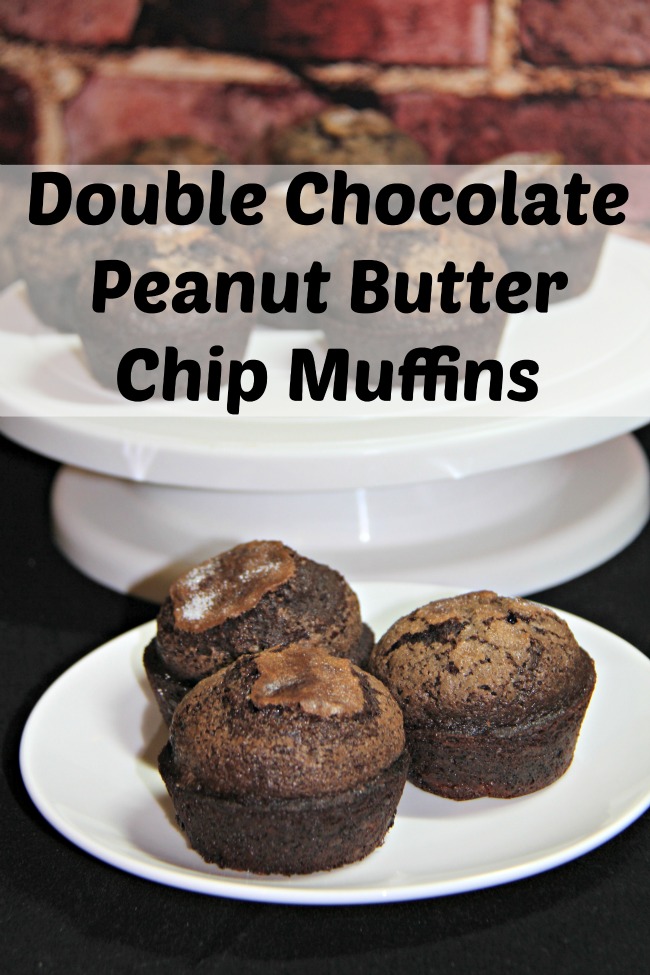 Want more peanut butter recipes? We have a peanut butter chocolate chip oatmeal cookies. Also try Peanut Butter Chocolate Lava Cake, Honey Peanut Butter Granola Bars, Tagalong Peanut Butter Cupcakes, Chocolate Peanut Butter Overnight Oats, and Chocolate Peanut Butter Chip Bread Pudding Recipe, Peanut Butter Banana Cupcakes
Double Chocolate Peanut Butter Chip Muffin Recipe

1 1/3 cup all-purpose flour
½ cup unsweetened cocoa
2 tsp baking powder
¼ tsp salt
1 ¼ cup sugar
2 eggs
¾ cup milk
½ cup oil
2 tsp vanilla
1 1/2 Chocolate and Peanut butter chip mix
Preheat the oven to 350 degrees. You will want to either use muffin papers or grease the muffin tins well with cooking spray.
In a bowl, combine the flour, cocoa, baking soda and salt. Stir together and set aside.
In a separate bowl, whisk together sugar, eggs, milk, oil and vanilla.
Slowly stir in the flour mixture. Mix together until combined, but still lumpy. So not over mix.
Fold in the chocolate and peanut butter chips. You can use just peanut butter chips but then it isn't double chocolate.
Spoon the batter into the muffin tins evenly.
Bake for 20 minutes or until the muffins have puffed up and a tester comes out clean. Cool for 5 minutes. Remove the muffins from the pan and cool completely.