I have been compensated for this post, which contains an affiliate link. All opinions are my own.
The holidays will be here in no time. Most people have just enough to pay for what they need to each week, and getting together holiday present money means either not paying bills or adding everything onto their credit card bills.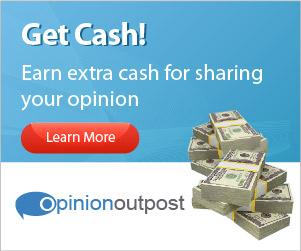 Share your opinions & make money with Opinion Outpost! Opinion Outpost is a great way to earn some extra money for Christmas, or for anything. Just by sharing your opinions to surveys you earn money, prizes and entries into sweepstakes.
Outpost is a free website to sign up for. Once you have signed up, you get the chance to take additional surveys. By filling in your profile, and taking the initial surveys is how they decide what you qualify for. The more surveys you take, the more you can earn.
Some of the great rewards that Outpost offers is the chance to redeem points for places like Amazon, Paypal, Itunes and you can turn those points into sweepstakes entries. It couldn't be easier.
Taking survey is a quick and easy way to make some extra money at home while you are trying to save for the holidays or just want to earn some extra money. Simply signup and get started. Share your opinions & make money with Opinion Outpost!