I am sitting at my computer, trying to get work done after my kids have gone to sleep and my little one has come out again. She needs medicine for her dry, cracked, itchy skin. I don't know if I have ever seen someone who has skin quite so dry. We have to moisturize her every morning and every night to keep it under control. She maybe little, but using lotion twice a day on her can add up, so I try to find ways to get Vaseline® Intensive Care™ products. Thanks to my friends at Lunchbox, I know of a great deal.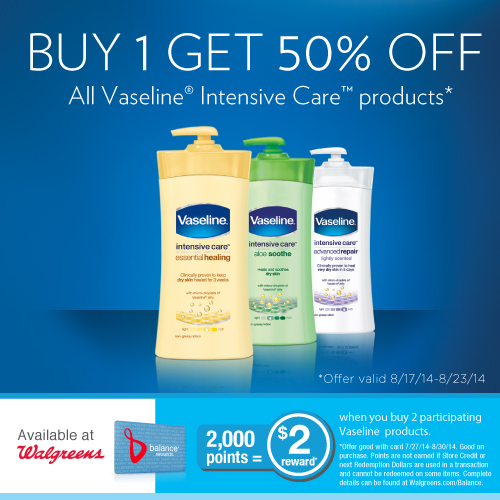 Walgreens has great deals on Vaseline Intensive Care™ products. When I buy any 2 Vaseline® Intensive Care™ lotions during August I will receive 2,000 Balance Rewards points. And when I buy 1 Vaseline® Intensive Care™ product I get the second one at 50% off. That adds up to a great savings.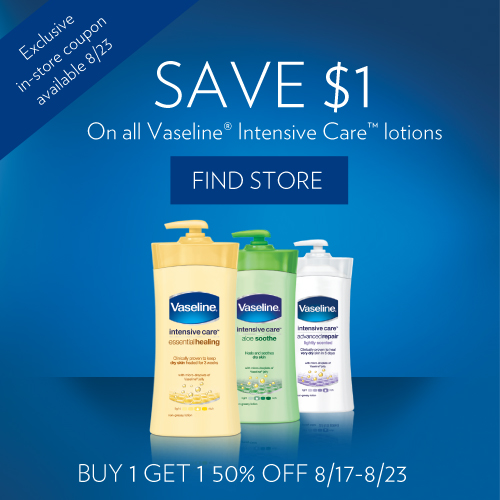 Also, when I visit Walgreens on August 23rd from 10am-5pm I can pick up an exclusive in-store $1 off coupon and get expert advice from a Beauty Advisor. They only have a limited number of coupons at each store, so if you plan to be there like I am, arrive early in case they run out.
I don't have to worry about only getting Vaseline® Intensive Care™ during the sale because Walgreens always has it at an everyday value of $7.49 per bottle, but by combining these great deals on 8/23, I can get two bottles for just $8.23. Two bottles will go a long way in helping to sooth everyone's dry skin and help make it truly healthy, not just masking the problem.
I am so glad that I learned about this deal in enough time to stock up on Vaseline Intensive Care™ lotions. What about you, do you use lotion every day? Guess what, to help you find the Vaseline Intensive Care™ love, one lucky reader will win a $50 Walgreens gift card.
*Sponsored post by Lunchbox, all opinions are 100% my own.