This post contains affiliate links. If you buy something from them, I earn a small percentage that helps keep The Spring Mount 6 Pack running.
I received a free copy of the raw recipes cookbook: Raw Essence for my review. All thoughts and opinions are my own.
I have heard that eating raw is extremely healthy for you. But honestly going to vegetarian is a hard enough concept for me. I have yet to be able to completely do it. And in my mind if you are only eating raw, then it must just be an even harder version of being a vegan. And what about dessert? I would never survive. Now that doesn't mean I was not thrilled to check out some of the recipes to add into our menu plans. But I never thought it would be something that I could ever really think about it.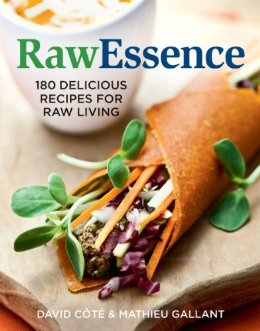 But once I read the recipes in Raw Essence, I knew we would be including a lot of these recipes into our meals. The recipes in the book include things that are dehydrated, juiced, put into a food processor and a blender. This adds a whole new way to think about raw foods.
So when I looked through the book I was pretty surprised at some of the recipes I saw. Beet ravioli, veggie spread spring rolls, stuffed endives, butternut squash soup, and meatless meat balls. Pair those meatballs with the pesto spaghetti, and I mean, Come On! Don't they all sound amazingly good. Not having to give up your favorites with all the flavor, and still get all the health benefits.
So, if you have been around here for a while, you know my weakness is sweets and desserts. Most of my recipes have some element of sweets to them. So what does the cookbook offer by way of desserts? How about Coco-Banana Pie with Coco-Macadamia Crust, Island Lime pie, even "Cheese" Cake.
Eating Raw is really healthy for you. and if you are like me, it seemed daunting and unappetizing. With this recipe book, the idea of adding raw recipes into you dinner routine is easy and exciting.