This post contains affiliate links. If you buy something from them, I earn a small percentage that helps keep The Spring Mount 6 Pack running.
I have always been artsy and crafty. It is one of the things that the kids and I do most together. We have bins and bins of random art materials. My kids can spend hours, quietly, making random crafts or just cutting up papers and gluing them onto other paper. And they absolutely beam when they show off their art work.
We recently discovered Creative Galaxy, which is produced by Out of the Blue Enterprises with Angela Santomero, who produced Blue's Clues and Super Why! Creative Galaxy is a make-along, create-along, interactive art adventure series for preschoolers. The main characters, Arty and Epiphany travel around the galaxy and solve problems they encounter with art, inspiring creative thinking through crafts, music and dance.
In the first episode, our friends are upset because Arty's mom, an architect, has designed a library but none of the kids want to stay and read the books. When they asked the kids why, the kids say that the walls are blah. Arty and Ephiphany decide to decorate the walls themselves. They air draw their space ship and head off into the galaxy to find inspiration. While flying around, they an art museum and are introduced to pointillism, which is making pictures with dots.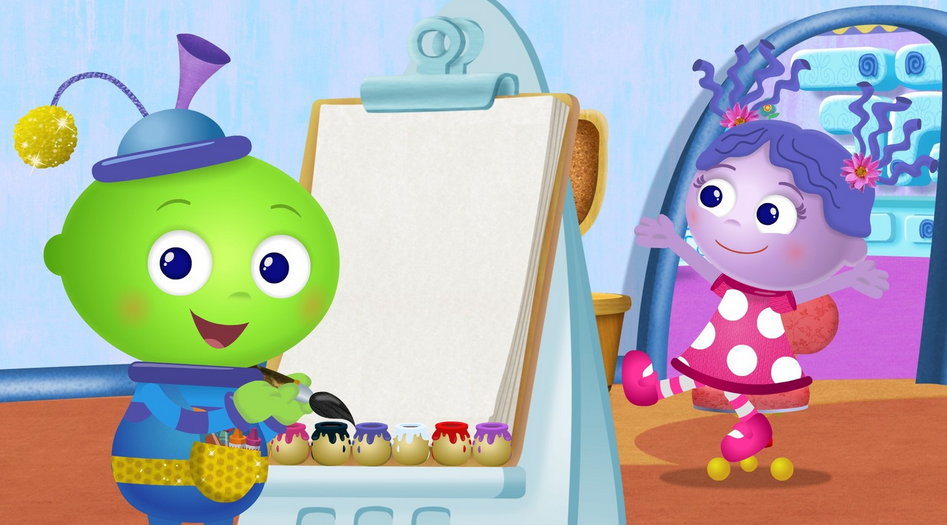 He comes back to the museum and make the walls look so beautiful that all of the kids and families decide to stay to sit and read. As Willow watched the first half of the episode, she was so happy by the paintings that Arty made, she insisted on stopping the show and creating her own pointillism gallery.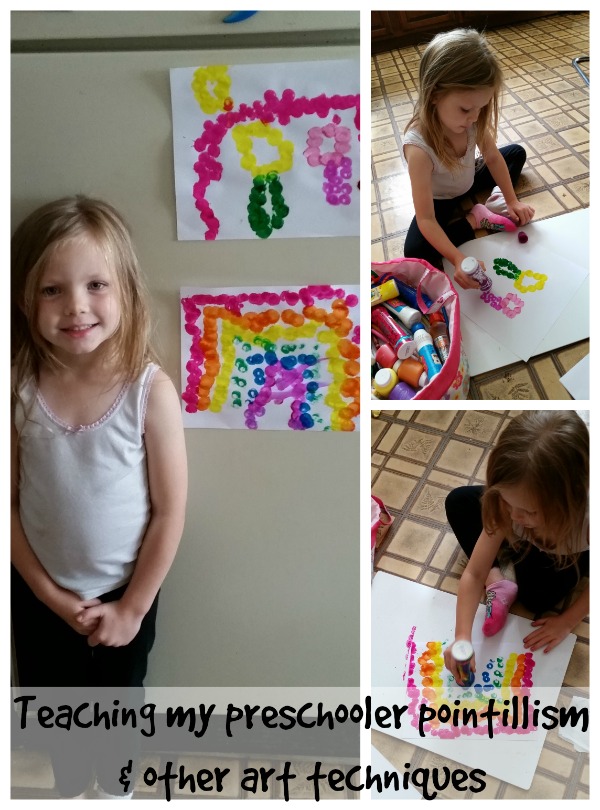 If you would like to make a pointillism painting with your kids, you can use finger paints, paint and a paint brush, use markers or crayons, or like my daughter love, us dot markers. These are old bingo markers but they also sell actual dot markers now because they have become very popular. Have the kids dot the picture they would like to draw. We cleared the refrigerator to make a gallery for Willow to show off her artwork like the museum in the show.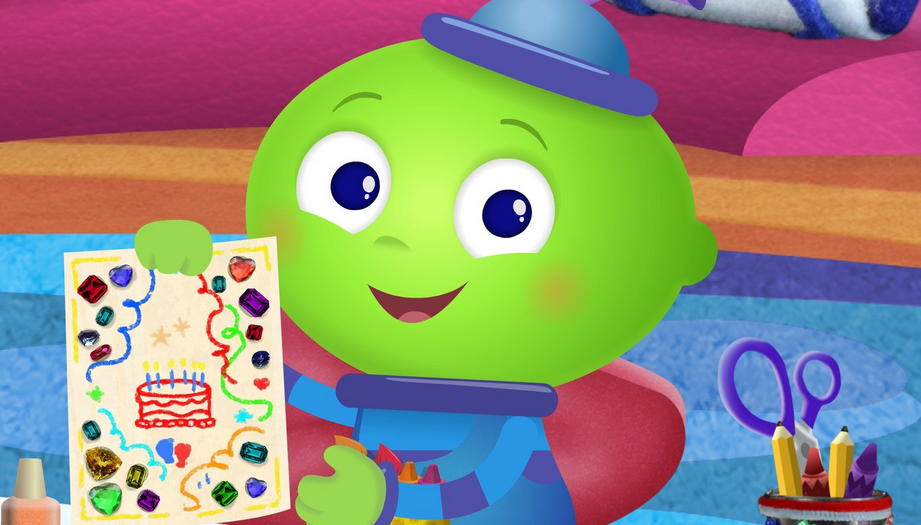 Each episode lasts just under 30 minutes and has 2 story lines. What I love about the episodes is that we were able to make it into an art lesson. With the library walls, we learned that pointillism what and how it is used to create art. Arty walked the kids through making a pointillism picture and then after the show, there is a real-life recreation of the tools techniques that were covered.
Each episode covers a new technique with a new scenario. That gives you a new chance to make a new art project and learn a new style. It would be perfect for families that are craft challenged, home school families who want to add some fun to their art classes or for kids who get excited after they see one of their favorite characters do something.
The Creative Galaxy series is available on Amazon Prime Instant Video, which means it is a free video series if are an Amazon Prime subscriber.
My daughter is already asking when can make the mosaic frame that is featured in the 2nd episode, so I know Creative Galaxy is a huge hit. I love how excited she is for art and that she even wants to stop the show between segments in order to make the project herself. Then, of course that she wants to go right back to finishing the show.
How have you taught your young children about different art techniques and to inspire their creativity?
I was selected for this opportunity as a member of Clever Girls and the content and opinions expressed here are all my own.