I am a Freedome ambassador. All thoughts are my own.
If you're like me, you're always online. Whether it's the computer, your phone, or your tablet, you're always plugged in. It's a great way to stay connected to everything. The problem with that is that it's a great way to stay connected to EVERYTHING. That's why I love F-Secure Freedome. F-Secure Freedome is a VPN solution that protects your wireless internet connection across pretty much all devices.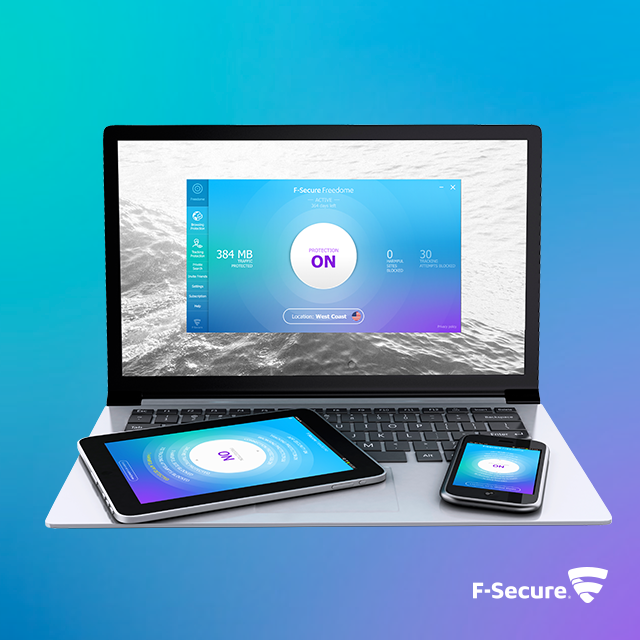 F-Secure Freedome – Technology that Protects
Fist things first. For those of you who don't know, VPN stands for Virtual Private Network. It's a technology that uses encryption to ensure that your personal data isn't connected to the entire web while YOU'RE connecting to the entire web. Every time you connect to the internet wirelessly, everything on your computer, tablet, or smartphone becomes public domain to people who know how to get it. A VPN uses encryption technology to create a virtual private network for the signal your smart device or computer uses to connect to the internet. Think of it as the coating of an electrical wire. Your signal is the wire. Your VPN network is the coating that protects it from outside elements.
That's why you need F-Secure Freedome. Not only does it provide excellent traditional VPN protection, it also adds a second layer of defense, protecting you from tracking attempts and perma-cookies. Both of these can be used to track your internet activity, and in some cases, keystrokes.
F-Secure Freedome Gives you the Freedom of Peace of Mind
If tracking, perma-cookies, keystroke logging, and the thought of all of your personal info being available for anyone out there with the know-how to get it scares the crap out of you, then you're smart. It should scare you. All it takes is the wrong person poking around on the wireless network you're using to really screw up your life.
F-Secure Freedome gives you the freedom to connect to the internet anywhere at anytime, knowing that you're protected against malicious activity. I love it. I'm a blogger, tech fiend, and a mom, so I need to be connected at all times. Whether, I'm throwing out a tweet, posting from Instagram, or uploading pictures of my daughter's cheerleading exploits, I need to be connected. With F-Secure Freedome, I can do that.
I believe so strongly in this software that I'm posting a code for a free 90 day trial for all of my readers. I love the freedom of F-Secure Freedome, and I want you to experience it, too. It's available for computers, on the Appstore, and on Googleplay. Just go HERE and use the code "qsf257" (no quotes). I think you'll be just as impressed as I am by the protection that F-Secure Freedome affords you and your wireless connection.