I am always on the go. I swear there are days that I spend more time out of the house than I do at the house. But while sometimes it feels like I live in my car, I don't want to live on fast food. I prefer home cooked food to eating things from a box and other than taste, I try really hard not to eat too much fast food style foods because I am worried about my health. With that being said, here is my dilemma: Since there is always somewhere I need to be, I need food fast sometimes. What is a busy mom to do? Recently I found a solution. I was invited to Zoës Kitchen to see what I thought about their Mediterranean style foods and share my thoughts with you.
I had always heard good things about Zoës Kitchen, but I hadn't had the chance to visit. Since I am always looking for great tasting food that can fit into my lifestyle, I was excited to try it. Turns out, I can see why Zoës Kitchen gets such great reviews.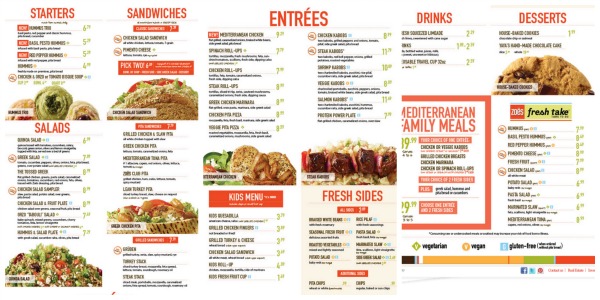 With a healthy menu of food that is made daily, it is certainly worth being talked about. I was very impressed with the types of foods offered. All of the menu items were things that you would love to make in your own kitchen if you had enough time to prep it all.
I am a soup lover. I have to get soup pretty much wherever I go. The only thing is, I can be kind of snobby about it. If soup is supposed to be homemade and it doesn't taste like it is homemade, I get highly annoyed. I can eat soup from a can anytime. One of the first things I knew I wanted to order was the chicken orzo soup as soon as I saw it on the menu.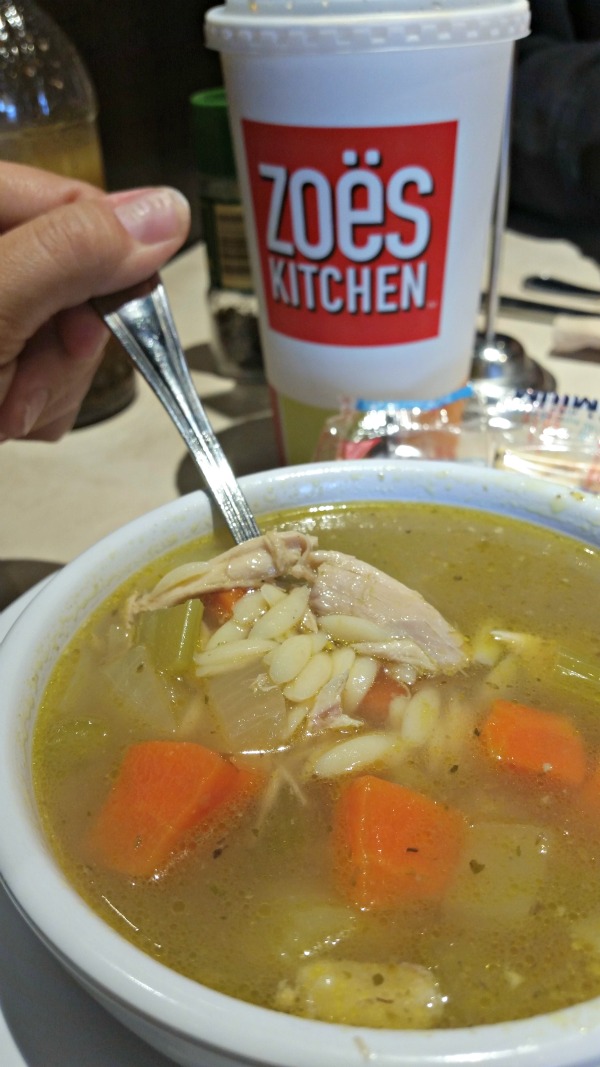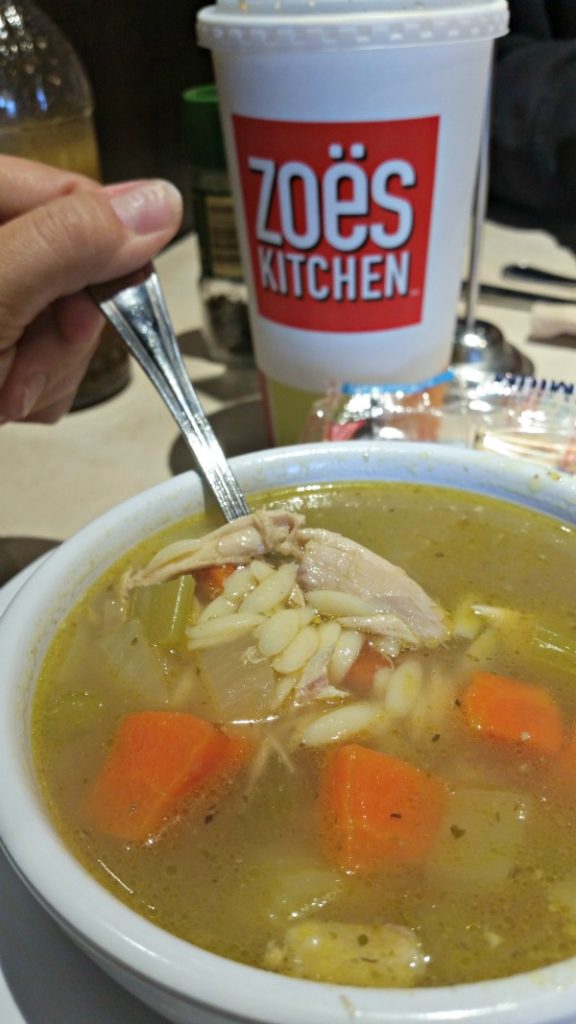 The soup was so good, I have since gone back and bought it by the quart to take home and eat. And I won't share it with anyone. They can get their own soup! Honestly, the soup is just that good. It is made just like if I made soup at home. The ingredients are fresh and cut in big pieces and the chicken is like taking it from a roasted chicken.
Don and I each ordered a different sandwich. I ordered the Zoës Club Pita with a side of roasted veggies. The ham was is thick sliced and has that pan cooked taste to it. The whole sandwich was fantastic and tasted like something that I would make at home.

I love having veggies. Roasted veggies are one of my favorites. These veggies were roasted perfectly where they still had enough bite to them to not be mush but were still cooked nicely.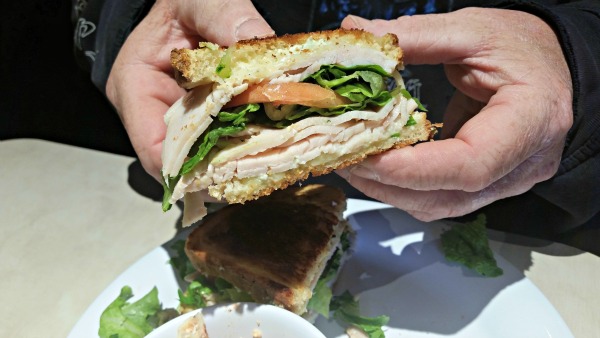 Don loves turkey. It is something he could eat every day. When he saw a turkey sandwich on the menu, he knew what he was getting. He really liked that the turkey was sliced think and not like lunch meat. It was moist and flavorful and the sandwich was stuffed.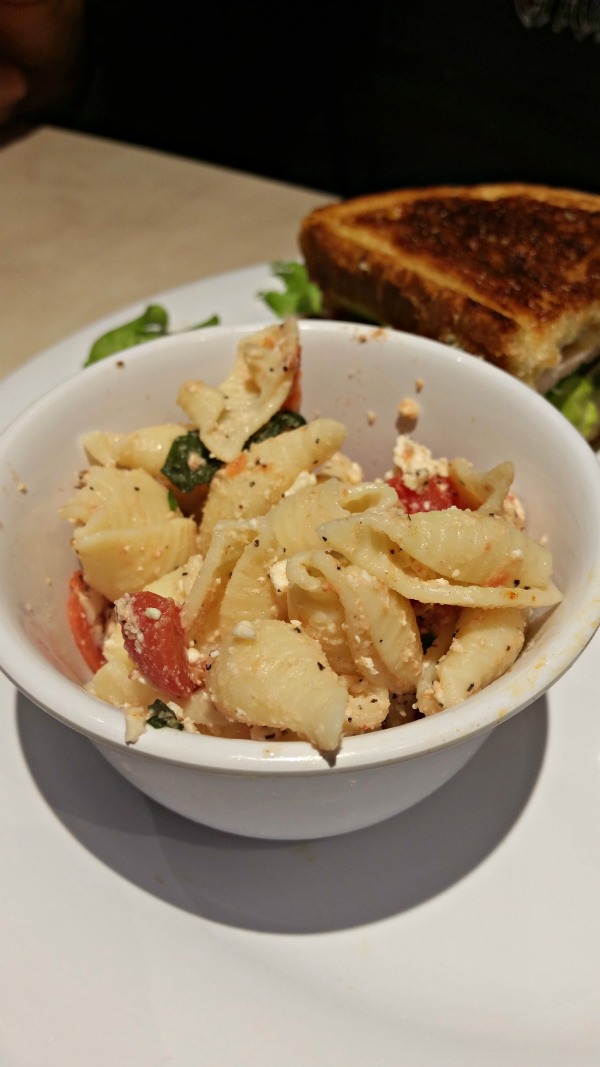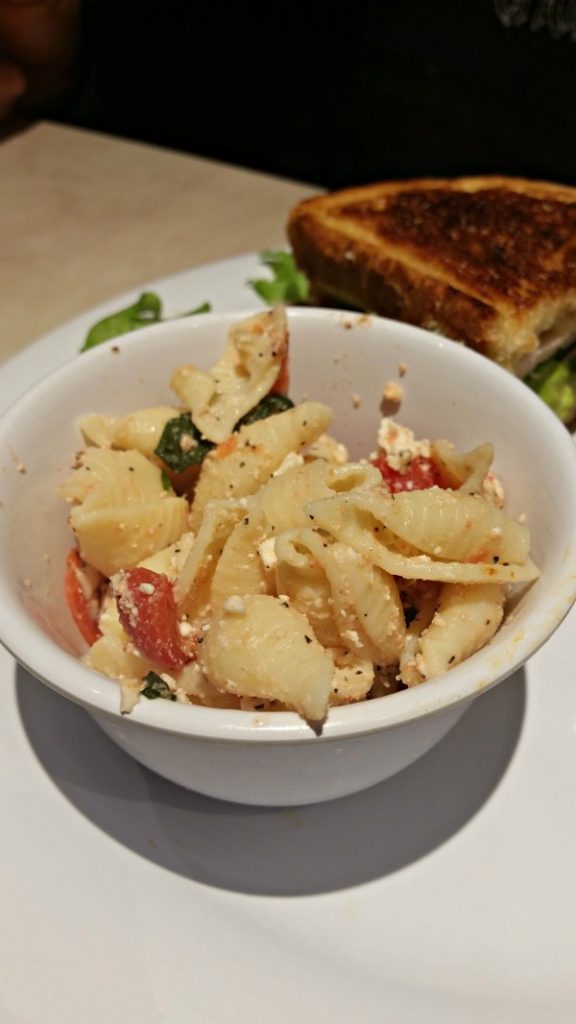 He ordered the pasta salad as his side. While he did like that pasta salad, it wasn't his favorite. I tried it and it was still pretty good, but it might not be something that I would order. I think it has a lot to do with the type of pasta salad that we are both used to, which isn't nearly as healthy and isn't a Mediterranean style dish.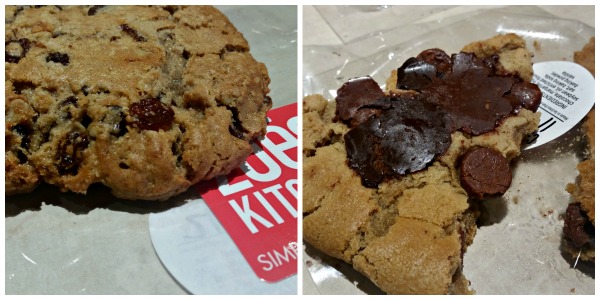 If you have visited The Spring Mount 6 Pack more than a few times, and seen the recipes, you'd know, I love my dessert. Zoës Kitchen has 2 types of fresh baked cookies: oatmeal raisin and chocolate chip. We, of course, had to have one, of each! They were amazing!!! I preferred the oatmeal raisin cookie and Don preferred the chocolate chip cookie. Both were simply fantastic though. And huge.

I think what I loved most about having lunch at Zoës Kitchen is that the food was fast like eating in a fast food place, an easy way to run in and grab lunch and still have enough time, but the food tasted liked it was homemade and that it was from a nice sit down restaurant.