There are those caring people, all across the country, that are spend long hours, quietly doing amazing things, asking nothing in return, for the health of their communities. They work tirelessly to help other, giving their time, their energy and resources to make a difference. The Health Mart pharmacists want to honor those that give back to their communities. To say thank you, the independent Health Mart pharmacists are awarding $50,000 in grants to the community health non-profits organizations. Think of the difference that a large grant could make in the everyday operations of a non-profit organization. It is such a great way to recognize the work that they do to improve the health and well-being in their communities.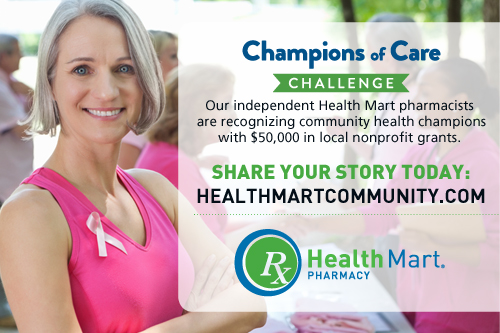 It is very simple to enter. All you have to do is just share a story about the good deed you or someone you know has done to help their community. If your story is chosen as a winner,  you could win the right to select a non-profit of your choice to receive one of the grants. That non-profit could receive thousands of dollars.  That would make a huge difference and will help them to continue the important work for the health of the community they serve.
Health Mart's Champions of Care Challenge wants to shine a spot light on those unsung local heroes. The ones whose everyday actions have helped to build healthier families, workplaces, neighborhoods and communities.
There will be several winners. The grand prize winner will have a $30,000 grant to award to their non-profit choice. A $3,000 grant chosen by the 2nd place winner, a $2,000 grant chosen by the 3rd place winner and then there will be 15 finalists who will be able to give a $1,000 grant away to the their non-profit choice.
Here is what you do to enter. Head over to www.healthmartcommunity.com right away. Then you can nominate that special person who helps their community for the Champions of Care Challenge from Health Mart! It can anyone you know that is making a difference, helping out, giving their time. It can also be yourself.  Then starting on March 17th, the public will have two weeks to vote for their favorite Champions of Care at www.healthmartcommunity.com.
Who do you know that helps the health of their community? Who are you nominating? Is your community healthier because of you? Head over and get those nominations in before the deadline. Good luck to everyone who enters a nomination.