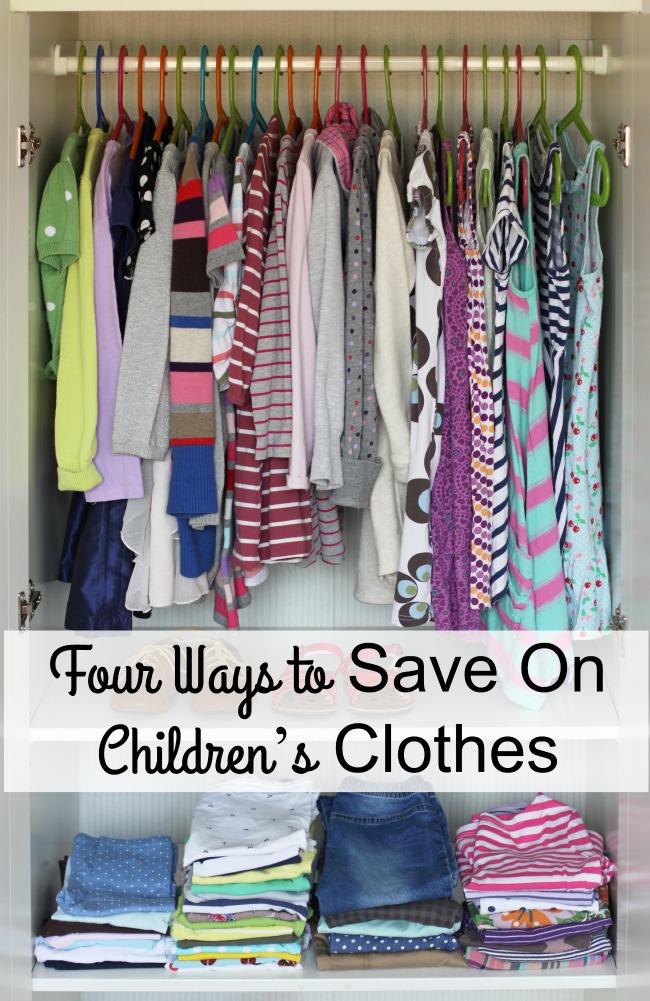 We all want our kids to look cute…but at what cost?  Children's clothing can be expensive, particularly when they only wear them for a short period of time before they're into the next size.  So how can you save money on the clothes your kids need?
There are many different ways to save money, from getting hand-me-downs from friends and family to shopping thrift and consignment stores.  If you're in the market for kids' clothes, use these four tips to maximize your budget — and save big money on clothes for your children.
Take Advantage of Technology
Today, there are countless websites, apps, and other tools that let you buy and sell used baby clothing.  Using these sites can help you save quite a bit of money, even on higher end kids' clothes.
On Facebook, look for local groups that buy, sell and trade kids' clothes.  You'll often be able to snap up great deals on clothes, outwear and even shoes, with the added bonus of being able to avoid shipping by picking up the items yourself.  There are groups that target specific types of clothes, such as inexpensive basics, trendy clothes and designer clothes.  Join the groups that have what interest you most, and look for great deals on the pieces you need for your little ones.
Beyond social media, there are great apps and websites that not only let you buy second-hand clothes, but sell them as well.  Kidizen, ThredUp, and Totspot are three examples of apps that allow you to shop for used kids' clothes in good condition, and sell your own as well.  You can filter out the results for your children's sizes, preferred brands and more, making it an easy shopping experience. Just be sure to watch shipping charges so that your deals aren't eaten up by shipping, handling, and other fees. If you're selling clothes on these sites, you can use your earnings to buy the next size up for your kids — which may result in your never having to make space in your budget for kids' clothes.
Shop Offseason
One of the best ways to get great deals on things that your kids need is to shop for what you need for the coming year at the end of the current season.  It takes a bit of planning and forethought, but it can be a really good way to save significant money on things that your kids will need.
For example, in August, many retailers start offloading their summer clothes, including shorts, tees, swimsuits and more.  Jump on those sales to prepare for next year's summer wardrobe needs.  In March or April, search for winter clothes to prepare for cold weather ahead.  You may end up with some clothes and gear that don't quite fit, but the good news is that these items can be sold via a website or even at a local consignment store.
Think Simple
Kids are fickle creatures, and they are easily influenced by the latest hot cartoon, toy, or movie.  Avoid buying into crazes to save money on clothes, and stick with classic clothes to save money on their clothes.
Every time a new Disney or other big kids' movie is released, themed merchandise can be found in stores all over the country.  While it's tempting to buy your kid a shirt or pajamas with their favorite character on them, remember that their tastes change.  You rarely get a deal on a hot character item, meaning that you'll be paying top dollar for something that they may stop liking before they've grown out of it.
Instead, focus on simple, classic clothes.  Plain shirts and pants can be jazzed up with smaller character items that aren't as costly, like hair bows, buttons or even shoelaces. These items will last you through seasons and your child's changing preferences, and will always look great.   Or buy one piece (ideally on sale!), and make your child happy while staying on budget.
Size Up
No, you don't want your child walking around with sleeves that hang inches below their hands, or with pant hems that they trip on…but buying slightly above their current size can help you get more use out of their clothes.
It's no secret that kids grow quickly — and often outgrow their clothes before they've gotten more than a few wears out of them.  So shop smart and buy clothes that give your kids room to grow.  You'll end up getting much more use out of these clothes, reducing the cost per wear significantly.