I have partenered wtih Staples to bring you  the Arc system. All thoughts are my own.
I have always loved notebooks. I am pretty much a  notebook junkie. Add in something that is gadgety and a notebook, wahoo I am pretty happy. But even having a great notebook, I still have trouble staying organized.
Even with all of the technology in my house, I still like to write things down. I feel more connected to it. Like it is more real, if I can not hit a back space and make it all go away. I hate crossing things out unless it is because it is done. So, using a notebook seems to keep me a bit more motivated.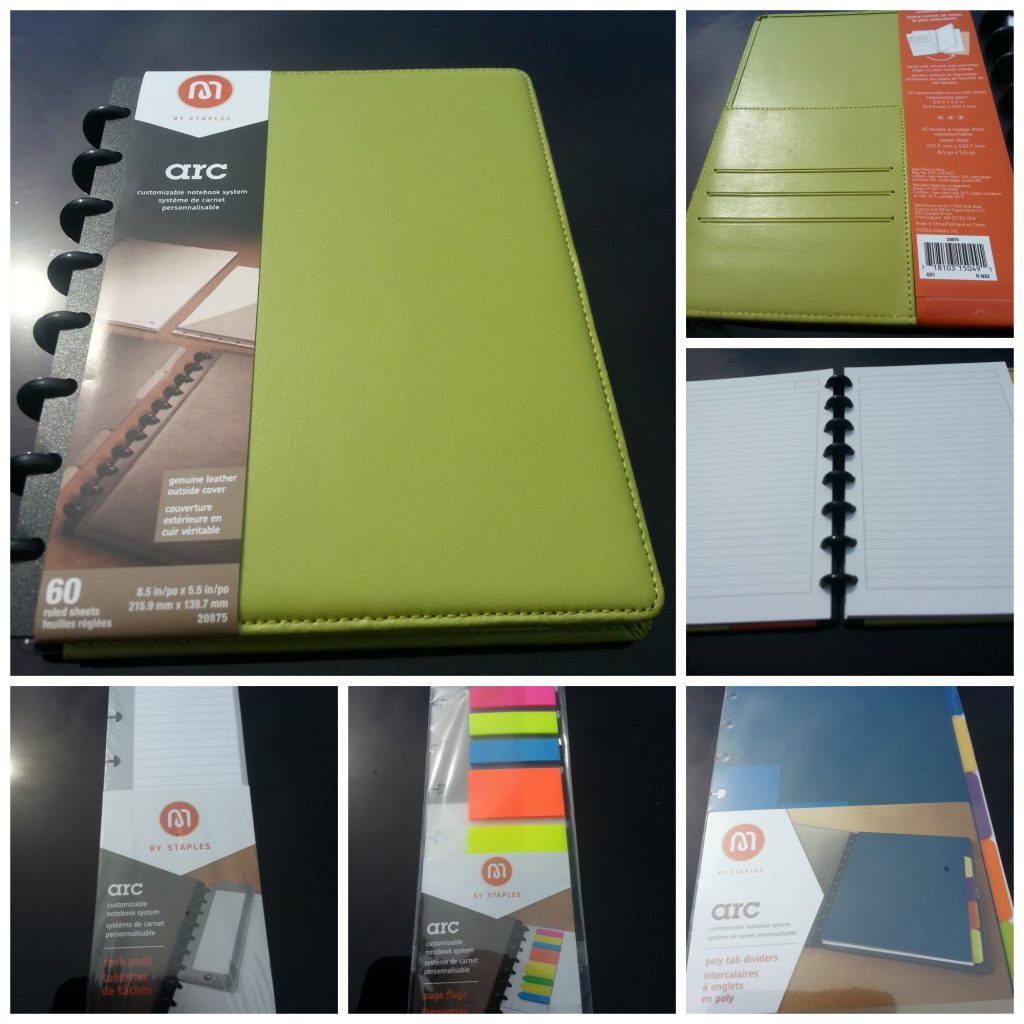 I recently got to try out the Arc system from Staples. It is a great system. The cover is like a nice date book. It is hard and padded. It is the perfect size to be able to take with me, which I need because if an idea pop in my head at any point I might forget it later. With the Arc system, I can set it up like a 3 subject notebook. I can have a section for my posts and reviews that are due, a section for recipes to make or recipe ideas, and a section for crafts. Since the papers are set to be repositional , I can rearrange things I need to. No more tearing out a paper and having to rewrite the whole thing or try to keep it in place with a paper clip.
As a mom, I have to keep the kids schedules on track. I need to remember when they have a test, a field trip, or need to stay after school. I need to remember is someone needs new shoes, or new notebooks, or if they need something for a class party. This year Anthony will be taking college classes at his high school, so now there are tuition payments and books to buy. I can have a section devoted to family life.
As a blogger, I have posts that are due and reviews to keep track of. I have post ideas and craft ideas, and recipes ideas. I have chore lists to remember. I have all kinds of things that I need to keep track of. I tend to start lists and lose them because they are in this spot and that spot. I have one that I write my crafts down and some I write my recipes in.
The way the  paper is designed is with these special grooves. The groves help to hold the paper in places but can be taken out and moved to another section of the binder. There are great accessories that make staying organized easy too. There are dividers, page flags to help me find something specific without going through the binder page by page. One of my favorite items is the smaller pages which I use as a to do list. I have used them to take in and out working with a recipe. If I need to run into the store to buy ingredients, then when I get home I can add it back into the binder. Now I am not wasting paper after paper writing the recipe down, then the ingredients down to go shopping, and then again when I go to make the recipe.
Next on my list to add to my Arc system is the paper punch, that way I can make my own pages for inside the binder. Since I make my own blogger planner sheets, I can have them directly in the new binder.
Since adding the Arc system to my business and personal life, I have been a lot more organized. I have all of my lists and notes in one place. I am no longer scrambling, at the last minute, to make a deadline or get something for the kids.