A Walmart gift card and information have been provided by P&G.
Spring has Sprung and all I can think about is giving this house a good cleaning. For most of us, it isn't that the house is dirty when Spring comes around, it is usually all of those jobs that we just don't get to on a regular basis. And for me, it is also getting rid of things that maybe we don't need. I also like to make sure that we get things restocked while I am going through and organizing everything.
I love to use Spring cleaning as a way to find out what we need and what I have too much of in the first place. How many times have you thought you needed a basic supply only to find out that you have way to much of it. Or there is the opposite, which is even more frustrating. You think you don't need to buy supplies, get home, need them fast.
So what should you do?
1. Go through the medicine cabinets. Get rid of anything that is expired. Get rid of any medicines that you no longer take.
2.  Go through the chemicals. Sometimes you pick up a special cleaning supply that you only needed for one project. You want to make sure that any chemicals that you have are stored properly. Make sure that the containers are secure. Get rid of any that you don't need.
3. Then restock. What do you use often in the house, that you might be out of, or running low. Use sales to help you replenish while you are getting organized.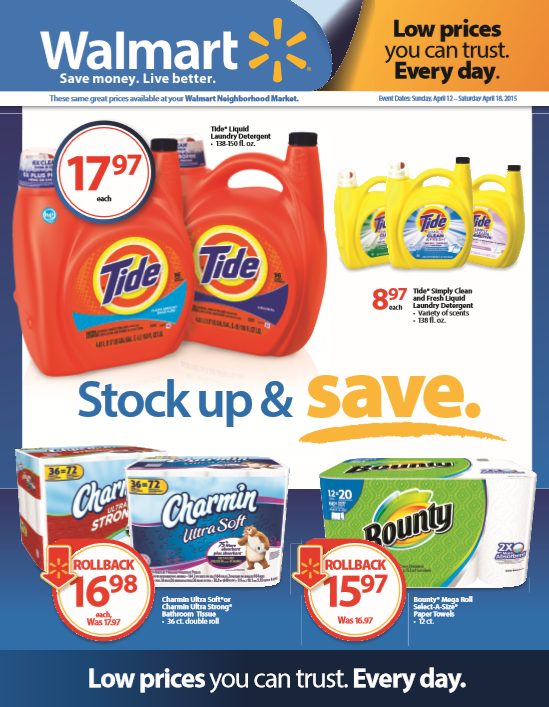 Walmart is having am April Stock Up and Save event. Things that you need in the house on a routine basis, like:
Tide Liquid Laundry Detergent
Tide Simply Clean and Fresh Liquid Laundry Detergent
Charmin Ultra Soft or Ultra Strong Toilet Paper
Bounty Mega Roll Select-A-Size Paper Towels
Luvs Super Absorbent Diapers
Pampers Swaddlers Huge Pack
Tampax Pearl Plastic, Super Absorbency
Always Ultra Thin Long Super Unscented Pads
Always Discreet Maximum Underwear
Always Discreet Moderate Regular Length Pads
What do you like to focus on when you are cleaning for Spring?