I am a member of the Collective Bias®  Social Fabric® Community.  This shop about snacks for teens has been compensated as part of a social shopper insights study for Collective Bias and Goldfish Puffs.
The kids are home for the summer and I think the words I hear the most, besides "When are we going swimming?" is "I'm hungry". Possibly that is tied with "There is no food in the house" And of course they do not want real food, they want junk. I on the other hand, do not want my kids eating a bag of chip everyday. It just isn't good for them.  I prefer when they have fruit and veggies for snacks, but since they are kids and want to have snack foods, I try to encourage them to eat foods that are made from wholesome ingredients and are baked, not fried.
My kids love goldfish but really sometimes they just want more. More of a crunch, like a chip and I get that. We recently heard about Goldfish Puffs.  The fish themselves are larger and have a different texture than a regular goldfish. They are more like a cheese curl texture. My older kids love the goldfish crunch as they eat them plus the larger size.

We headed to Target to grab some Goldfish Puffs for our day at the pool. The puffs come in 3 flavors, Mega Cheese, Buffalo Wing and Cheddar Bacon. Since snacks have a short life span in our house, we bought all 3 flavors. We also found them in smaller snack sized bags, the kind for traveling in the car or throwing in a lunch box.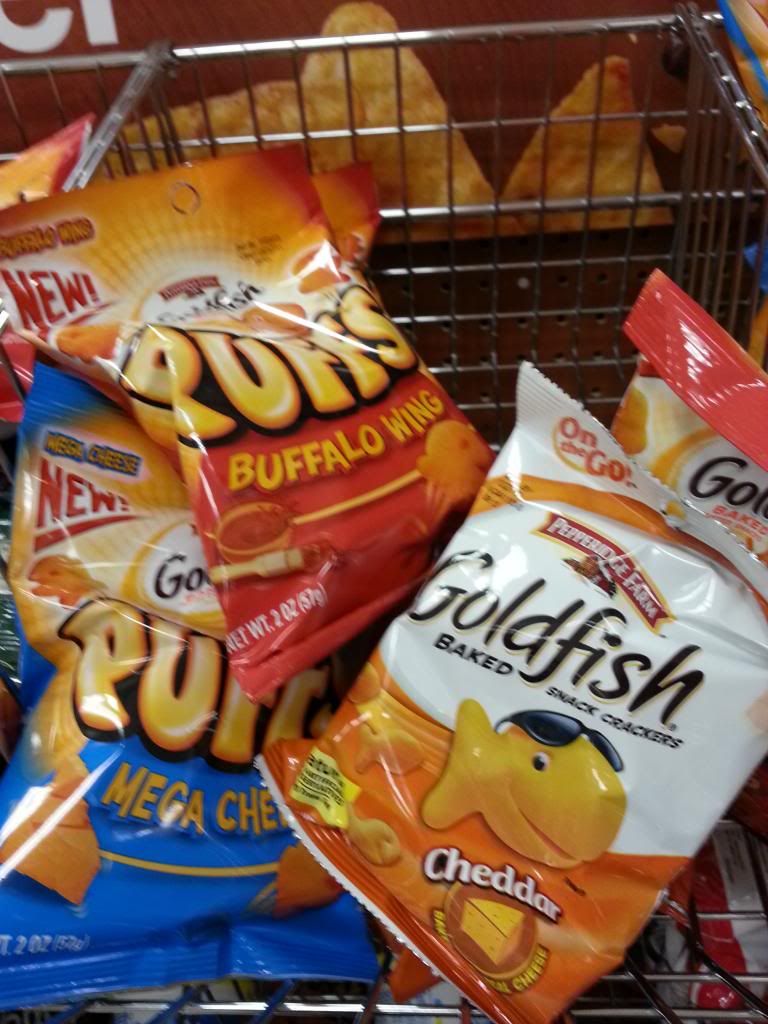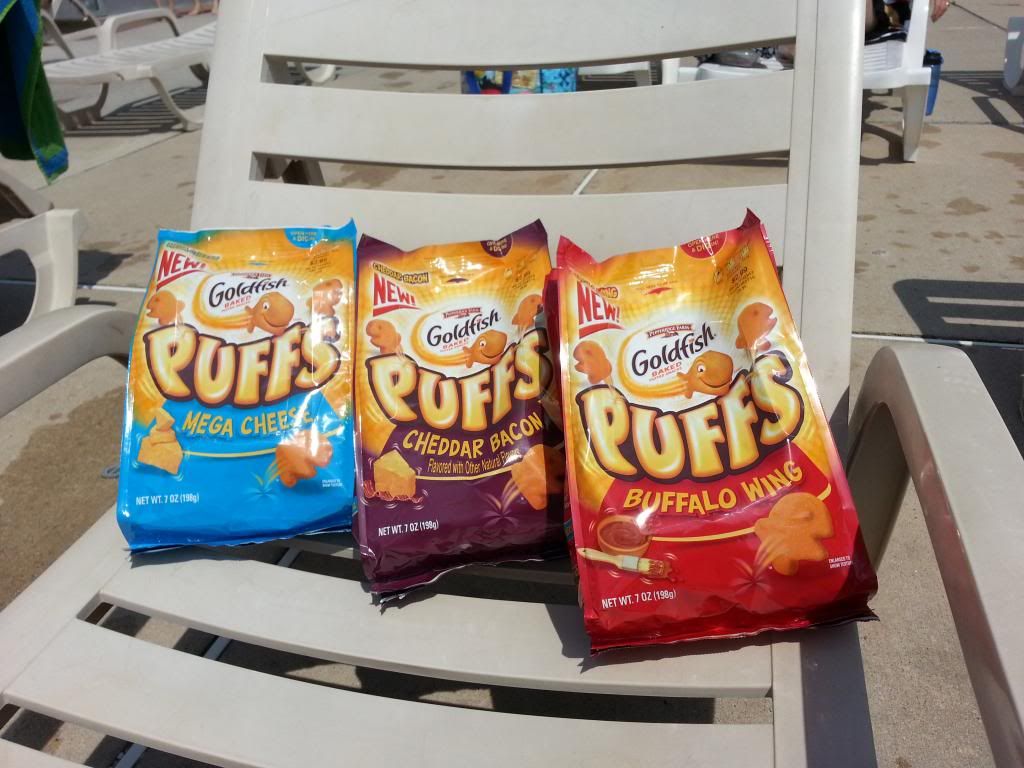 After playing hard in the pool for about 2 hours, the kids were starving. Since our pool does an adult swim every hour, for 15 minutes, it was the perfect time to grab our snacks. Each one of the kids grabbed a bag, and sat down to try the new Goldfish Puffs. The kids were really excited about the new size and texture.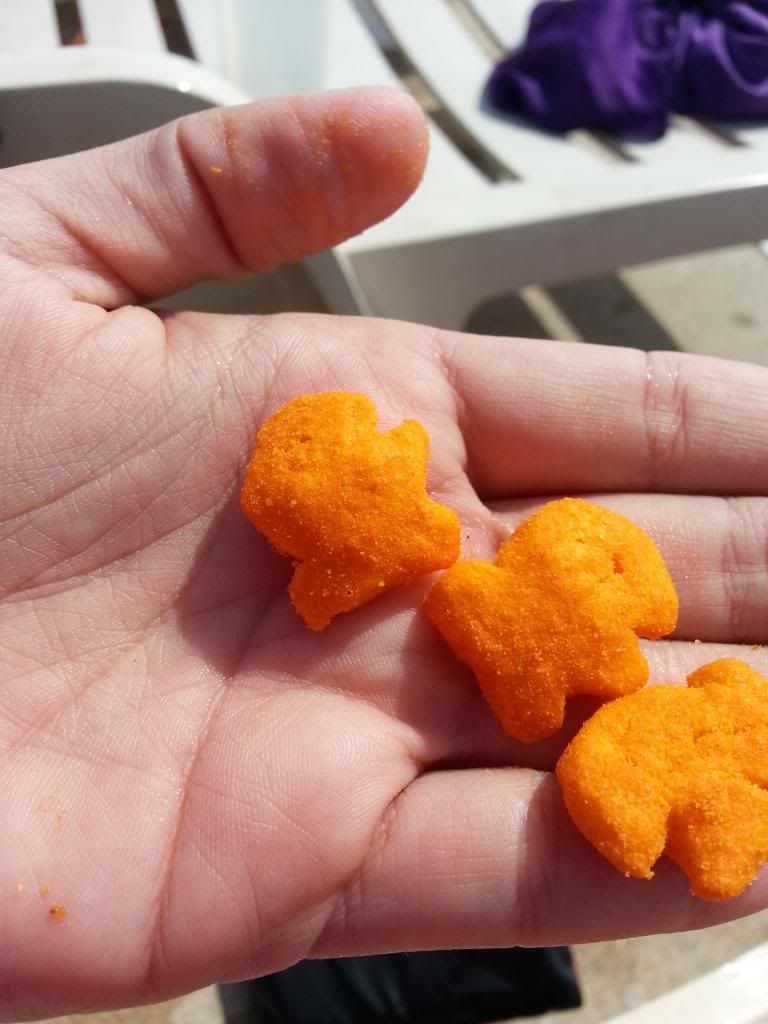 The flavors are amazing. Mega Cheese is perfect for anyone who likes just a cheese taste. The Cheddar Bacon has a really smokey taste and the bacon flavor really comes out. I was surprised because often times the bacon flavor in things are not really strong.
The Buffalo Wing flavor offers a nice small kick, a bit too strong for the girls, but perfect for Joey and me. We love the bite, but it isn't too strong where it burns your mouth.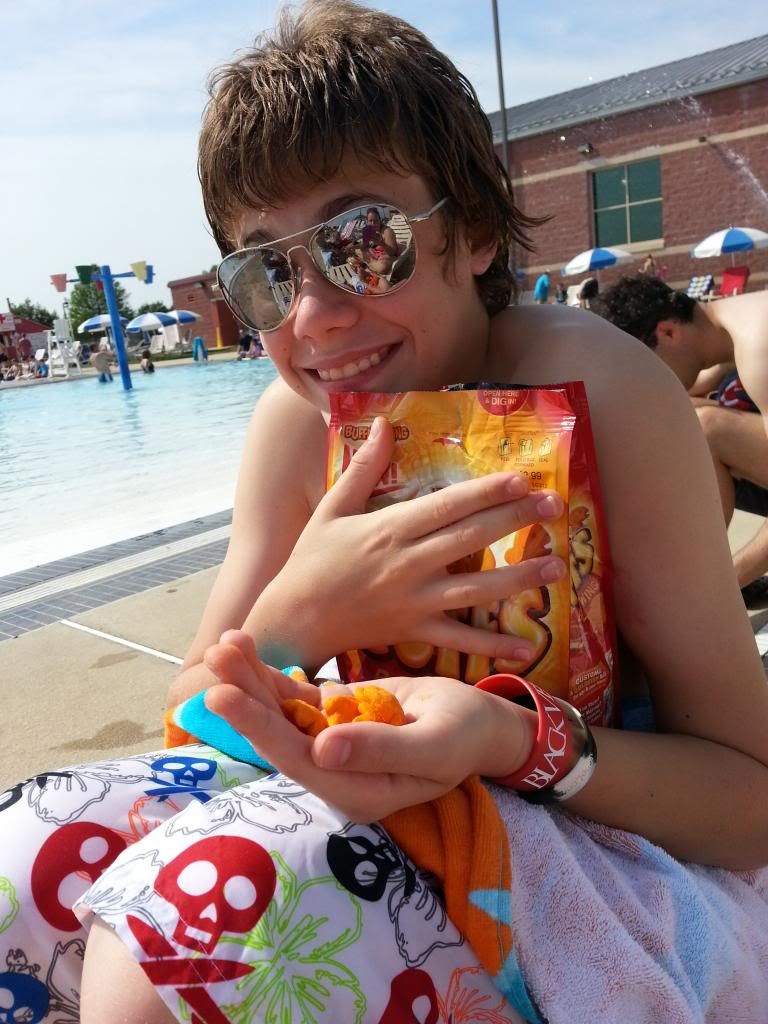 The kids love having a new snack that offers a flavor punch and that I don't mind letting them eat. I love the kids having a snack that is made from wholesome ingredients, I actually know what everything in the ingredient list is, are not overwhelmingly full of fat, and the price is less than a normal bag of chips. I have to say that the new Goldfish Puffs are a win-win in the Spring Mount 6 Pack house. See our shopping trip and our day at the pool on Google Plus.