I have always had pretty good teeth. Only a few cavities my whole life and always good check ups. Then when I had my youngest daughter, and nursed her until age 2, my teeth seemed to go down hill fast. I started getting more cavities, and started just having more issues in general. Then the night before Easter, when she was a few months old, I bit into a jelly bean and had the most pain I think I have ever felt in my mouth. I broke a tooth. It was 2 in the morning, the night before Easter. There was nothing I could do at the time. I eventually was able to get into the dentist but it was a painful experience until I could.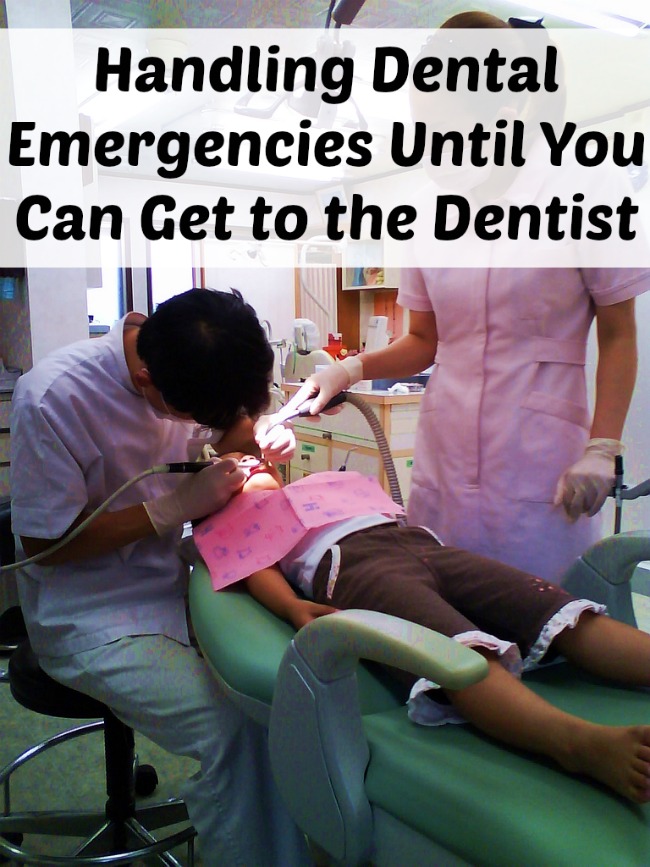 Would you know what to do if you had a dental emergency? Depending on the issue depends on what you should do.
Here's a quick summary of what to do for some common dental problems. You will always want to see a dentist as soon as you can to avoid any further issues with your teeth.
Toothaches: Toothaches might be one of the most common issues that people face. You should see your dentist as soon as possible but while you are dealing with the ache you should, first, thoroughly rinse your mouth with warm water. Try using dental floss to remove any food that might be lodged into a cavity or between the teeth. If your mouth is swollen, apply a cold compress to the outside of your mouth or cheek. While there are a lot of old woves tales on how to deal with a tooth ache, never put aspirin or any other painkiller against the gums near the aching tooth because it may burn the gum tissue.
Chipped or broken teeth: If something happens that causes you to chip or break a tooth, the first thing to do is rinse your mouth out with warm water and be sure to save any pieces, rinsing them as well. Apply gauze to any area that might be bleeding for 10 minutes or until the bleeding stops. Apply a cold compress to the outside of the mouth, cheek or lip near the broken tooth to keep the swelling down and to relieve pain.
Knocked-out tooth: First thing is to retrieve the tooth. Hold it by the crown, which is the part that you can see when looking into your mouth, and rinse the dirt from the roots. Do not remove any of the tissue that might be on it. If possible, put it back in the socket, making sure it is facing the right direction, but do not force it into place. If you can not put the tooth back into the socket, place it in a clean container with milk. If milk is not available, use water with a pinch or 2 of salt. See your dentist as soon as possible. Knocked out teeth have the highest saved rate when returned to their socket within 1 hour.
Lost filling: While waiting to see your dentist, stick a piece of sugarless gum into the cavity. Make sure it is sugar free because gum with sugar in it will cause pain. You can also use over the counter dental cement.
Lost crown: If a crown falls out, you need to make an appointment right away. If possible, coat the inner surface of the crown with over the counter dental cement, denture adhesive or toothpaste to help hold the crown in place. DO NOT USE SUPER GLUE. Then slip the crown back over the tooth. If you can't see the dentist right away, and the pain is more than over the counter medicine can control, try applying clover oil to the sensitive area. Clove oil is available at your local drug store or in the spice aisle of most grocery stores.
Abscess: Since an abscess is an infection of the root of the tooth or the area between the teeth and gum, it can be a serious condition. It runs the risk of spreading to other ears if left untreated. You will want to call your dentist as soon as you start to notice pain or if you discover a pimple-like swelling on your gums that is painful. To ease some of the pain while you are waiting to see a dentist, rinse your mouth with a mild salt water solution of 1/2 teaspoon of salt to 8 ounces of water a few times a day.
Broken braces and wires:  If a wire breaks or is sticking out of the bands in your braces and is starting to poke your mouth, try using the eraser end of a pencil to move it into a more comfortable position. If it can not be repositioned, try to cover the end with orthodontic wax, a small cotton ball or a piece of gauze until you can get into the orthodontist. Never cut the wire. You could end up breathing it into your lungs or swallowing it.
Loose Brackets and bands: Attach the loose braces with a small piece of orthodontic wax. You can also place some of the wax over the braces to make a cushion. See the orthodontist as soon as possible to have the piece recemented or replaced.
No one wants to have a dental emergency. If you know what to do in the situation it seems less scary.