I received Hey Arnold- The Complete Series for review. All thoughts are my own.
I can not believe sometime looking back on cartoons that my boys watched have been off the air for as long as they have been. There are certain shows, that even now, as teens, my kids will stop and watch. They were their favorite shows back when they were little.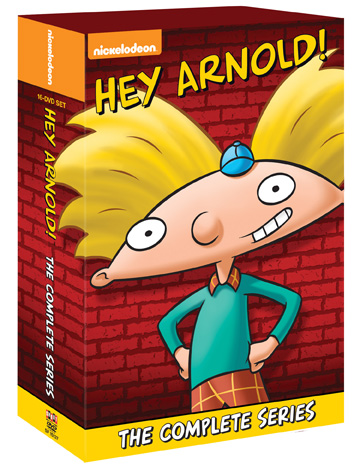 One of these shows was Hey Arnold. I remember the boys watching this football shaped little dude who was always great about being a mediator and was always fair. Arnold was always on an adventure with his diverse group of friends.
Life in the big city is one big adventure for Arnold. Living with his grandparents, who run the Sunset Arms boarding house, Arnold shares a roof with a diverse and unusual menagerie of characters (including his pet pig!). But as any fourth grader knows, some of the most memorable people you'll ever meet are in school. With friends like Arnold's (including storyteller Gerald, class jinx Eugene, sometime-bully Harold, and the tomboy Helga, who harbors a secret crush on our hero), you can be sure that he's got some funny exploits to share with fans.
It was a series that I didn't mind having on as the tv. You know those cartoons that you just hate that the kids watch. This is one that I would actually sit with them and watch. We would talk about the show and what the kids did right on it. It was just a great show to watch.
The Hey Arnold Complete Series is available, only from Walmart, on August 19th.