This post contains affiliate links. If you buy something from them, I earn a small percentage that helps keep The Spring Mount 6 Pack running.
This is a Fashionista Event Opportunity.
I am getting my bags packed to head to the beach this weekend. While it isn't quite jump in the ocean weather yet, we will still be spending our days hanging out by the water. And for us, beach days are long days. Which is great, but not if I am feeling self conscious and uncomfortable.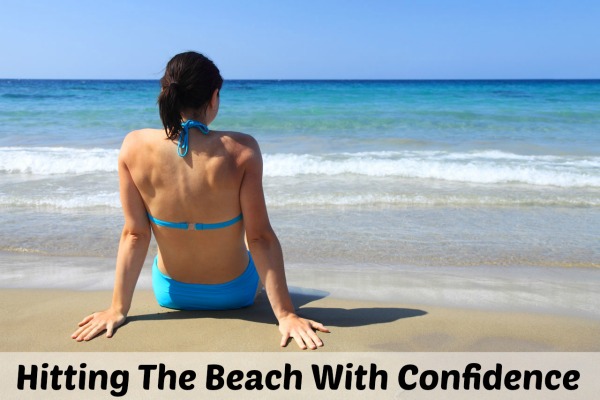 So how do I hit the beach with confidence and comfortable all day?
Great clothes: Whether you are wearing a bathing suit or shorts and a tee-shirt, make sure you are wearing something that you love. Something makes you feel like you can take on the world. If you are busy pulling this down, adjusting that, you are not going to be having fun. Also take into consideration how comfortable it will be all day. Will it be too hot, not warm enough. It is a little tight? A little loose? No one wants to fuss with clothes all day.
Sunscreen: I know everyone knows how important sunscreen is. It protects your skin from burns, from the sun's harmful rays, from premature aging, but that doesn't mean people always remember to use it. If you have never hung out at the beach or even just in the sun all day and forgotten your sunscreen or forgot to reapply, let me tell, it ends badly. By mid day when that burn kicks in, you are starting to feel miserable. By night-time, when it is in full swing, there is no way to get comfortable.
Soft silky legs: Make sure you are using a great razor. The difference between a razor that gets a close shave and not close can be the difference between wanting to bare those legs all day and wanting to hide them under pants. Bic Soleil Glow has 3 blades for a upclose shave and an aloe and Vitamin E strip to leave skin soft. I have never had a razor that left my legs feeling as silky for as long.
Don't forget your big shades and floppy hat. Besides being great sun protection, you'll resemble a movie star while you are soaking up the sun.
Do you have any tips for hanging out at the beach all day? I'd love to hear them