Do you always have a headache whenever you have to prepare dinner? Are you looking to save up time and money used in dinner preparation? Meal planning is the way to go. You might be wondering what the heck meal planning is and what does it entail. It isn't nearly as hard as it seems. We have talked about meal planning before. Here are 10 Steps to How to Make a Meal Plan.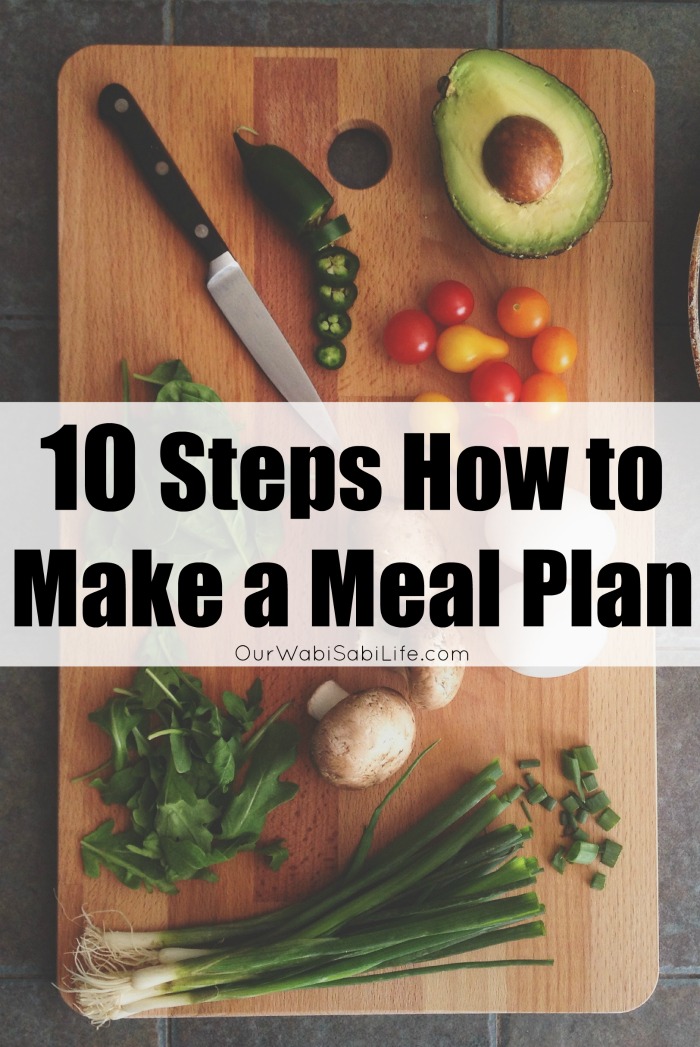 Why Meal Plan
Why should you leanr how to make a meal plan? Meal planning saves time, saves money and in general, makes things easier.
Meal planning involves asking yourself what will be cooked for a period, e.g., one week. This is not a daily process, but a method implemented once per week. Planning what to cook for a whole week sounds like a lot of work, right?
Meal outlining is not as difficult as it sounds and in equal measure, it is not a bed of roses. Food experts have come up with steps that make it fun and easy to manage.
How to Make a Meal Plan

Make the bold decision
Where there is a will, there is a way. You need first to develop an interest in having your meals planned. Once the interest is built, you can move to step two.
Think of meals you like to eat

If you are a family woman, you need to sit down with the members of the family and come up with a comprehensive of food that they love. This may sound like a bad idea, but it will save you a great deal. Can you imagine someone forcing you to eat something that you don't like? Letting the family choose what they want helps reduce wastage.
Come up with recipes
When coming up with recipes, here are some factors to consider:
Cook everything the family loves\ likes.
Cook foods that allow you have leftovers: they always come as saving grace.
Choose recipes that need common ingredients.
To make it fun, add one new recipe to the recipes you already know. We feature new recipes weekly.
Another way to decide on recipes is to look at what is on sale. It is a way to save money while meal planning.
List down all the ingredients you need
Having come up with the recipes, you already know what items you need to make the recipes a reality. Compile a list of all the ingredients ready to go shopping.
Look through the pantry

Once you have a list of all the food you want to prepare during the week, it's time to ensure you have all the ingredients at your disposal. Shopping for ingredients should begin at home. Conduct a thorough check of what is available in the pantry before proceeding to the grocery. This will help you save up money by buying only what you lack in your house.
Go Grocery Shopping

With the list of what you need from the grocery and supermarket, check out for stores with the best discounts. It will help you save a coin or two. Remember quality is key.
Leave room for change
We can never escape change. It is 100% possible that you will have an item on your shopping list that is out of season or is overpriced. Be flexible enough to replace it with an item that can play the same role.
Mega Preparation for How to Make a Meal Plan

Having picked the recipes and shopped for all the ingredients required, it's time to turn the plan into something tangible. This step is essential in helping you save up a good number of hours during the week.
Prepare all the ingredients you need. Chop your vegetables. Dice your garlic and onions. Wash your herbs and lettuce. Boil cereals ahead of time. Precook your meat ahead of time and store all the ingredients in the refrigerator.
Perishable food should be given priority when it comes to cooking
If you have food like fish and salad, they should be cooked early in the week to avoid having them go bad. When doing your shopping, please ensure you have fresh ingredients and frozen ingredients. The frozen ingredients will have a longer time span
Keep your recipes safe
It's given that by the end of the first month of meal planning, you will have a collection of recipes. Be sure to keep them safe. You will need them someday.
With everything said, let's look at mistakes that can make your meal planning a failed project.
Being too ambitious and trying out new recipes every day.
Failure to take inventory of the ingredients available in the pantry before proceeding to the grocery. You end up saving nothing.
Not giving yourself enough time for the meal planning process
Using the wrong recipes for your needs.
The main agenda behind meal planning is to make dinner time easy to manage. Other benefits that you may leap from planning your meals ahead of time include:
It saves up money; it reduces the chances of having to eat out, and you get to buy only what you need.
Helps you eat healthily: having time to plan what you want to eat enables you to come up with better ideas than last-minute fixes.
The internet has loads of free meal planners. You can download one to make your planning easier. How to Make a Meal Plan is not as complicated as it seems to be, Get organized today by becoming a meal planner!