I received a gift card and think Thin bars to facilitate this post. All thoughts are my own.
So you know the scenario. The kids a swim lesson, you promised to take them to the park, you need to go grocery shopping and you still have to hit the post office. Or maybe you are heading to the beach, the amusement park or somewhere else that keeps you away from your house all day. And half way through your day, you realize, everyone is starving. So you plan to get a quick bite to eat for everyone. As you look at the menu and think, there is nothing I can eat here and not throw my calorie count right out the window. Yes, you can get a teeny tiny meal, and still be starving in an hour, while blowing that diet out the window because of all the sodium, fat, cholesterol, pretty much every. Don't even think about the lack of nutrition.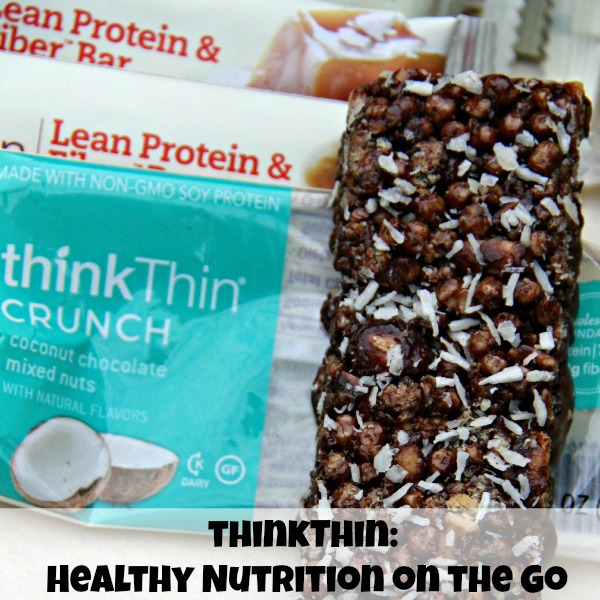 Summer is right around the corner, and if you are like me, you run all day, every day. And eating mess like that is just not in the plan. Whether you are trying to get summer bod ready, or already there and want to stay that way, you need a better on the go option. As you get ready to pack your beach bag with healthy snacks, don't forget to include thinkThin® bars.
I know what you are thinking, I don't WANT to eat a diet bar. I know, for me, I usually can not handle the taste. I have found some bars that taste of, but they are not diet bars, even when they give me the right nutrition. But I need a diet bar that are loaded with protein, have gluten-free options, and not overwhelmingly filled with sugar.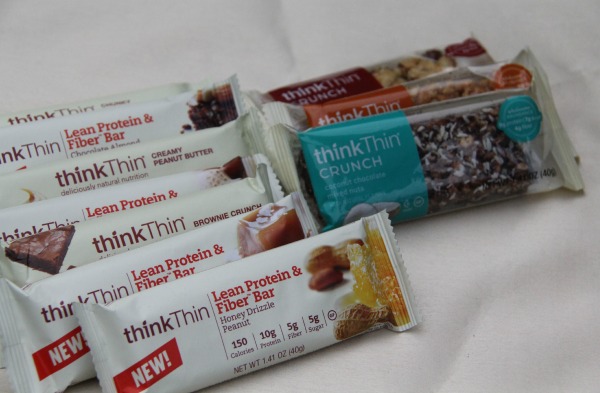 But they have to TASTE good, because good nutrition should always be delicious. I had a nutrition counselor tell me once, don't eat things that don't taste good. There are a lot of healthy options that are still enjoyable. I have found that thinkThin's new thinkThin Lean Protein & Fiber ™ are just what she was talking about. thinkThin embraces Weight Wellness®, the balance of physical and emotional wellbeing, and has been recognized by Fitness Magazine with a "Healthy Food Award." I'll tell you, I feel like I am eating a candy bar or a treat.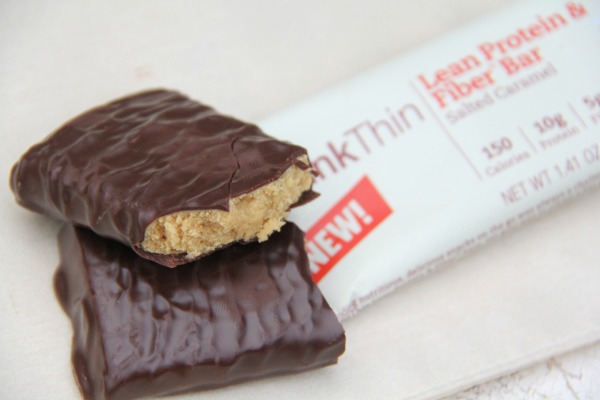 I was able to try 3 of the Crunch Mixed Nuts" flavors : chocolate dipped mixed nuts, caramel chocolate dipped mixed nuts, and coconut chocolate mixed nuts. And 3 of the "High Protein" flavors: Creamy Peanut Butter, Chunky Peanut Butter, and Brownie Crunch and 5 of the Lean Protein and Fiber Bars: Salted Caramel, Chocolate Almond Brownie, Chunky Chocolate Peanut, Cinnamon Bun White Chocolate, and Honey Drizzle Peanut.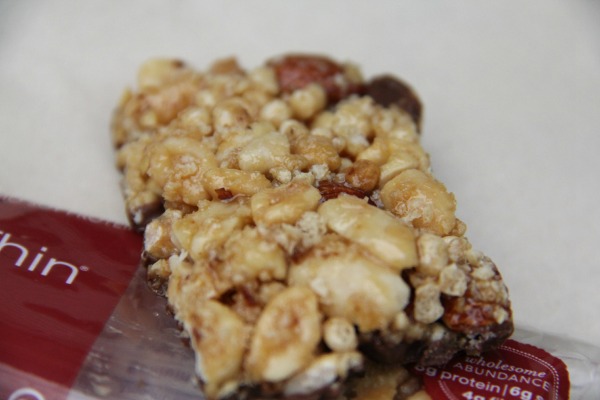 I already said it was like eating a candy bar. But honestly, who thought that I could eat bars like these and that my calories are not hitting the roof. The nutritional count on these bars are perfect to fit into any diet. It doesn't matter if you need gluten-free, high protein/low sugar, or lean protein/high fiber. Each bar is designed to give your body what it needs without all the junk you don't.
And since they are packaged and ready to go, they are perfect for throwing in your purse, beach bag, or cooler. They are perfect way to stay on track with your weight goals and not have to worry.
Connect with thinkThin to learn more about their bars, their ideas and how their bars can help you.
And thinkThin is giving me the chance to offer you a chance to win. One US reader will get a sample package like the one I received,
Lean and Protein: Cinnamon Bun White Chocolate, Chunky Chocolate Peanut, Chocolate Almond Brownie, Honey Drizzle Peanut Butter, Salted Caramel
Crunch Mixed Nuts: Chocolate Dipped Mixed Nuts, Chocolate Coconut Mixed Nuts, Caramel Chocolate Dipped Mixed Nuts
High Protein: Creamy Peanut Butter, Chunky Peanut Butter, Brownie Crunch
And a $25 Visa Gift Card. Because you need to start Summer off right.
Giveaway ends: 6/18 and is open to US readers only.